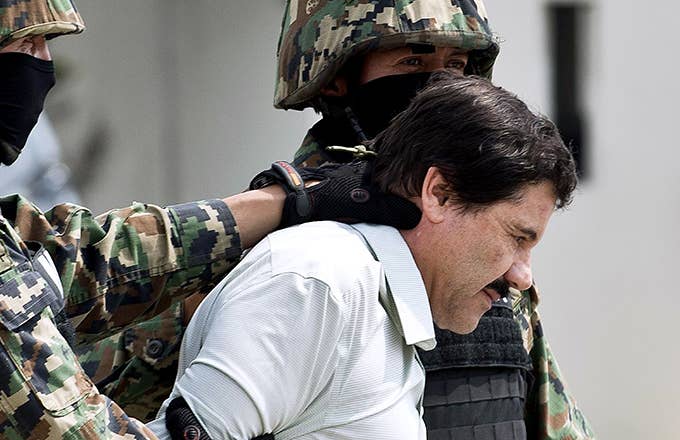 The trial of accused drug trafficker and suspected former leader of the Sinaloa cartel Joaquin 'El Chapo' Guzman is still ongoing, initially kicking off back in Nov. 2018. He's already pled not guilty to 17 counts, but the evidence against him has continued to pile up thanks to a number of testimonies. In fact, the prosecution reportedly has over 100,000 audio recordings that connect him to a large number of crimes. As CBS reports, another former connection of his just helped the case against him.
Vicente Zambada, a former Mexican drug trafficker and El Chapo protégé, testified in court on Friday, describing the violence he witnessed at the hands of the cartel. The son of El Chapo's partner Ismael 'El Mayo' Zambada, Vincete, described a meeting in the mid-2000s among other events. He mentioned that representatives of corrupt Mexican politicians were requesting a shipment of 100 tons of cocaine in an oil tanker. "They wanted to know if my dad and Chapo could provide that amount of coke," he said.
"He was involved since he was 15," criminal defense attorney Vinoo Varghese explained. "He is the son of the head of the Sinaloa cartel. He does have access to information. The question is, is he telling the truth for everything. [...] He said, 'My father is the head of the Sinaloa cartel.' So he provided a ton of information about El Chapo but he confirmed his dad runs the Sinaloa cartel." 
Vincete Zambada was reportedly a top protégé of Chapo's before he was arrested in 2009 in Mexico City. The trial against El Chapo is expected to continue into February.