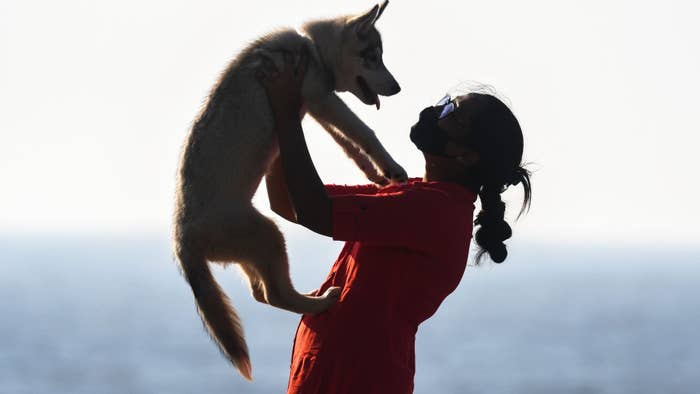 Owning a pet can potentially delay memory loss and cognitive decline, a new study has found. 
As CNBC shares, the preliminary study by University of Michigan researchers was released Wednesday and links pet ownership with five or more years of delayed brain aging for those around 65 years old. 
"Prior studies have suggested that the human-animal bond may have health benefits like decreasing blood pressure and stress," Dr. Tiffany Braley of the University of Michigan Medical Center shared, adding that the "results suggest pet ownership may also be protective against cognitive decline."
Researchers in the study followed 1,300 older adults who started the study with normal cognitive skills, 53 percent of whom owned pets and 32 percent of whom called themselves longtime pet-owners. Over six years of testing cognitive functions, researchers found that cognitive skills were slower to decrease in those with pets than non-pet owners—and even slower for the long-term owners. Researchers also found pet-ownership to be more beneficial cognitively for men, Black participants, and seniors with a college education. Those who owned pets for five or more years saw the most benefit on a cognitive level.
"To our knowledge, our study is the first to consider the effect of duration of pet ownership on cognitive health," first author Jennifer Applebaum, a sociology doctoral candidate at University of Florida, told CNN.
Those in the study cared for rabbits, hamsters, birds, fish and reptiles, but as Applebaum shares, "dogs were most prevalent" in the study, "followed by cats." The study itself didn't show a direct cause and effect between pet ownership and cognition, but Braley says prior research has shown the negative effects of stress on the brain. 
"Prior research has also identified associations between interactions with companion animals and physiological measures of stress reduction, including reductions in cortisol levels and blood pressure, which in the long term could have an impact on cognitive health," she said.
Applebaum shared that researchers don't recommend buying pets as a form of "therapeutic intervention," but do recommend "people who own pets be supported in keeping them via public policy and community partnerships." That includes removing pet fees on rentals and making vet services more affordable.