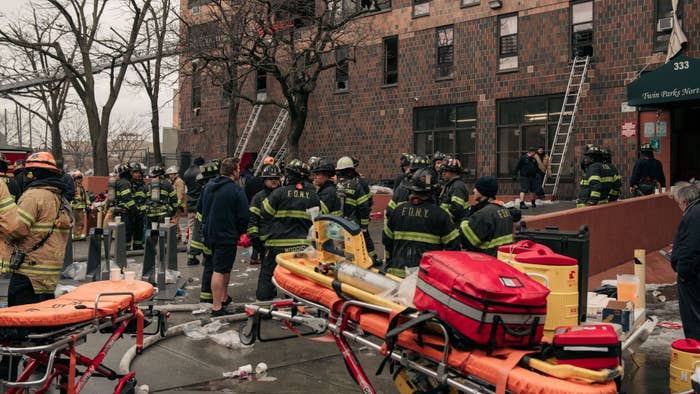 UPDATED 1/10, 9:45 a.m. ET: The apartment building fire that killed 17 people was caused by an electric space heater that malfunctioned in a bedroom, New York City's fire commissioner said, per CNN. 
"The heat was on in the building. This (the space heater) was being used to supplement the building heat," Fire Commissioner Daniel Nigro said. "There were smoke alarms throughout the building. The first call that came in was due to a neighbor hearing the smoke alarm and looking and seeing the smoke and calling."
See original story below. 
At least 17 people have died following a Sunday apartment fire in the Bronx.
CNN learned of the deaths from Mayor Eric Adams, as a city official told the organization that nine of the people who died as a result of the blaze were children. FDNY Commissioner Daniel Nigro shared that 32 people were hospitalized after the fire with life-threatening conditions, as 63 people in total were injured following the incident. 
"This is a horrific, horrific, painful moment for the city of New York, and the impact of this fire is going to really bring a level of just pain and despair in our city," Adams said.
The fire took place at 333 East 181st Street, which is a 19-story building, after starting inside a 2nd and 3rd floor duplex and traveling to the rest of the building via an open door. The hallways were filled with "very heavy smoke, very heavy fire," with 200 New York City Fire Department members arriving at the scene three minutes after they were called in around 11 a.m.
"It was a lot of smoke so we had to stop at the sixth floor and we were able to get into a neighbor's home. We stayed there until the firefighters came and they were able to guide us out," apartment resident Fatima told ABC 7.
Most injuries as a result of the fire were from smoke inhalation, according to Nigro, who added that victims were on every floor of the building's stairways, with several people suffering from cardiac arrest. 
"My heart is with the loved ones of all those we've tragically lost, all of those impacted and with our heroic FDNY firefighters," Gov. Kathy Hochul shared to Twitter. "The entire state of New York stands with New York City."
An investigation into the fire—which authorities say is not suspicious—is now underway, as structural stability inspections are being manned by Department of Building inspectors, per ABC 7.