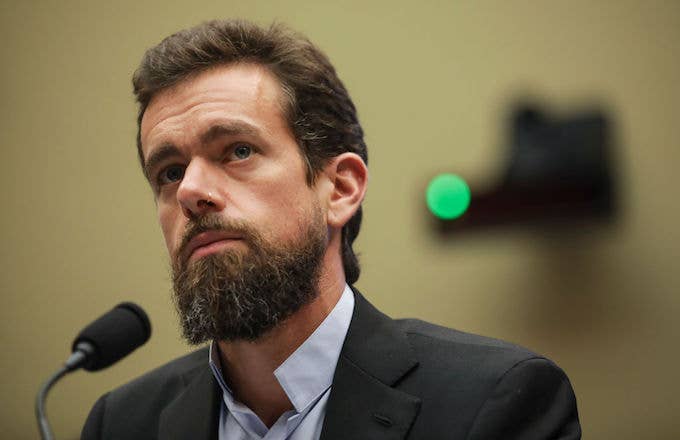 Twitter is definitely having an identity crisis. After it was revealed that the company is considering ditching its "Like" button, CEO Jack Dorsey is now dismissing the importance of follower counts.
"So when you open Twitter and you see that number is five. It is actually incentivizing you to increase that number. That may have been right 12 years ago, but I don't think it is right today," Dorsey said in New Delhi, according to a Slashdot report.
Without a like button or a follower count, the Twitter we know might never be the same. But Jack thinks the changes could lead to more productive, "meaningful" conversations on the platform.
"I don't think that's the number you should be focused on," Dorsey added. "I think what is more important is the number of meaningful conversations you're having on the platform. How many times do you receive a reply?"
I know what you're thinking: "But Jack, what about all those white supremacists?"
On the bright side, Twitter is FINALLY thinking about adding an edit button to let users fix small typos. "You have to pay attention to what are the use cases for the edit button. A lot of people want the edit button because they want to quickly fix a mistake they made. Like a misspelling or tweeting the wrong URL. That's a lot more achievable than allowing people to edit any tweet all the way back in time," he said.
The edit button would reportedly come with some restrictions, such as time limits, to make sure people don't go back and change old tweets. That means you can still get blasted for saying something problematic in a past life. "We have been considering this for a while and we have to do in the right way. We can't just rush it out. We can't make something which is distracting or takes anything away from the public record," he said.
It sounds like Dorsey is really just taking notes from Kanye West. In a since deleted IG post from September, Ye shared a screenshot of his text conversation with the CEO after tweeting his own qualms about followers.
"We've been thinking deeply about the follower and like counts, and what that incentivizes," read the message, that was shared with Dorsey's permission. "We want to change. What made sense 12 years ago doesn't' make sense today. At least for us. Us making that number bold and big incentivized people to want to increase it, and feel bad if they couldn't. That's not right. We want to incentivize contribution to the global conversation and consciousness."
It's unclear when any updates to follower counts or an edit button may appear, or if Dorsey is just blowing smoke. Until we know more, you and all your followers can carry on as per usual.