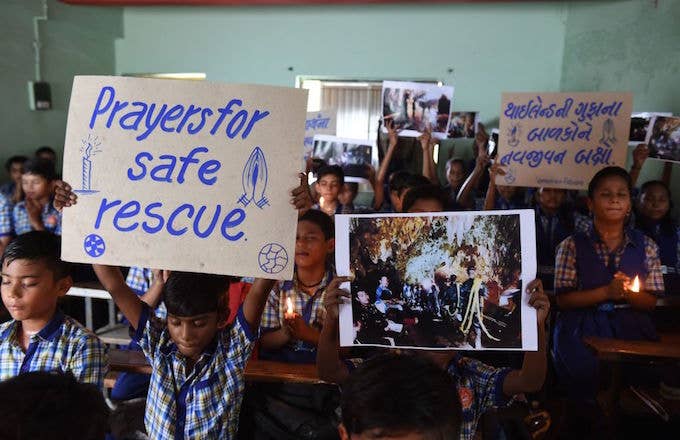 It's been more than two weeks since 12 boys and their coach became trapped in a flooding cave system in Thailand. Now, as theGuardian andBuzzFeed News report, the entire team and and their coach have been rescued thanks to Thai Navy SEALs.
The daunting emergency, which began on June 23, captured global attention online and fueled international support for the rescue of team. Divers managed to help eight boys on Sunday and Monday, and rescue the four remaining boys and their coach on Tuesday. The team is reportedly in good health, and its members are being treated in a nearby hospital.
"The 12 Wild Boars and coach have emerged from the cave and they are safe," the Thai navy SEAL unit said on its official Facebook page, referring to the soccer team's name.
Unfortunately, the rescue operation did not go without casualties. A former Thai Navy SEAL died from lack of oxygen as he worked to save the boys.
Leaders from around the world, including Theresa May, Donald Trump, and others are now sending their support and celebrating the successful rescue operation.
Discovery has fast-tracked a one-hour documentary, Operation Thai Rescue, to air this Friday, July 13.