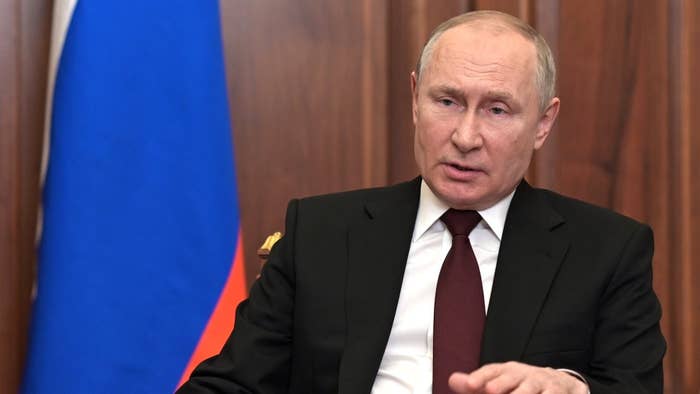 UPDATED 2/24, 1:25 p.m. ET: An adviser to President Volodymyr Zelenskyy "says Ukraine has lost control of the Chernobyl nuclear site after a fierce battle," the Associated Press confirms.
Tweeting that he'd just had a phone call Canadian Prime Minister Justin Trudeau, Zelenskyy said, "Today there is a full-scale war throughout 🇺🇦!  We demand the immediate imposition of additional tough sanctions against Russia. Now, more than ever, we need concrete support!"
Middle East outlet Al Bawaba News shared a video it says shows Russian troops taking control of the power plant; tanks are visible and a loud boom can be heard:
President Biden spoke on Thursday, saying, "Putin is the aggressor. Putin chose this war. And now he and his country will bear the consequences." He also addressed new sanctions the U.S. is setting that will "impose severe cost on the Russian economy, both immediately and over time."
See his address below.
UPDATED 2/24, 7:30 a.m. ET: An adviser to Ukrainian President Volodymyr Zelenskyy has said that "about 40 people" have been killed as of early Thursday. Per an update from the Associated Press, several dozen have also been wounded, although it wasn't initially clarified whether the reported deaths were civilians. Separate reports, including from the New York Times, have since clarified that "more than 40 Ukrainian soldiers" have been killed, with dozens wounded.
Another adviser, meanwhile, has said that "full-scale war in Europe has begun."
In a tweeted statement Thursday, President Zelenskyy said that the two countries were currently on "different sides" of history.
"Russia has treacherously attacked our state in the morning, as Nazi Germany did in [World War II] years," Zelenskyy said. "As of today, our countries are on different sides of world history. [Russia] has embarked on a path of evil, but [Ukraine] is defending itself & won't give up its freedom no matter what Moscow thinks."
The Associated Press added early Thursday that the "Ukrainian president says Russian forces [are] trying to seize Chernobyl nuclear plant, site of world's worst nuclear disaster." 
In a tweet, Zelenskyy confirmed, "Our defenders are giving their lives so that the tragedy of 1986 will not be repeated. … This is a declaration of war against the whole of Europe."
See original story below.
President Vladimir Putin said early on Thursday that Russia has authorized a "special military operation" that will be conducted in eastern Ukraine, according to The New York Times and the Associated Press.
Explosions were reported around Kramatorsk, Ukraine, as well as Kyiv, Kharkiv and Odesa, at about the same time that Putin made the announcement. 
In a televised address, the Russian leader said the Kremlin's goal is the "demilitarization and denazification" of Ukraine and argued that "decisive, swift action" is necessary. He called for Ukrainian soldiers to lay down their arms and said those that do "will be able to leave the battle zone."
Putin also said that Russia does not intend to occupy the country.
"I have taken the decision to carry out a special military operation," Putin said. "Its goal will be to defend people who for eight years are suffering persecution and genocide by the Kyiv regime. For this we will aim for demilitarization and denazification of Ukraine, as well as taking to court those who carried out multiple bloody crimes against civilians, including citizens of the Russian Federation. Our plans do not include occupying Ukrainian territory."
Also in his address, Putin sent out a warning to countries who are thinking about interfering.
"Anyone who tries to interfere with us, or even more so, to create threats for our country and our people, must know that Russia's response will be immediate and will lead you to such consequences as you have never before experienced in your history," Putin said. "We are ready for any turn of events."
U.S. President Joe Biden responded to the news of the military operation in a statement and called Russia's actions "premeditated war that will bring a catastrophic loss of life and human suffering." Biden continued, "Russia alone is responsible for the death and destruction this attack will bring, and the United States and its allies and partners will respond in a united and decisive way. The world will hold Russia accountable."
Biden added that he will address the American people about the situation tomorrow after consulting with his "G7 counterparts in the morning."