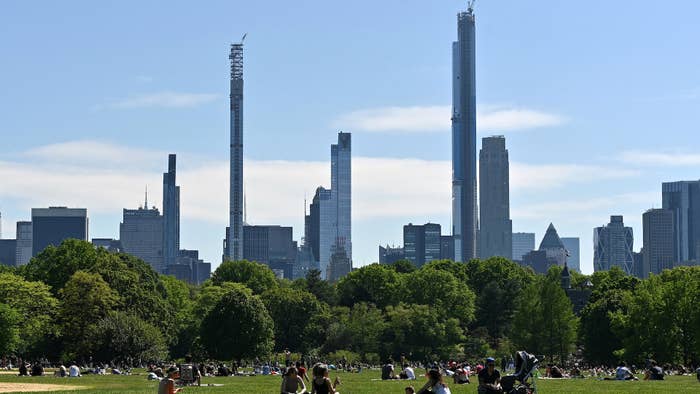 UPDATED 5/26, 11:05 p.m. ET: Amy Cooper has been fired, according a tweet from her company, Franklin Templeton.
"Following our internal review of the incident in Central Park yesterday, we have made the decision to terminate the employee involved, effective immediately," the investment firm wrote. "We do not tolerate racism of any kind at Franklin Templeton."
"It's a little bit of a frenzy, and I am uncomfortable with that," Christian Cooper, the man who Amy called the police on, said of the response to the video of the altercation, per the New York Times. "If our goal is to change the underlying factors, I am not sure that this young woman having her life completely torn apart serves that goal."

See original story below.
On Monday morning, a white woman in New York City's famed Central Park decided to call the cops on a black man after he requested that she restrain her dog with a leash.
"I'm gonna tell them there's an African American man threatening my life," the woman, who has been identified as Amy Cooper, can be heard saying before calling 911 despite the man appearing not to show any signs of being aggressive towards her.
Christian Cooper, the man who can be heard speaking to Amy Cooper in the video, also makes no threats. "There is an African-American man, I'm in Central park, he is recording me, and threatening myself and my dog," she said. "I'm being threatened by a man in the Ramble, please send the cops immediately."
Video shared to social media showing the encounter—including an account of the incident on Christian Cooper's Facebook— has since gone viral. Many have called for her to be fired from her job at Franklin Templeton, where Newsweek reports she holds the position of vice president of investment solutions. Others are calling for her arrest for filing a false police report.
Christian's sister Melody Cooper posted the footage to Twitter, pointing out that the area requires that dogs be leashed. "Oh, when Karens take a walk with their dogs off leash in the famous Bramble [sic] in NY's Central Park, where it is clearly posted on signs that dogs MUST be leashed at all times, and someone like my brother (an avid birder) politely asks her to put her dog on the leash," Melody Cooper tweeted.
Police eventually responded to Amy Cooper's call but left without making an arrest. "Upon arrival, police determined two individuals had engaged in a verbal dispute," a spokesperson for the NYPD said, per WPIX. "There were no arrests or summonses issued and both parties went on their way."
"If the habitat is destroyed we won't be able to go there to see the birds, to enjoy the plantings," Christian Cooper toldNBC New York. "The only way they can keep the dog from eating the treat is to put it on a leash. ... At some point, she decided I'm gonna play the race card, I guess."
Franklin Templeton, the investment firm Amy Cooper works for, released a statement on the incident and said that she has been placed on administrative leave.
"We take these matters very seriously, and we do not condone racism of any kind," the company said. "While we are in the process of investigating the situation, the employee involved as been put on administrative leave."
Amy Cooper has also returned her dog to the Abandoned Angels Cocker Spaniel Rescue.
"I sincerely and humbly apologize to everyone, especially to that man, his family," Amy Cooper told NBC New York by phone. "It was unacceptable and I humbly and fully apologize to everyone who's seen that video, everyone that's been offended...everyone who thinks of me in a lower light and I understand why they do. When I think about the police, I'm such a blessed person. I've come to realize especially today that I think of [the police] as a protection agency, and unfortunately, this has caused me to realize that there are so many people in this country that don't have that luxury."
Read some reactions from observers on Twitter below.