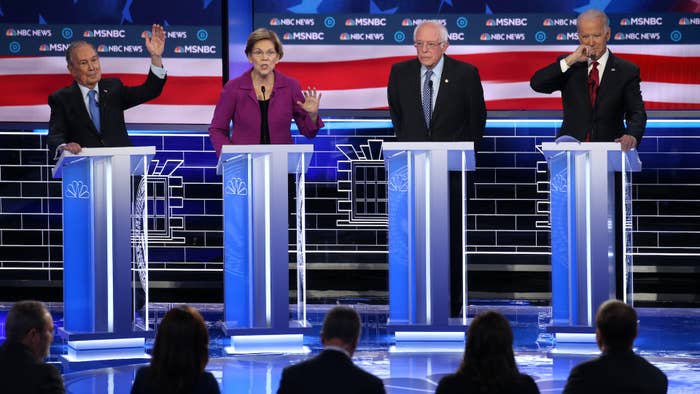 Billionaire and former New York City Mayor Michael Bloomberg joined Vermont Senator Bernie Sanders, former VP Joseph Biden Jr., former South Bend, Indiana Mayor Pete Buttigieg, Minnesota Senator Amy Klobuchar, and Massachusetts Senator Elizabeth Warren at the Democratic debate at Las Vegas' Paris Theatre on Wednesday night and things got tense. 
A highlight from the evening featured Warren going after Bloomberg over the unknown number of nondisclosure agreements past women employees of his have signed. "What we need to know is what exactly is lurking out there," Warren said. She went on to ask Bloomberg if he'd be willing to "release all those women from those nondisclosure agreements." Bloomberg said he wouldn't.
"We have a very few nondisclosure agreements," Bloomberg responded. "None of them accused me of doing anything other than maybe they didn't like a joke I told."
Warren continued, "I'm sorry, the question is, are the women bound by being muzzled by you and could you release them from that immediately? Understand, this is not just a question of the mayor's character. This is also a question about electability." She added, "We are not going to beat Donald Trump with a man who has who-knows-how-many nondisclosure agreements and the drip-drip-drip of stories of women saying they have been harassed and discriminated against."
"We are not going to beat Donald Trump with a man who has who knows how many non-disclosure agreements." - Warren confronts over Bloomberg over his non-disclosure agreements

pic.twitter.com/jaKPC43Iwf
Warren also called out Bloomberg for previously calling women "fat broads" and "horse-faced lesbians."
"I'd like to talk about who we're running against: a billionaire who calls women 'fat broads' and 'horse-faced lesbians.' And no, I'm not talking about Donald Trump, I'm talking about Mayor Bloomberg," Warren said. "Democrats are not going to win if we have a nominee who has a history of hiding his tax returns, of harassing women. And of supporting racist policies like red lining and stop-and-frisk."
That wasn't the only criticism Bloomberg received during the evening. Sanders, and other candidates, called out the billionaire over the racist policy of stop-and-frisk that targeted blacks and Latinos. 
"In order to beat Donald Trump, we're gonna need the largest voter turnout in history. Mr Bloomberg had policies in NYCof stop and frisk. Which one after African American and Latino people in an outrageous way. That is not a way you're going to grow voter turnout"

@BernieSanders pic.twitter.com/uGfeqbxIdU
Sanders, who's leading in the polls, also went after Bloomberg by bringing up wealth inequality. 
Mike Bloomberg has more wealth than the bottom 125 million Americans. That's wrong and immoral.

#DemDebate
It was the first time Bloomberg, who was formerly a Republican, participated in a televised Democratic debate.
Earlier this month, Bloomberg came under fire after a speech he made at the Aspen Institute in 2015 resurfaced. "Ninety-five percent of your murders, and murderers and murder victims, fit one M.O. You can just take a description, Xerox it, and pass it out to all the cops," he said at the time. "They are male, minorities, 16-25. That's true in New York, that's true in virtually every city [inaudible]. And that's where the real crime is. You've got to get the guns out of the hands of people that are getting killed."