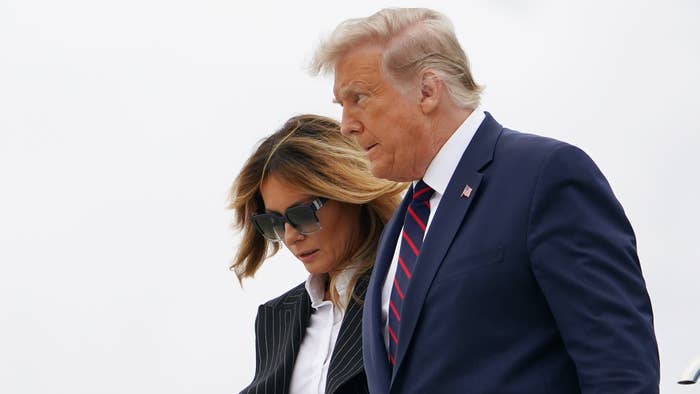 UPDATE 10/2, 10:44 p.m. ET: Donald Trump told the nation he believes he's "doing very well," however, sources close to the president claim his condition "is serious."
CNN's Jim Acosta cited a former Trump adviser who says POTUS is exhibiting a number of concerning symptoms, including fatigue and difficulty breathing.
A White House official later told Acosta that the country "should not be alarmed," as the president is taking his diagnosis "very seriously."
A day after Trump announced he and Melania had tested positive for COVID-19, former president Barack Obama also wished the Trumps—and everyone else who contracted the disease—a speedy recovery.
UPDATE 10/2, 5:17 p.m. ET: Donald Trump is now being transported to Walter Reed Military Medical Center.
Via pool report, Trump is going to Walter Reed. Two sources familiar with the plan say he's expected to undergo tests.
BREAKING: Trump is to be transported to Walter Reed Medical Center in Marine One helicopter

https://t.co/aNRLqz8mPg
UPDATE 10/2, 4:22 p.m. ET: It is now being reported that Donald Trump has a low-grade fever after testing positive for COVID-19 and is receiving experimental treatment, according to NBC News. The New York Times is reporting that in addition to the fever, Trump has a cough and nasal congestion.
NBC News: President Trump is being treated with an 8 gram dose of Regeneron's polyclonal antibody cocktail, his doctor says.

NBC's

@HallieJackson

&

@carolelee

report he has a low-grade fever. His doctor says he is "fatigued but in good spirits".
In addition his doctor says in a statement that Trump has been taking zinc, Vitamin D, famotidine, melatonin, and a daily aspirin.

The First Lady has a mild cough and headache, the President's doctor says.
See original story below. 
U.S. President Donald Trump and First Lady Melania Trump have tested positive for COVID-19.
Trump, who is 74 years old, made the announcement via Twitter early on Friday.
Tonight,

@FLOTUS

and I tested positive for COVID-19. We will begin our quarantine and recovery process immediately. We will get through this TOGETHER!
A memo on Trump's positive diagnosis for the coronavirus was released but did not indicate if he or Melania are experiencing any symptoms. "The president and first lady are both well at this time, and they plan to remain at home within the White House during their convalescence," physician Sean P. Conley wrote in the memo. "Rest assured I expect the president to continue carrying out his duties without disruption while recovering, and I will keep you updated on any future developments."
The statement from the WH doctor does not address whether the president or First Lady has symptoms. People noticed the president's voice was raspy today but some chalked it up to a busy week.

https://t.co/WEYsCoDXfb
The New York Timesreports that Trump is currently experiencing "mild" symptoms and is said to have been "lethargic" at a fund-raiser he stopped by in Bedminster, N.J., on Thursday. Trump reportedly came into contact with around 100 people at the event, which took place at the reality television star's golf course. Melania later took to Twitter to say that she has been experiencing "mild symptoms but overall feeling good."
Thank you for the love you are sending our way. I have mild symptoms but overall feeling good. I am looking forward to a speedy recovery.
The news, which arrives just over a month until the election, also comes on the heels of White House aide Hope Hicks testing positive for COVID-19. Shortly after news broke of Hicks testing positive for the coronavirus, Trump said that he would get tested and quarantine. Hicks traveled on Air Force One with Trump to Tuesday's presidential debate in Cleveland and also accompanied him on Wednesday to a rally in Minnesota. The flight to the debate also included Jared Kushner, Trump's son-in-law and senior advisor, and Trump's adult children, Deadline reports. 
Hope Hicks, who has been working so hard without even taking a small break, has just tested positive for Covid 19. Terrible! The First Lady and I are waiting for our test results. In the meantime, we will begin our quarantine process!
The Trump campaign did not directly inform the Biden team about testing positive (or the possibility of exposure) for the disease despite the two men and their camps being in the same location for Tuesday's debate. Biden's campaign learned of the diagnosis via news reports, according to PBS' Yamiche Alcindor.
CONFIRMED: There was no contact from the Trump campaign or the White House to alert the Biden campaign of possible exposure. The campaign learned of the situation from the news reports, a Biden campaign aide tells me.
Shortly after news of Trump testing positive for the disease was released, Biden announced that he and his wife Dr. Jill Biden took tests and that they came back negative. Democratic vice presidential nominee Kamala Harris has also tested negative. 
I'm happy to report that Jill and I have tested negative for COVID. Thank you to everyone for your messages of concern. I hope this serves as a reminder: wear a mask, keep social distance, and wash your hands.
Chris Wallace on Fox said Trump family members were offered masks as they sat in the hall before the debate on Tuesday and they "waved them away"

pic.twitter.com/Y9REUYcdoU
Trump, who is often seen not wearing a mask, has consistently downplayed the severity of the virus, previously saying that the disease will "disappear" and that "it's fading away." On Monday, Trump reiterated that "we're rounding the corner" on the pandemic. 
Many of Trump's rallies have hosted large numbers of maskless people not following social distancing guidelines.
Here's Trump -- who just announced he and Melania are under quarantine for possible COVID infection -- mocking Joe Biden at Tuesday's debate for wearing a mask

pic.twitter.com/Q9cFtqezwc
In the wake of Trump's COVID-19 diagnosis it was announced that rallies will either be postponed or move online. Mike Pence will still be attending campaign events. 
TRUMP's rallies postponed or will be virtual, campaign says. Campaign events involving his family are postponed.

PENCE will stay on the trail.

pic.twitter.com/ufgqHYlUbX
So far, the U.S. has recorded at least 7.3 million cases of COVID-19 and over 200,000 deaths. The U.S. leads the world in both COVID-19 cases and deaths.