An investigation has been launched into a group of Detroit firefighters after a photo was shared of them posing in front of a burning house. As the Detroit Free Press reports, the photograph was shared to the Detroit Fire Incidents Page on Facebook, wishing everyone a happy new year. "Crews take a moment to get a selfie on New Years," the post alongside the controversial image read before it was deleted. 
Detroit Fire Commissioner Eric Jones said that if the photo is "verified" as being real, then "discipline will be order." He added, "there are a lot of ways to celebrate a retirement. Taking a photo in front of a building fire is not one of them." Jones also told The Detroit News that the photo was "inappropriate and unprofessional." Sources close to the situation told WXYZ-TV that the house next door to fire was vacant, and due to the severity of the fire, the firefighters could not enter the building and could only "attack it defensively" from outside.
The group was reportedly celebrating the retirement of a fire battalion chief. Deputy Fire Commissioner Dave Fornell explained the photo was taken on Tuesday after the fire was reported at 6:34 p.m. local time. One firefighter allegedly asked the Facebook page to take the photo down, as he claimed the department threatened to fire him.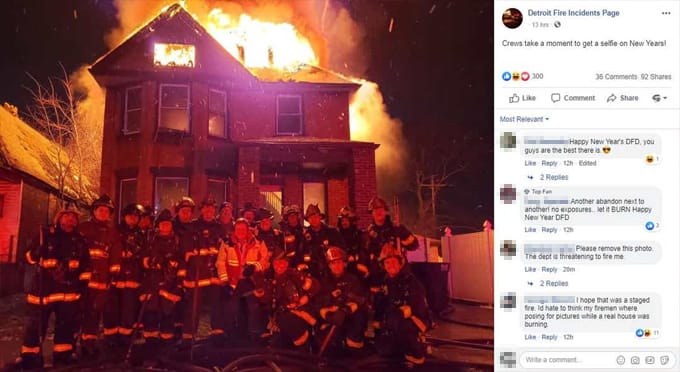 See a screenshot of the since-deleted post above.