Pablo Escobar's Brother Launches New Cryptocurrency
It's called dietbitcoin.
Getty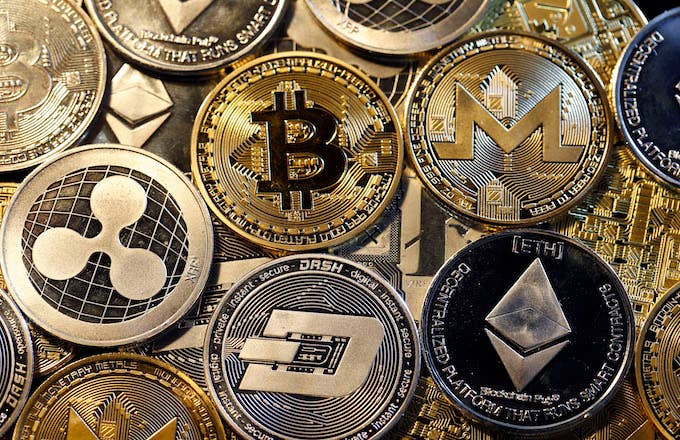 Ever since Bitcoin soared in value, becoming more valuable than things such as Disney or McDonald's, cryptocurrencies have started to gain serious popularity. (It should be noted that Bitcoin's value has since taken a sizable dip.)
As a result, lots of people tried to get in on the action. There was news of a Lil Uzi Vert-inspired cryptocurrency called Dripcoin and 50 Cent allegedly made an accidental $7 million dollars after deciding to accept Bitcoin as payment for his Animal Ambition album, though 50 later said that it didn't happen. And now there's news of a new person entering the cryptocurrency space: Roberto Escobar, the brother of former drug kingpin Pablo Escobar. For reference, he's the same guy who sued Netflix over a copyright claim against Narcos, and threatened to close down the show if he didn't receive the $1 billion he was asking for. Roberto's new cryptocurrency is called dietbitcoin (DDX), The Next Webreports, and is being fronted by his investment firm, Escobar Inc.
"This is Roberto Escobar's gift to the people," Olof Gustafsson, CEO of Escobar Inc, told Complex.
Gustafsson also explained Escobar's motivation behind the new cryptocurrency. "Basically, an undercover CIA agent tried to infiltrate our company, Escobar Inc, and ultimately Roberto Escobar figured out that the CIA was behind this, and that they were behind Bitcoin," Gustafsson said. "So, basically Bitcoin was created by the American government."
"Roberto is a firm believer that a lot of these coins are scams, so he wanted to create something that will truly be a forever lasting coin, so he created dietbitcoin (DDX) for the people," Gustafsson continued. 
"If Roberto Escobar, who has made over $100 billion, wants to create a bitcoin competitor, then that is exactly what will happen," Gustafsson said. "Because when Roberto Escobar does something, it becomes big. Roberto Escobar will crush bitcoin in the long-run."
This new cryptocurrency has marketed itself as a Bitcoin alternative, which will purportedly be both faster and lighter than its main competitor. It will use the blockchain, a "peer-to-peer technology to operate with no central authority or banks" and will be "open-source" so that "nobody owns or controls dietbitcoin and everyone can take part." 
Escobar Inc has announced an initial coin offering (ICO) and is offering the public the ability to buy dietbitcoins at a whopping 96 percent discount. Escobar Inc plans to compete directly with Bitcoin by being a "diet" version of the popular cryptocurrency and by providing it at a cheaper price.
"In addition, we have the resources to back this coin and we have already done so by making an android application, iOS application and we are in the process of implementing dietbitcoin as a payment system in Dubai, United Arab Emirates," Gustafsson told Complex. "Roberto anticipates to have one of the major hotel chains, either Hilton Hotels or Marriott using our dietbitcoins shortly."
According to their website, dietbitcoin has a total supply of 1 million DDX and they will be split in three separate sales. 300,000 of them will be sold at $50 during a pre-ICO first round—but they are currently discounted and being sold for just $2 for a limited time. In addition, another 300,000 DDX will be sold for $100 per coin during a second pre-ICO round. The remaining 400,000 DDX will go for $1,000 each during a final ICO round. 
"Everyone should listen to these news, go to www.dietbitcoinICO.org and buy as many dietbitcoins as you can afford," said Escobar Inc COO Daniel Reitberg. "The value will be very high as we are identical in numbers to Bitcoin, except we are 4000 times cheaper right now."
Escobar himself is selling a book, titledPablo Escobar's Dietbitcoin, that explains why he decided to join the cryptocurrency game. In the book, Escobar further explains why he believes Bitcoin was created by the American government. "The world is going to see that this was created by them," the book states. "And when they see it, it is too late, and when CIA founds out that the world knows about this, the CIA is going to sell all of their coins, and they will destroy the value of Bitcoin."
"You can stick with your worthless coins," Escobar writes in the book. "Keep the Ethereum, Keep the TRON, keep the Ripple, keep the Bitcoin. You will see what happens. They will all go to zero, almost zero. But not my coin. Because my coin, this is going to be my new work in life."