At the Mobile World Congress on Sunday, Samsung announced the Galaxy S9 and Galaxy S9+.
The overall design of the phone hasn't changed much from the Galaxy S8, but the camera quality has improved considerably. With hopes of being recognized as the best smartphone camera, much of the Galaxy S9 announcement was focused on the improved dual camera with a wide f/1.5 aperture, which can take sharper photos in tricky low light situations than previous models.
"The way we use our smartphones has changed as communication and self-expression has evolved," explained Samsung's DJ Koh. "With the Galaxy S9 and S9+, we have re-imagined the smartphone camera. Not only does the Galaxy S9 and S9+ enable consumers to shoot the best photos and videos anywhere, it's a smartphone that's designed to help them connect to others and express themselves in a way that's unique and personal to them."
Other upgrades to the camera include stereo speakers, a new fingerprint sensor location, enhanced facial recognition, AR emojis, and super slow-motion video at 960 frames per second.
Pre-orders for the Galaxy S9 and S9+ will begin on March 2. The phones will be available in stores on March 16. The S9 costs $720 for an unlocked phone, and the S9+ is available for $840.
While there weren't dramatic changes from the Galaxy S8 to the Galaxy S9, The Galaxy S9, Samsung's global data analyst Avi Greengart explained that the S9 is "an iterative improvement with very little radical change. For other vendors that might be an issue, but not Samsung. This is building on the Galaxy S8 and S8 Plus, which were already extremely competitive."
The phones will be available in black, blue, and purple, with a gray option coming later.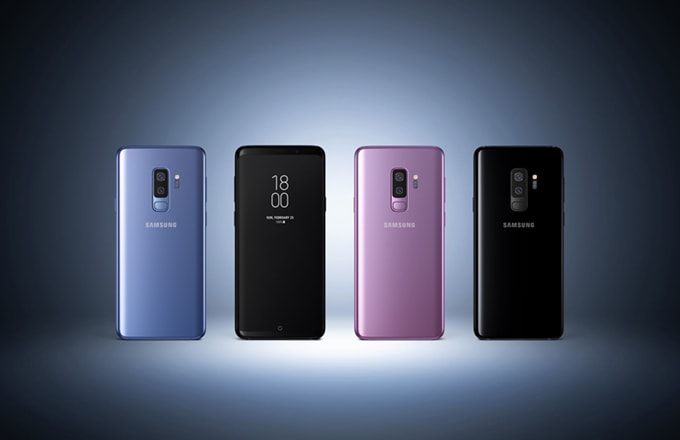 Samsung has updated their website with a new splash page that highlights all the new features.
Of course, Twitter was quick to jump in with varying opinions. Many compared the Galaxy S9 to the iPhone X and noted that Samsung kept the 3.5mm headphone jack, which Apple has controversially phased out of its models.