Parkland Gunman Had Swastika-Engraved Magazines, Tried to Make 'Sniper's Nest' at School
Police say the 19-year-old tried to make a "sniper's nest."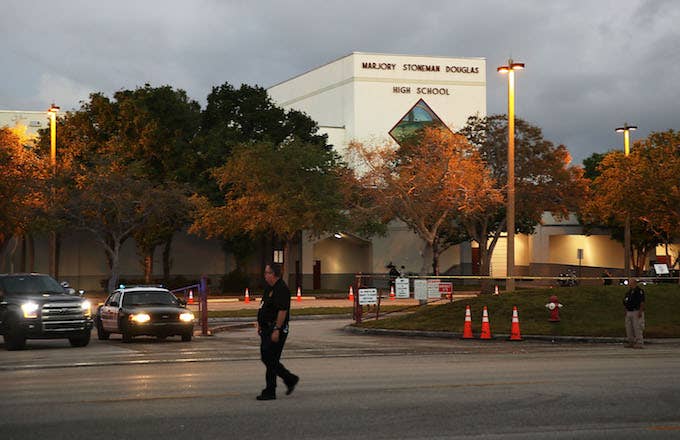 Getty
Image via Getty/Joe Raedle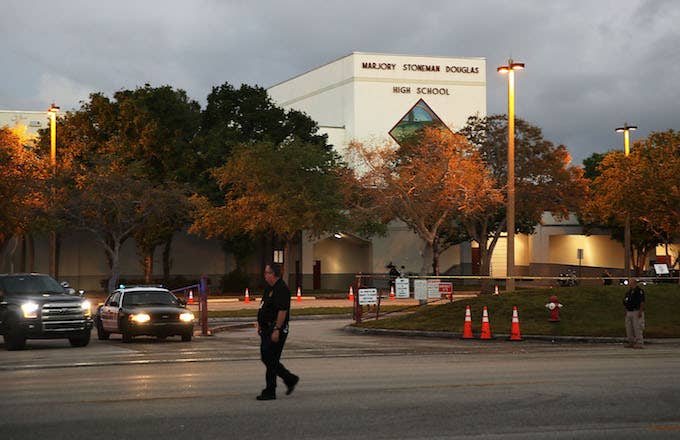 In the days since the deadly Parkland, Florida shooting, more and more disturbing red flags about the suspected gunman Nikolas Cruz and his behavior prior to the incident have surfaced. From the multiple domestic disturbance calls that were made from Cruz's home to the allegations he made frequent violent threats, it seems as though there were warning signs everywhere.
Now, CNN and CBS are reporting that Cruz attempted to create what law enforcement has called a "sniper's nest" by breaking a third-floor window at Marjory Stoneman Douglas High School. Police also found magazines engraved with swastikas that Cruz is said to have left behind.
Police say it appears as though Cruz shot 16 rounds into the window, which didn't break because it was hurricane-proof. Had he succeeded, law enforcement believe Cruz would have used the opening to fire on people from above. They also say his gun may have jammed. He left it behind along with a vest to blend in with other students as he fled the scene. Cruz had 180 rounds left that he could have used to take even more lives that tragic day that left 17 dead and 15 injured.
As Vice reports, Neo-Nazi group Republic of Florida previously said Cruz was a member, but the group's leader has since recanted that claim.
Cruz, 19, has been charged with 17 premeditated counts of murder. He is being held at Broward County Jail without bail.