Kim Jong-Un Joins Donald Trump's Military Parade Dick-Measuring Contest
Trump wants to prove he is better than other countries by doing the same thing that other countries do. Genius!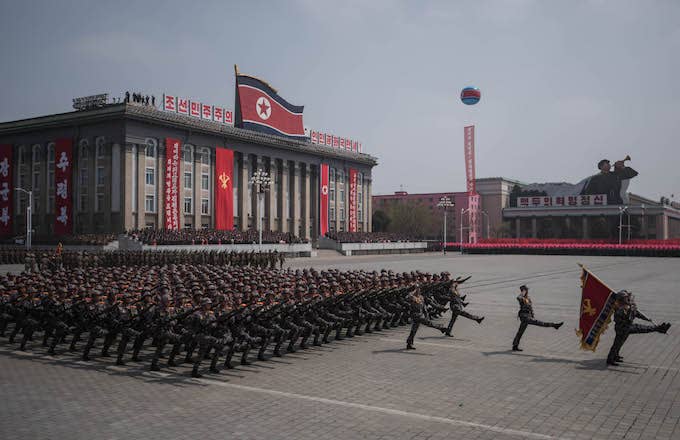 Getty
Donald Trump's desire to spend millions of dollars on an unwarranted military parade was already a bad idea before his self-imposed arch nemesis Kim Jong-Un beat him to the punch. Now Trump's parade—which was already a "metaphorical dick measuring contest" with France—looks even worse, like an idea fit for a dictator.
Marching is again underway after Kim Jong Un's speech at the Army Day parade in

#NorthKorea

. The parade is taking place in Kim Il Sung square in the capital of Pyongyang.

pic.twitter.com/JIw0Z8QaKV
On Thursday, the eve of the opening ceremony of South Korea's Winter Olympics, Kim Jong-Un decided to roll out troops, missiles and tanks onto Kim II Sung Square in a massive choreographed display of military might, CNN reports. In total, an estimated 50,000 people gathered to watch the parade, 13,000 of which were troops. The parade also included four of the country's newest and most sophisticated missiles, the Hwasong-15. A series of North Korea's feared intercontinental-range ballistic missiles were also displayed, but no new missile systems or military equipment appeared.
"This was a much more grounded military parade in the sense that these are real systems they have actually tested," said Dave Schmerler, a research associate at the Middlebury Institute for International Studies' Center for Nonproliferation Studies.
Furthermore, an official of South Korea's Defense Ministry told CNN this year's parade seemed more "reduced" than last year's.
The parade had supposedly been highly anticipated, as it was held to honor the day Kim's grandfather, Kim II Sung, formed the Korean People's Army. Kim gave a speech that lauded North Korea as a "world-class military power" and stressed that "as long as imperialism is present on the Earth and U.S.'s hostile policy against North Korea continues, the mission of the Korea People's Army to be the strong sword that protects the country and people, and peace can never change." He added, "The final victory lies to our party and people who is holding the gunstocks of revolution."