This interview was performed in partnership with Peet's Coffee, who is celebrating the passion that drives people like Gazin in the pursuit of their craft.
Visiting illustrator and comic guru Nick Gazin in his Greenpoint apartment is quite the experience. Obscure books, zines, and comics surround his living room walls. Action figures, records, and play sets fill other crevices, with trinkets from his travels, movie memorabilia, and junk store treasures nailed to walls as if they might come to life and start talking to you. Indoor plants line the windows of his kitchen and a teepee atop a cardboard box is carefully positioned in the north facing corner of his living room to provide a space of respite for his mischievous cat Banjo.
As an art director and illustrator at large, Gazin has become the "go to guy" for many brands, publications, and musical acts looking for a particular style of art. Psychedelic portraiture, Rock and Roll watercolors, lonely monsters, and mystical cats are a few of the areas that Gazin explores but are in no way his be all end all. While Gazin is most widely known for his work as the de facto artist for Run the Jewels (responsible for their iconic demon hands logo), his resume reads like a who's who of the rock, punk, and hip-hop world, and he doesn't seem to show any signs of slowing down. He publishes (at least) one comic a day and considers it his mission in life to bring the world of comics to a larger audience.
We recently sat down with Nick in Brooklyn to eat spinach and talk about coming up in New York City, the power of portraiture, and how he wants to meet his viewers wherever their expectations lie. Here is Nick Gazin, in his own words:
The Human Face
"The human face is endlessly interesting. Humans are really self absorbed and we see faces in everything already. Scott McCloud talked about that in Understanding Comics. For instance, you can look at an electrical outlet or the front of a car and you see a face. All you need is two dots and a line and you'll find a face in that. And so the face is neat because you can put anything down there as long as you start with two dots on a line, and people will see something that they think they understand. And so you can give people a thing, where they're like, 'I know what that is.' And it gives them the security, but then you can start abstracting it, and really dig into your own feelings and do what you want to do and get really experimental, and they will be okay with that. You're free to experiment when you draw a face, because if people see an eye or two, or two dots on a line, they will make it into an image they understand if they want to.
My goal is to make art that can meet the viewers at their level. Be that whatever it is, they can still get something out of it and I can get what I want out of it too."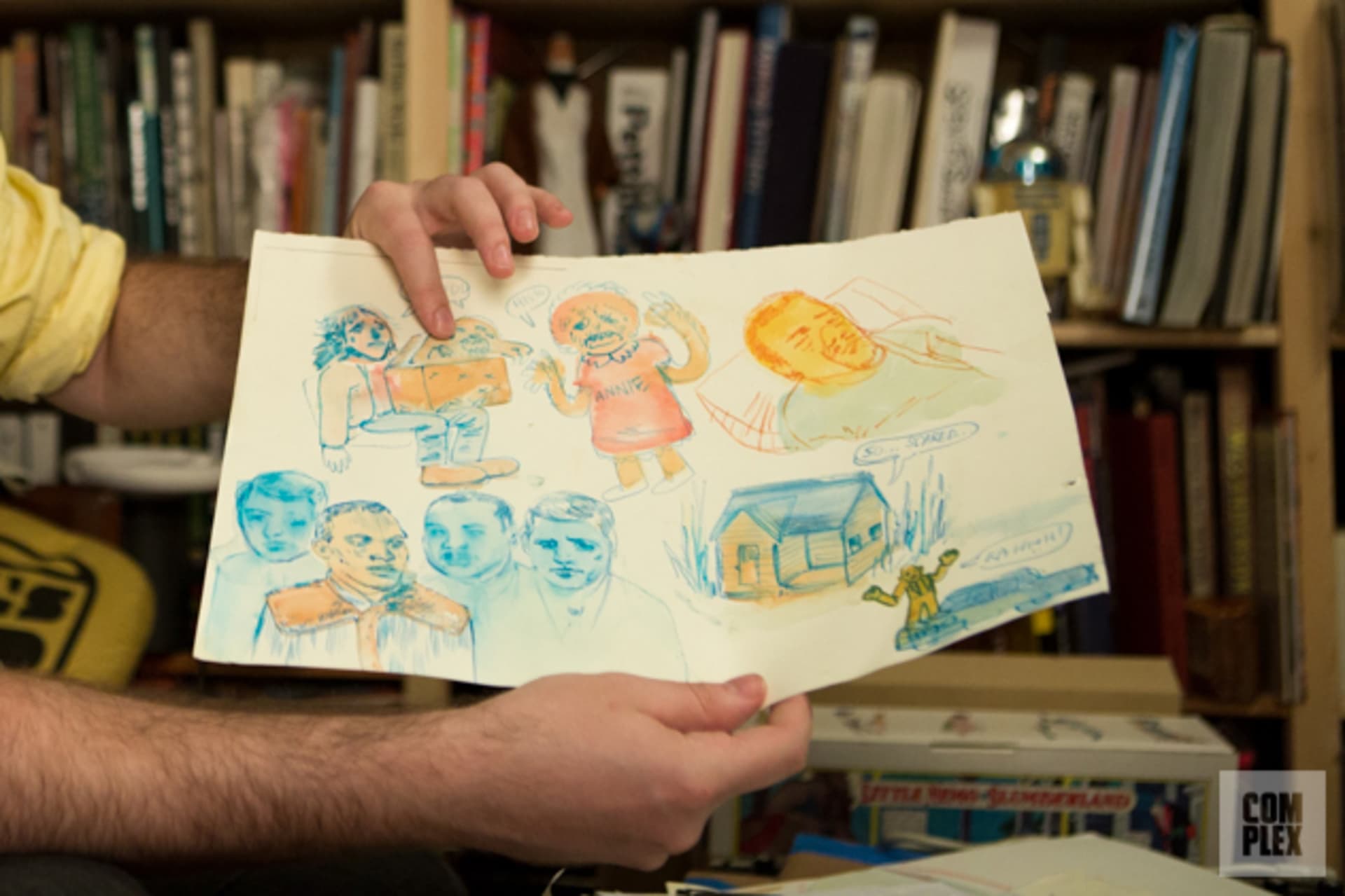 The Fam
"My grandfather was a painter, writer, bullfighter, and my grandmother on my mother's side was an architect. My mother went to Yale, and paints, and my uncle is a writer and a painter. Their brother is also a writer and photographer. My dad was a street performer. He used to do a mind reading act. He was a mentalist. His sister is a photographer. I take a lot from both my parents. My dad with his theatricality and his love of junk art. My mother with her knowledge and love of fine art."
Becoming an Artist
"There was no specific moment where I knew I wanted to be an artist. I was very lucky to have a nice artsy mom who would always put out art supplies for me as a child at a young, young age. I would always draw and paint. I got a lot of encouragement.
At the same time, I think I had some compulsive tendencies towards just wanting to keep going. Whereas maybe other little children might get bored, I would just want to keep on drawing and painting. It's a mixture of encouragement and compulsion. But there was no specific moment that I realized I wanted to be an artist, I was just always doing it.
I think at a certain point maybe it went from being a hobby I enjoyed, that I was encouraged to do, to a thing I got some sort of identity from, to something I got positive validation for. I think I really started to learn how to draw at 20, having taken classes for a long time already."
"IF I HAD TO DEFINE MYSELF AS ONE THING IT WOULD BE A PORTRAITIST."
Disassociation
"I grew up mostly on the upper East Side until I was about five. I moved around eight times before I was six, which I think might have led to weird dissociative issues, where I had trouble believing that other people were real.
I think it caused issues with empathy building because we would live in a place for six months and then move to an entirely different place. Like I lived in San Francisco, Rye, New York, Florence, Italy, Nyack, a few places around Manhattan.
I think constantly moving at a young formative age may have caused issues where I didn't recognize that those people were still going to be there later. I remember telling a child when I was in kindergarten that my family was going to move, and we weren't going to move anymore. And he said, 'That's not possible.' I think he thought I meant we were going to freeze in time. But I just couldn't believe we were going to try to stay in one place without moving again within a year, or sooner."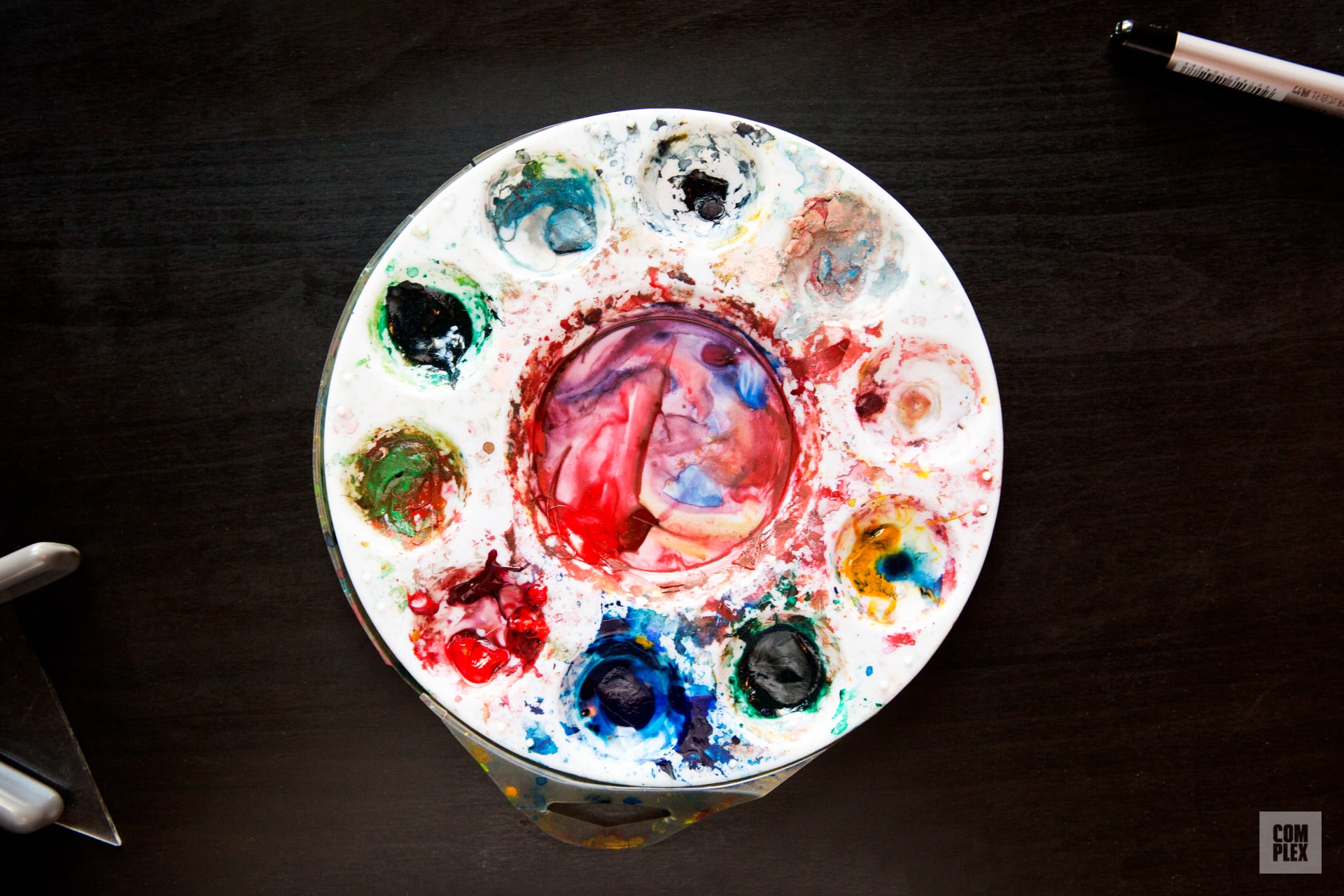 New York
"My father used to do his mind reading act by the sailboat pond in Central Park. My mother was here studying Theater Design at NYU. They met at a party and got married here and I was born here.
New York is a hard place. It can be very tough sometimes. It's also the birthplace of punk, hip-hop. A lot of good art stuff here. Broadway shows. The 600 Boat ride that goes around the entire Manhattan island. Tap dancing supposedly came from Five Points, America's first slum."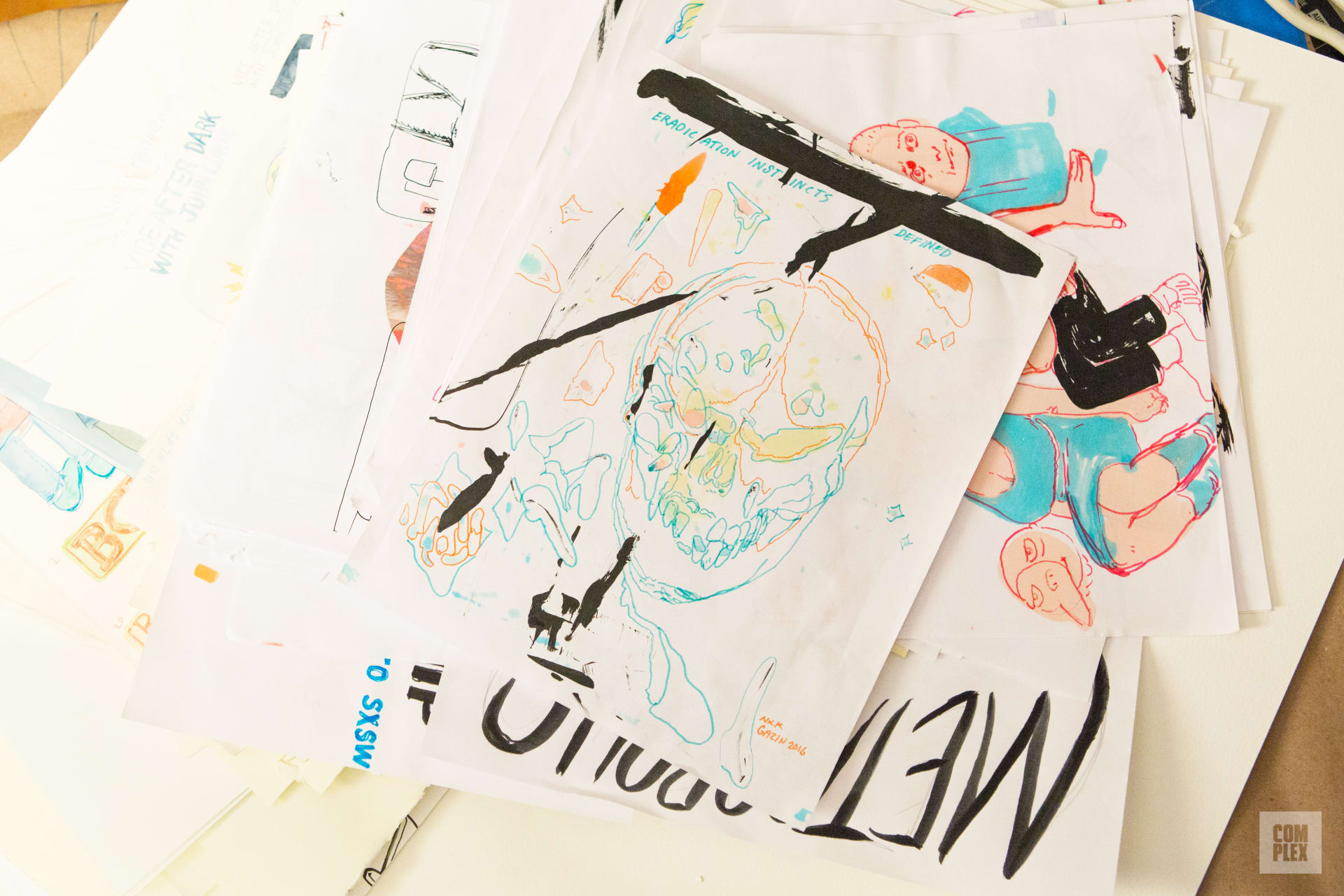 Living Inside the Internet
"People come here from all over America, because things aren't going so great wherever they came from. Or they want to take a chance, or they want to be a part of something. When you come here, maybe you're the one person in your town who liked what you liked. And you come here, and eventually you're just like, 'Oh, everybody likes John Waters movies here and worships him.' Like everybody knows about this and you don't have to be uncomfortable anymore. You can be with your own kind of whoever. People who like exactly what you like.
I don't know, people talk about how New York is really mean, but New York's not that mean. People are really eager to give each other directions, even if they don't speak the same language, and people are really eager to find activity partners. It's like living inside the internet."
Find a Place
"Part of the reason I got into show flyers and stuff was because I went to art school. Trying to get work outside of art school is really hard, and everybody was all trying to hustle the same places and get work doing the same stuff. No one was really helping each other. Everybody turned me off in that world and so I started hosting these parties at the Cake Shop – this place that no longer exists on Ludlow – where I would DJ and then I eventually started booking bands. I would do flyers for the shows. It would be a way to showcase my many, many talents of both DJing and drawing while also making my ideal party that I would want to go to.
I would do a lot of water color fliers. At the time, I don't think people necessarily associated water color – which is kind of soft and ethereal and sensitive and stain-glassy – with Rock and Roll, which people usually associate with hard black lines and graphic silkscreen posters. It's a good lesson to all young artists: find a place that needs art where are aren't already a lot of people doing exactly what you do.
Supposedly it's a desire of all visual artists to make art that feels like music, where it's abstract and it affects you before you have the chance to decide whether you want it to or not. You immediately know if you like it or not. Sometimes it can grow on you but you'll have an immediate visceral reaction."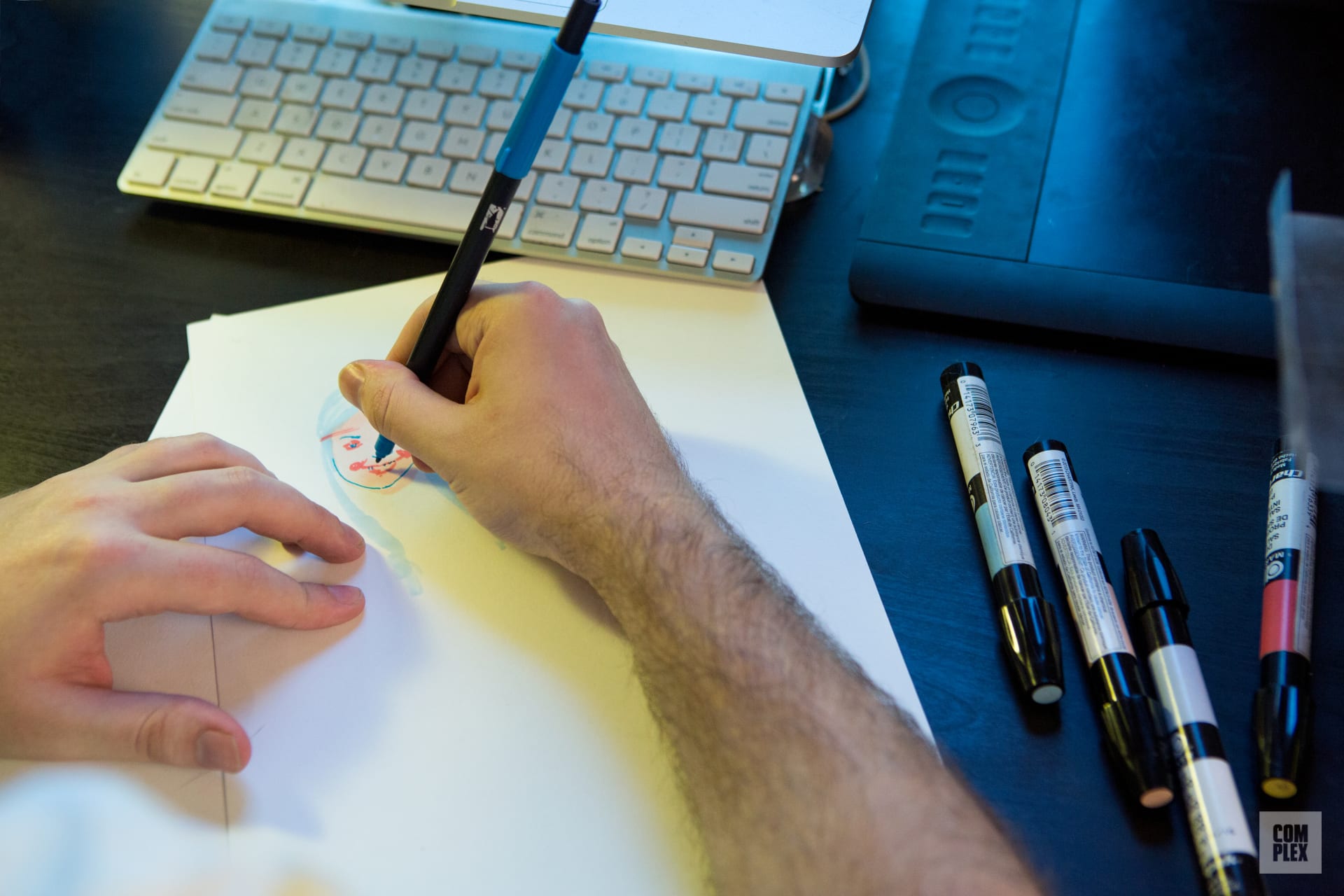 "find a place that needs art where THERE aren't already a lot of people doing exactly what you do."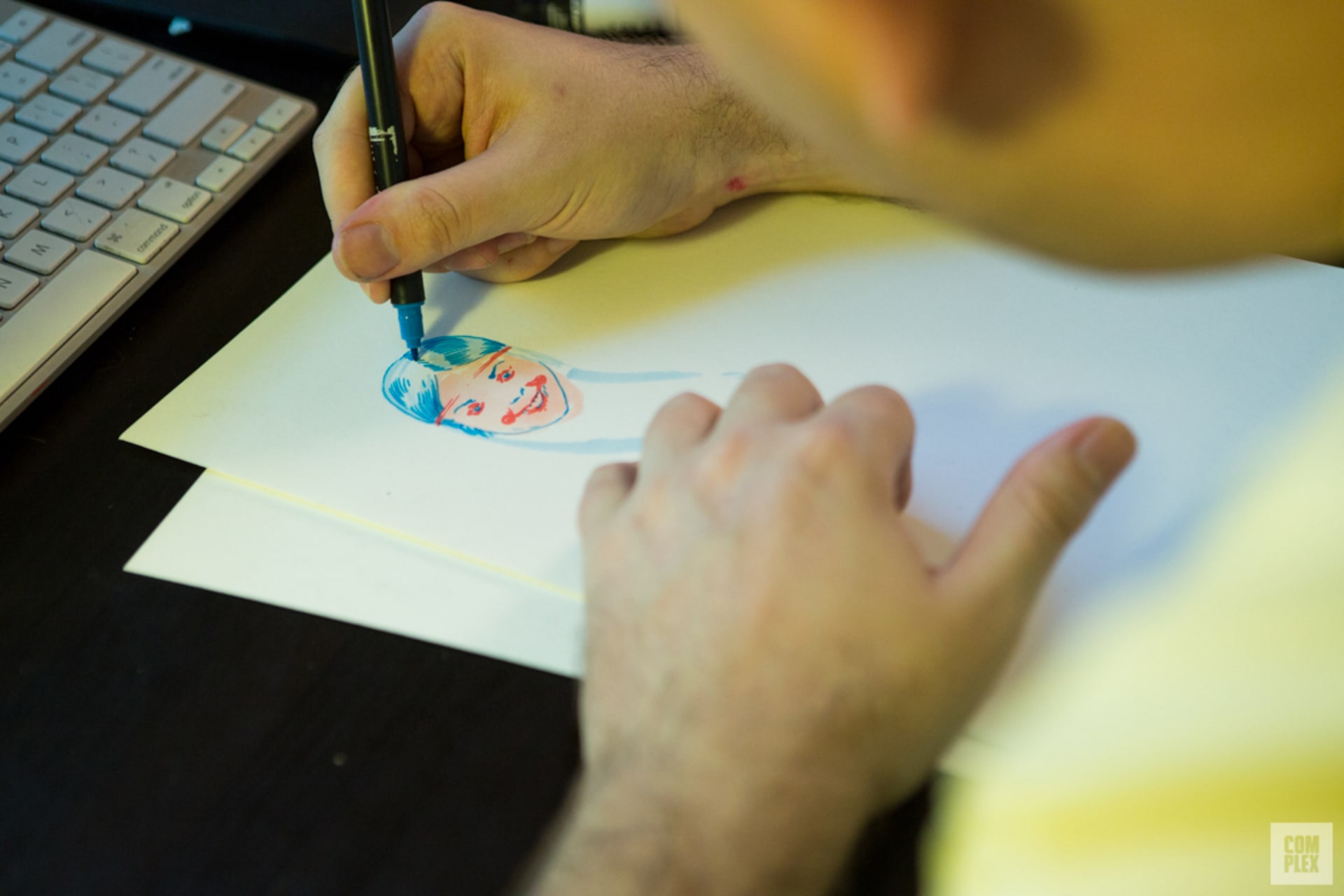 The Most Tattooed Drawing
"I came to work on the art for Run The Jewels inadvertently through DJing. I was DJing South By Southwest a few years back and I was opening up for Nick Catchdubs, who's a great DJ. His friend was with him, and he was like, 'Oh, you're Nick Gazin, you do really good art.' I guess that meant something to Catchdubs and he ended up hiring me for some stuff for Fool's Gold Records after that. He told me about Run The Jewels saying, 'Yeah, El-P and Killer Mike are doing a super group. We need this art. You want to do it?' I said, 'Okay.' And that's how that happened
Run The Jewels is probably the most tattooed [symbol I've drawn]. A lot of people have tattoos of that Run The Jewels art I did. The way that happened was El-P was like, 'I got this hand gesture that's like this. How do you make this work for a record cover?' And I was like, 'Well, I've been drawing these blue demonic hands, and that way you don't have to worry about where they're attached. They can be independent and not connected to anything.' He's like, 'Okay.'"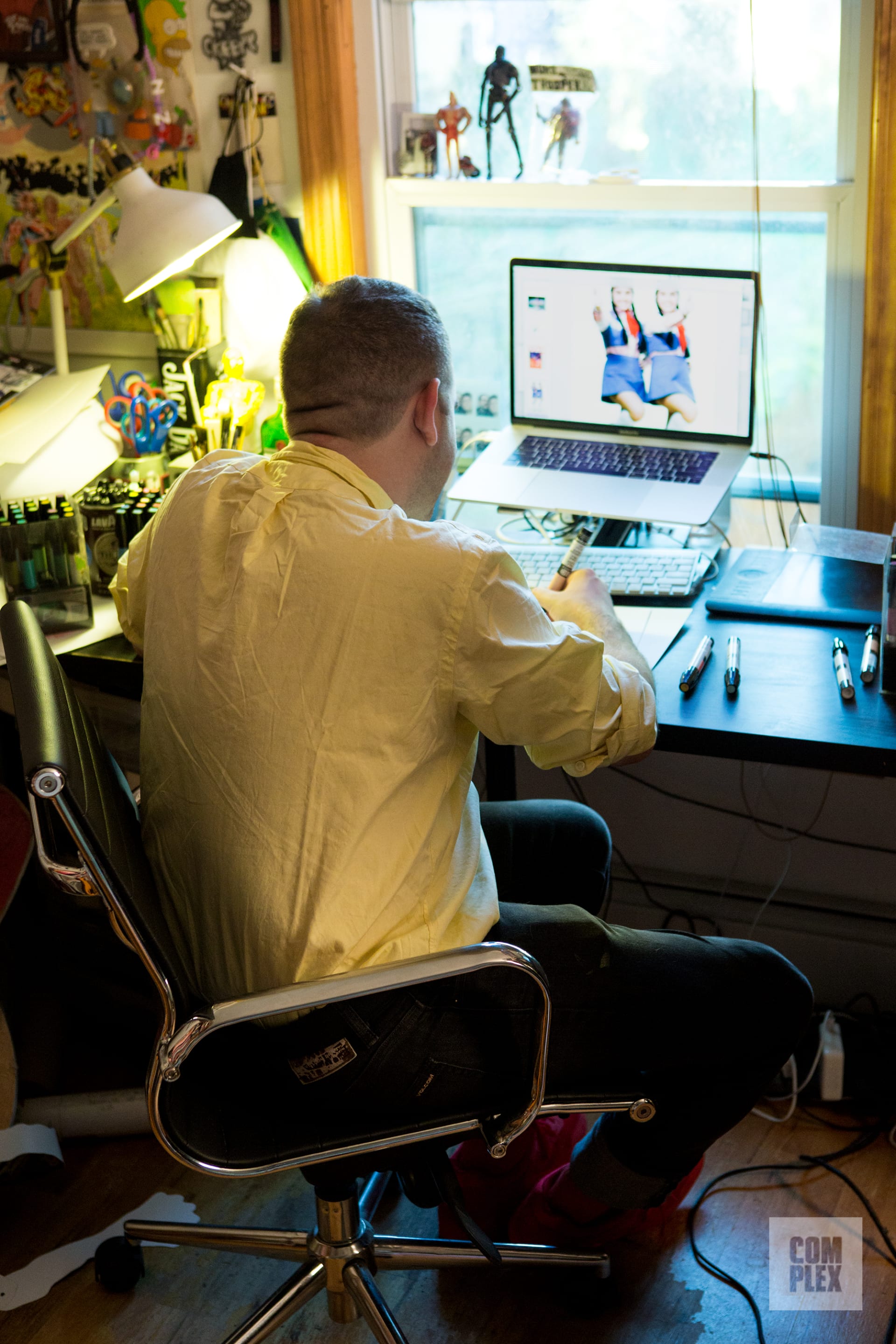 Moving on Up
"I interned at this periodical I really liked, and then I started writing for them about comics or art. I started freelancing more and more, and eventually I started doing a comics column, and creating the comics section. I'd interview artists and comic book people, musicians, and photograph shows. The company kept getting bigger and bigger, and then eventually they hired me on a salaried position where I get to work from home and hire illustrators for them and have a comic on their website every day. Basically, I was just kind of volunteering information about which illustrators they should hire a lot, to different people in the company, to the point where I was like, 'Hey, this should be my job.' And someone was like, 'Okay, that is your job.'
To try to make money doing anything creative you have to be a weird mixture of hyper self-critical and then also have this weird unearned arrogance, where you really believe in yourself. You think, 'No one gets how great I am, but I'm really great. But this needs to be better.'
It's all about matching the right idea with the right artist much like being a DJ. Being a good DJ is about playing the right song at the right time. Not playing the best music because there's no best music. It's about sizing up the situation and doing what's right."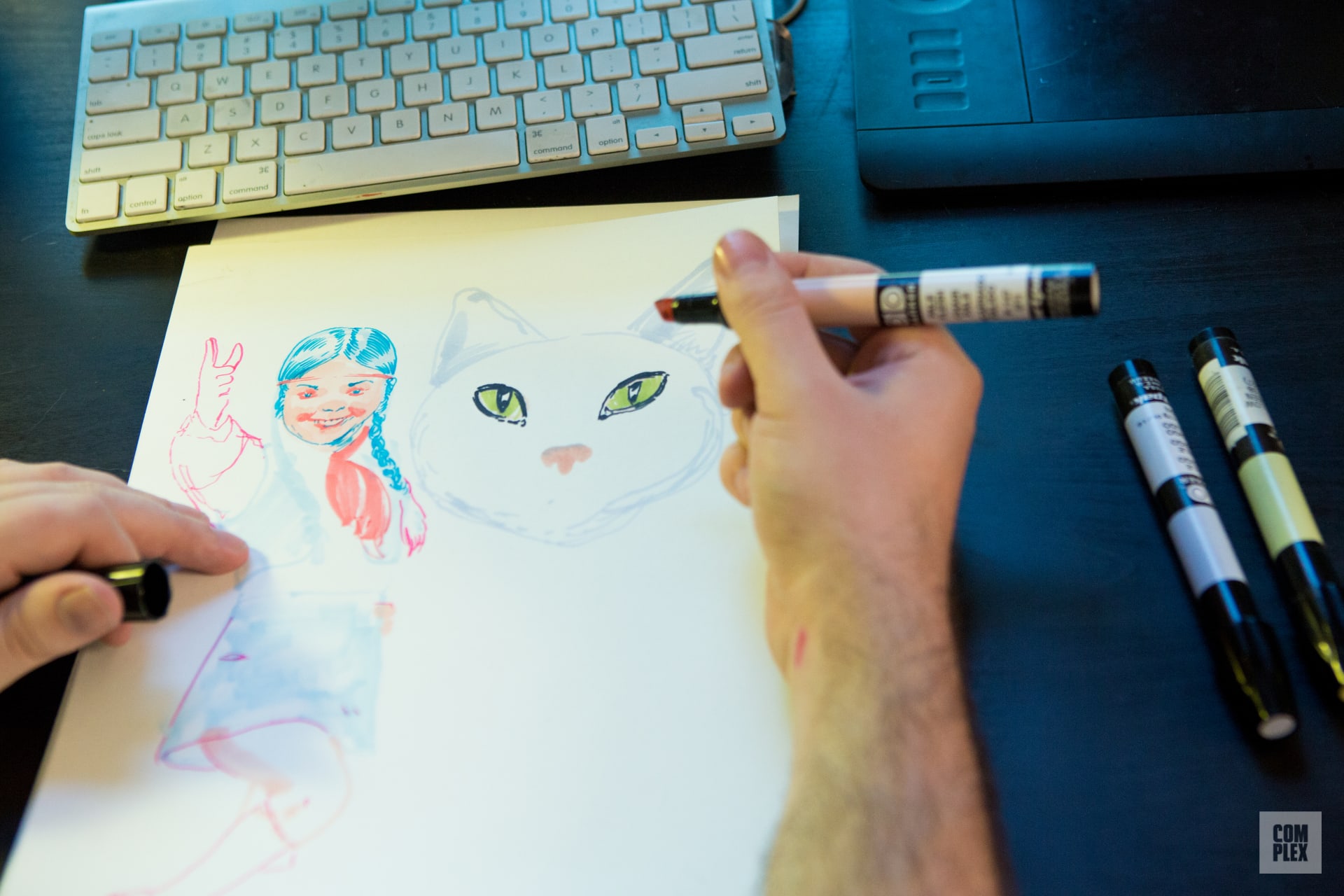 On Being Self-Critical
"I went to SVA. One of the biggest things I got out of SVA was learning to look at a thing and be like, 'this is why this is working, or this is why this is not working.' If you're not self-critical, it's hard to do anything really well because everyone else is going to be very critical, even if they're trying to be positive, they're just going to be like, 'Oh, that's nice, I don't care. Good job, I'm glad you're doing this, I'm going to go look at this other art.' Even if they think they're not judgmental, everyone judges. It's like what Kurt Cobain wrote on the cover of his book that wasn't supposed to come out, 'If you read, you'll judge.'"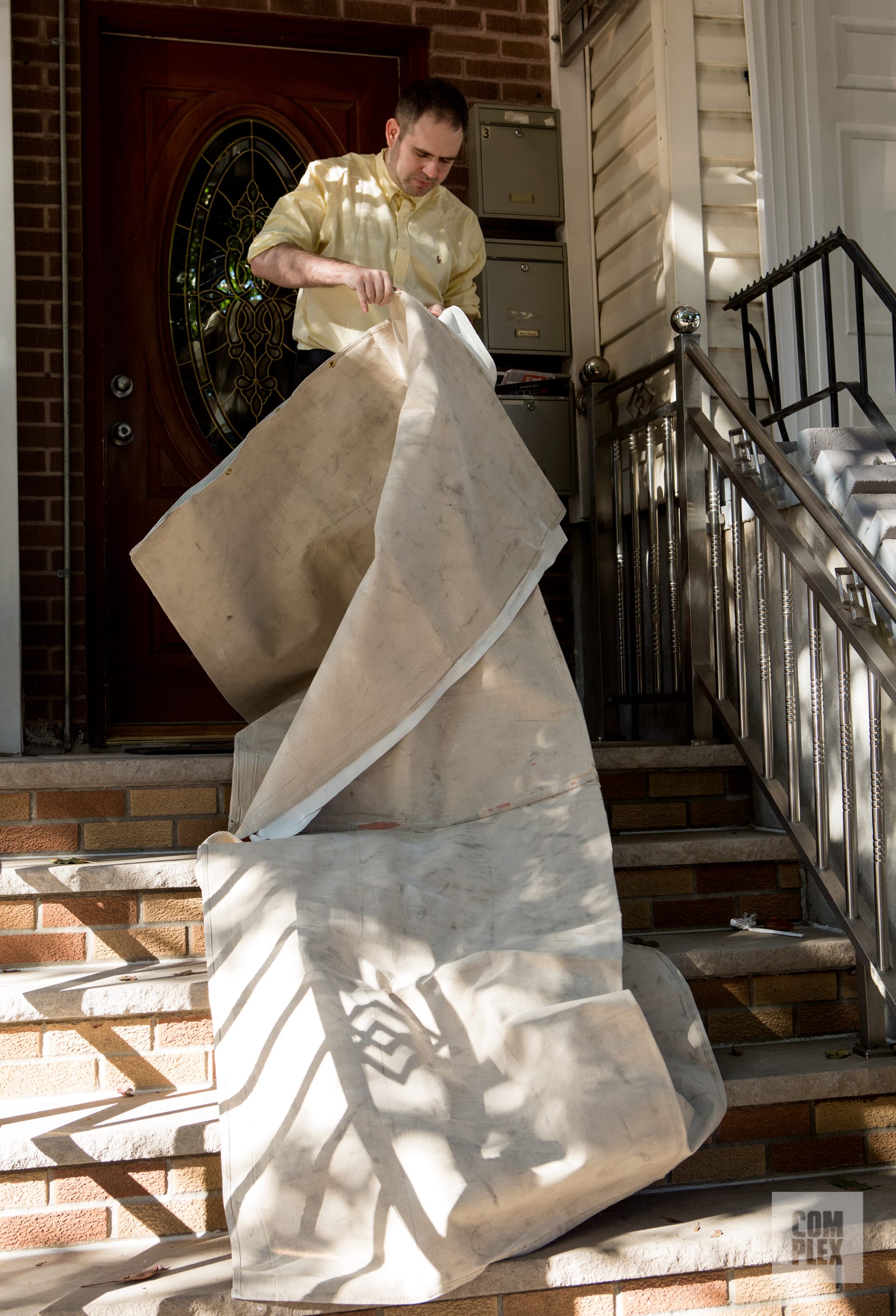 Banjo
"Banjo is my little angel. I think he's given me a lot, in the sense that I wasn't a cat person before I met him but having spent a lot of time with Banjo, I've learned to not only love other cats, including him, but all other furry things, and I think he's given me more empathy for loving other humans too, just appreciating living creatures. The love of a good cat can do that to you.
He's a creature that can constantly surprise me. When I see him do all the things that he tends to do, he'll start doing new things. Jumping and climbing to new places or in new ways. Being affectionate in different forms. Making friends with the neighborhood raccoons after having fought all the neighborhood cats. Jumping high heights. Expressing himself in just new ways that show different levels of sensitivity or intelligence."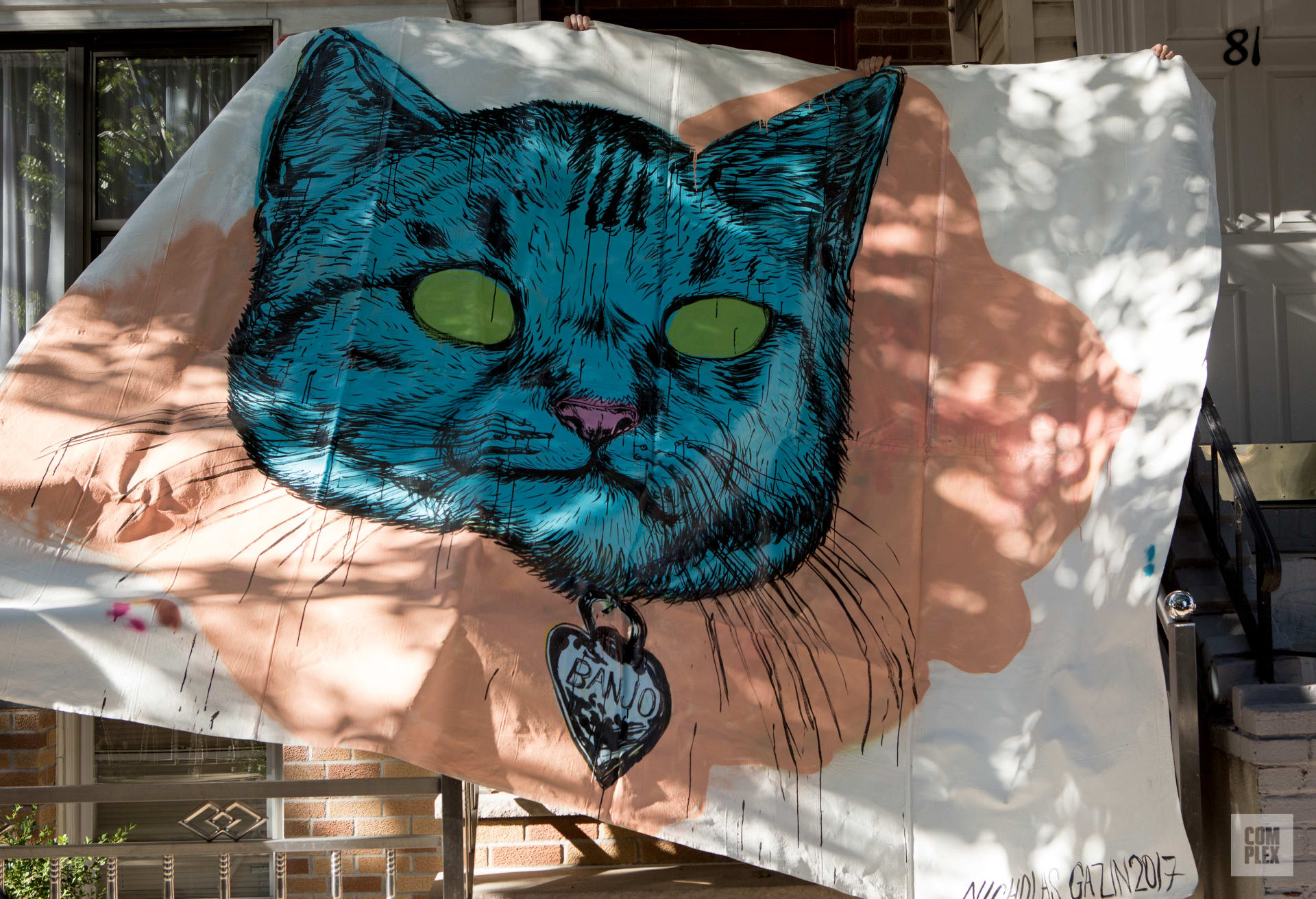 Inspired by Gazin's story? Share your passion and "What Fills Your Cup" on peets.com/passion for a chance to win a year of free Peet's Coffee and be inspired by the stories of others pursuing their craft.​​