D.C. man Justin Schweiger is making headlines left and right for all the wrong reasons. The guy had the balls to schedule six dates on one night with six different girls at the same spot. His plan was to just rotate through the women and come up with excuses to end the date before the next one showed up, but, predictably, his plan failed after just the first girl. Lisette Pylant figured out the lie when Schweiger's second date showed up and the two girls unraveled this dude's entire plot. And, of course, they live-tweeted the whole thing in a long-ass thread. 
We meet up at a bar my friend works at. Said friend proceeds to text me telling me this guy sucks and I should run

— Lisette Pylant (@LisettePylant) August 7, 2017
So 45 mins in his next date shows up because he double books himslef and he decides he's going to friendzone me to get out of the situation

— Lisette Pylant (@LisettePylant) August 7, 2017
We'll call this girl katie - katie gets in on my quest to make this guy feel like the fucjboy he clearly is and we chat for 30 mins

— Lisette Pylant (@LisettePylant) August 7, 2017
The two girls and I have now gotten both bartenders and the bouncer in on this and are taking this guy for all he's worth over here

— Lisette Pylant (@LisettePylant) August 7, 2017
JK ITS NOT OVER! The bartender just texted us to tell us homeboy is on another date so I sent my friend over to retrieve his 8pm date

— Lisette Pylant (@LisettePylant) August 8, 2017
You guys girl number FIVE just showed up BEFORE going to meet him because my friends intercepted her and told her not to waste her time

— Lisette Pylant (@LisettePylant) August 8, 2017
But it seems this kind of behavior is classic Schweiger. Crisp Kitchen & Bar owner Jamie Hess told the Washingtonian that just a few weeks ago Schweiger was kicked out of her establishment for hitting on too many women and making them feel uncomfortable.
Schweiger claims: "I talk to people and I network. I'm a mover and a fucking shaker," as if that is some kind of excuse for harassing multiple people. A bartender alerted Hess and she decided to kick Schweiger out of the restaurant. According to her, she told him, "'Hey, you've got to calm down, and I think it's time for you to get out of here.'" 
So of course Schweiger did the classy thing and left a lousy 10 percent tip and wrote "FUCK OFF FELICIA!" in capital letters across the receipt. Schweiger then found Hess, the owner of the restaurant, and told her, "Just so you know, I know the owner and I'm going to get you fired for this."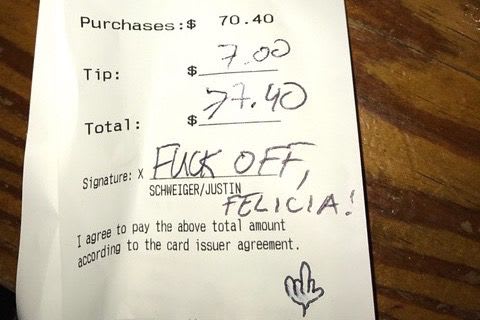 When asked about the incident, Schweiger says, "They did not kick me out," adding "I cannot be kicked out of anywhere in D.C... I loved that restaurant. It was the best fried chicken place. Now, it's a place where a bunch of shit-heads bartend until they get fired."
This guy sounds like a trip. However your week is going, I'm willing to bet money you're doing better than Mr. Schweiger over in D.C.