For decades, the vast and often overwhelming Taco Bell menu has been missing one crucial item of consumption: marriages. This past weekend, that all changed. Dan Ryckert and Bianca Monda of New York City became the first couple to get married at the Taco Bell Cantina in Las Vegas, KTNV-TV reported.
Ryckert and Monda were the lucky victors of the drunk food connoisseurs' Love and Tacos contest, which launched on Valentine's Day and resulted in a truly remarkable ceremony Sunday. Seriously! Look at this shit:
Ryckert and Monda, who first met online in San Francisco, quickly bonded over a mutual fondness for food of the Taco Bell variety. Ryckert is described as a full-on "Taco Bell aficionado" and has tried every single item on the menu. Speaking with Mashable about the ceremony Tuesday, Ryckert described it as "appropriately surreal."
​​Taco Bell's Vegas wedding services will be available to the general public starting Aug. 7. To procure a tasty matrimony, a couple simply has to grab a marriage license before hitting the flagship Taco Bell in Vegas. At the counter, couples can order a goddamn wedding straight from the menu for $600.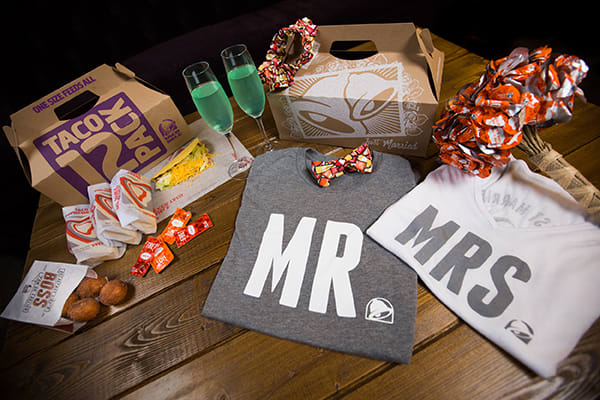 The package (which somehow isn't called the 5 Buck Box: Special $600 Marriage Edition) gets you a ceremony, an ordained officiant, a private reception area inside the restaurant for you and 15 guests, a garter and bow tie made of sauce packets, "Just Married" T-shirts, Taco Bell champagne flutes, and—perhaps most important of all—a 12 pack stuffed with tacos and a Cinnabon Delights cake. 
xqMzhldDoYd5BlKzzW6Fe_xZCoWPnoux