Prime Minister Justin Trudeau, his wife Sophie Gregoire-Trudeau and two of their children, Ella-Grace and Xavier, marched in Canada's largest Pride parade in Toronto on Sunday.
Thousands cheered and waved rainbow flags as Trudeau returned with his family to the annual march to celebrate "the multiple layers of identities" of Canadians.
Trudeau became the first sitting prime minister to attend and walk in a Pride march during last year's event. This year he was joined by his family and other political dignitaries, including Assembly of First Nations Chief Perry Bellegarde. It was the first time a national chief has participated in a Pride event.
Trudeau was casually dressed in a blue blazer and pink shirt, with a temporary tattoo of a rainbow-coloured maple leaf on his left cheek. But, the maple leaf wasn't Trudeau's only colourful nod... His stripped Pride socks also came with a subtle political message. Text on the socks read "Eid Mubarak," honouring the religious holiday that marks the end of Ramadan, the Islamic holy month of fasting, which coincides with Gay Pride this year.
Along the parade route, Trudeau and his family waved, frequently yelling out, "Happy Pride!" Never one to miss a photo opt, he even stopped to give mini-Wonder Woman a high five along the route. Of course, the photo was widely shared across social media moments after.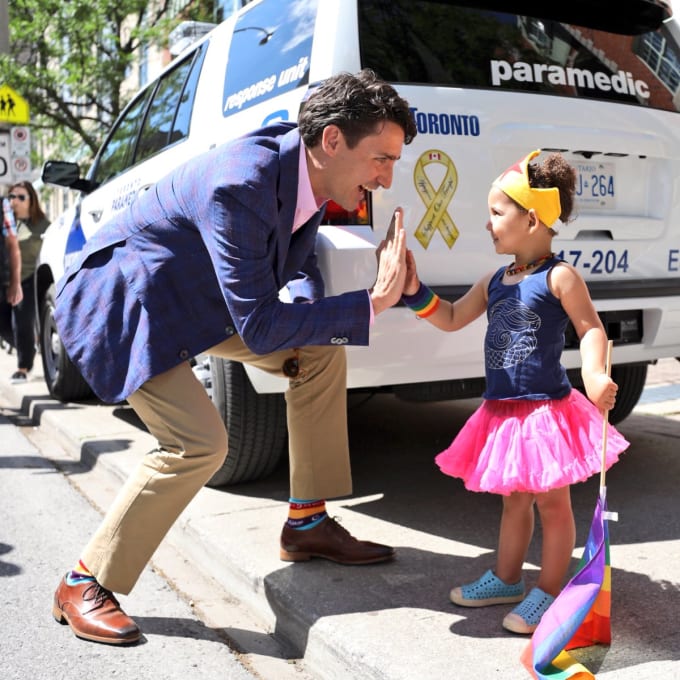 Before Sunday's Pride parade, Trudeau raised the rainbow flag and transgender flag above Parliament Hill, as he vowed to tackle the injustices faced by LGBT people.
He closed off his Sunday with a simple post on Twitter declaring: "Love is love. #PrideTO"