A Brooklyn police officer is facing punishment after she responded to her department's Twitter post with the hashtag #Blacklivesmatter.
According to an exclusive report by the New York Daily News, officer Gwendolyn Bishop replied to February 2016 tweet posted on the NYPD 76th Precinct's official Twitter page. The tweet announced a gun arrest made by the Special Ops team.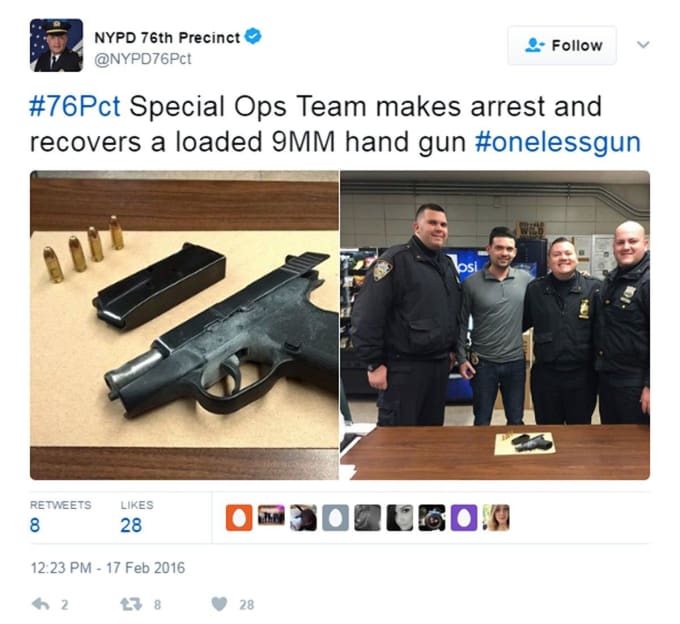 Bishop responded to the post on her personal account, which has since been deleted. She wrote: "Sad day for the 76th Pct. #Blacklivesmatter," the Daily News reports.
During her departmental trial Tuesday, the four-year veteran claimed she did not remember responding.
"I vaguely remember the tweets," she told Commissioner David Weisel, according to the Daily News. "If I had to guess, there were a lot of changes in my precinct about shifts being switched, but it had nothing to do about this gun arrest."
Bishop later admitted she meant to type "Bluelivesmatter," but her phone's autocorrect had changed the hashtag to #Blacklivesmatter. Her attorney, John Tynan, pointed out his client had posted the comment three times, and two of those posts, indeed, featured the #Bluelivesmatter hashtag. Tynan also argued Bishop did not violate any rules, as she was using a personal account that does not identify her as a NYPD officer.
"She can reply to a tweet just as the 500 million others who use Twitter can," Tynan said.
Lt. Steven Rios, the 76th Precinct's integrity control officer, said Bishop's personal Twitter featured the same photo featured on her Facebook profile, which states she is a NYPD officer. Other department authorities claimed they've had trouble with Bishop in the past—accusing her of mouthing off to superior officers, taking unapproved breaks, and going over supervisors' heads to get approval for vacation time.
The Daily News reports Bishop could lose 30 vacation days and get a year of probation if she's found guilty.