On Tuesday afternoon, Buzzfeed reported that U.S. officials presented Donald Trump with classified documents in which Russia claims "to have compromising personal and financial information about" the president elect.
The two-page synopsis that was given to Trump and multiple U.S. officials came from a 35-page collection of memos compiled by someone who claims to be a former British intelligence operative who intelligence sources have deemed "credible." According to the news outlet, the documents are based on information from Russian sources.
So what kind of dirt does Russia supposedly have on Trump?
The full document, which was published by Buzzfeed on Tuesday, includes allegations that the Russian government "has been cultivating, supporting and assisting TRUMP for at least 5 years," while at the same time collecting damaging information about his finances and personal life, including "perverted sexual acts."
According to the document, Trump paid Russian prostitutes to perform "golden showers" in front of him during his stay at Moscow's Ritz Carlton Hotel.

Twitter is already going in on this portion.
The document also alleges Trump's his business ties to Russia are more extensive than many believed, and that his campaign was directly working with the Russian government to win the presidential election.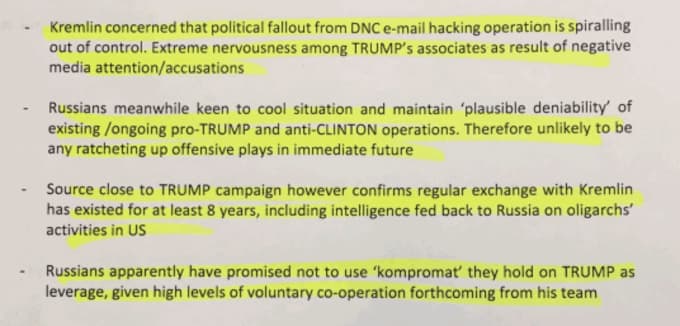 Trump's lawyer Michael Cohen has denied these allegations and has written them off as "fake news."
"It's so ridiculous on so many levels," he told Mic. "Clearly the person who created this did so from their imagination or did so hoping that the liberal media would run with this fake story for whatever rationale they might have."
Trump himself took to Twitter—and all-caps—to respond directly:
You can read the full 35-page report here.