There's been a ton of controversy over the last few years of professional sports teams' use of indigenous names, mascots and logos, and widespread calls for the teams to change their names to something less offensive. Unfortunately, it might be a while before we see those changes take place on a macro scale, but at least the Ontario Ministry of Education is taking the necessary steps to do the right thing at a more local level.
Last week Education Minister Mitzie Hunter sent out a memo to school boards across the province asking that they "show leadership on these issues" and work with indigenous communities to determine if their team names, mascots or logos are offensive. If they are, then they should also work together to "determine the appropriate steps forward to ensure safe and inclusive schools." The move is a direct response to the Truth and Reconciliation Commission's Calls to Action.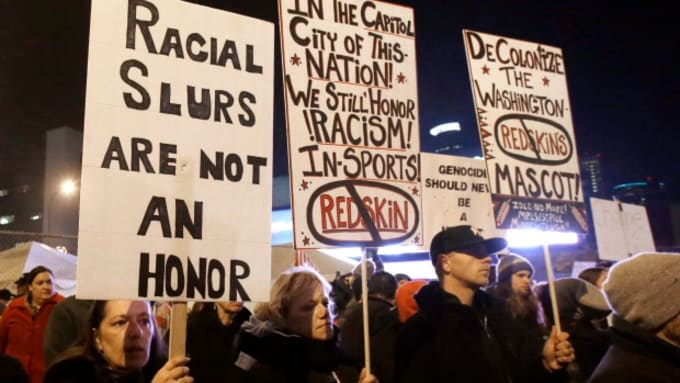 A number of Toronto area school boards have already been following protocol outlined in the memo, including the largest, the Toronto District School Board. Some other notable changes around the GTA include Chinguacousy Secondary School,  who changed its name from the Chiefs to the Timberwolves for the start of this year. Port Credit Secondary School was free to keep their team name, the Warriors, but asked to remove the school team's logos, which included three feathers and a chief's head, from school apparel and floor decorations. Changes such as these were all made in consultation and collaboration with members of the indigenous community. 
Electronic music group and First Nations activists A Tribe Called Red have been particularly vocal in the fight to eradicate indigenous names, logos, mascots and offensive stereotypes used for sports teams. Member Ian "Deejay NDN" Campeau personally filed a complaint with the Ontario Human Rights Tribunal which led to the local football team in Campeau's hometown of Ottawa changing its name to the Eagles from the Redskins. He also famously rocked a satirical, Cleveland Indians-mocking "Caucasians" tee a few years back.
Here's the history of the term #Redskins #changethename @Redskins The Daily Republican Winona Minnesota Sept. 24 1863 pic.twitter.com/4Z4BsFap9B

— Ian Campeau (@deejayndn) June 3, 2014