More American adults are identifying as LGBT than ever before.
According to a recently published Gallup poll, the number of Americans who identify as lesbian, gay, bisexual, or transgender increased from 8.3 million in 2012 to more than 10 million in 2016. The data was collected through surveys of 1.6 million U.S. adults during the past five years, asking, "Do you, personally, identify as lesbian, gay, bisexual or transgender?" More than 49,000 respondents answered in the affirmative. The data also showed the majority of those who responded "yes" were millenials.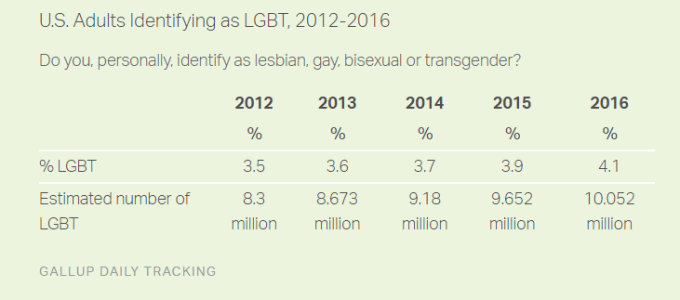 "In 2012, they accounted for 43% of LGBT-identified adults," the poll revealed. "As a result of their disproportionate increases in identification since then, they now account for 58%. Millennials comprise 32% of the general adult population […] It's likely that millennials are the first generation in the U.S. to grow up in an environment where social acceptance of the LGBT community markedly increased. This may be an important factor in explaining their greater willingness to identify as LGBT."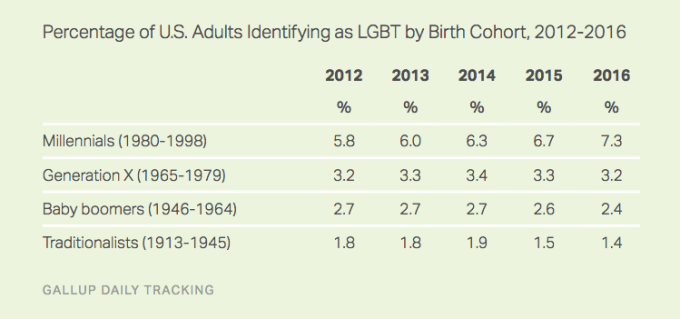 The survey also found that women (4.4 percent) were more likely than men (3.7 percent) to identify as LGBT.
It also discovered slight increases among whites and blacks; the former increased from 3.2 percent in 2012 to 3.6 percent 2016, while the latter rose from 4.4 percent to 4.6 percent. Asians and Hispanics, however, experienced more significant increases. Asians who identified as LGBT went from 3.5 percent to 4.9 percent; and Hispanics went from 4.3 percent to 5.4 percent.
You can check out the full report here.