Inauguration Weekend proved to be a political whirlwind as supporters and protesters alike made their way to Washington D.C. to voice their opinions about the future of America under President Donald Trump. There to capitalize on the weekend's events—which included Trump's official swearing-in, various Inauguration celebrations, and the historic Women's March on Washington—were dozens of vendors looking to capitalize on the massive crowds. One interesting thing about these seemingly apparent pro-Trump entrepreneurs, however, was that many were women and people of color, both demographics that Trump has had a hard time winning over.  
A month before Trump's win, Complex ran a feature profiling the billion dollar hustle in hawking campaign merch. "Official political merchandise—all the hats, T-shirts, buttons, water bottles, bumper stickers, playing cards, and throw pillows (among dozens of other items) sold by campaigns—is a huge business," wrote Trevor Bach. "The revenue from the sales counts as campaign donations, and while campaigns aren't required to disclose how much they actually rake in from the items, all of this year's major presidential candidates have used them to add millions to their war chests."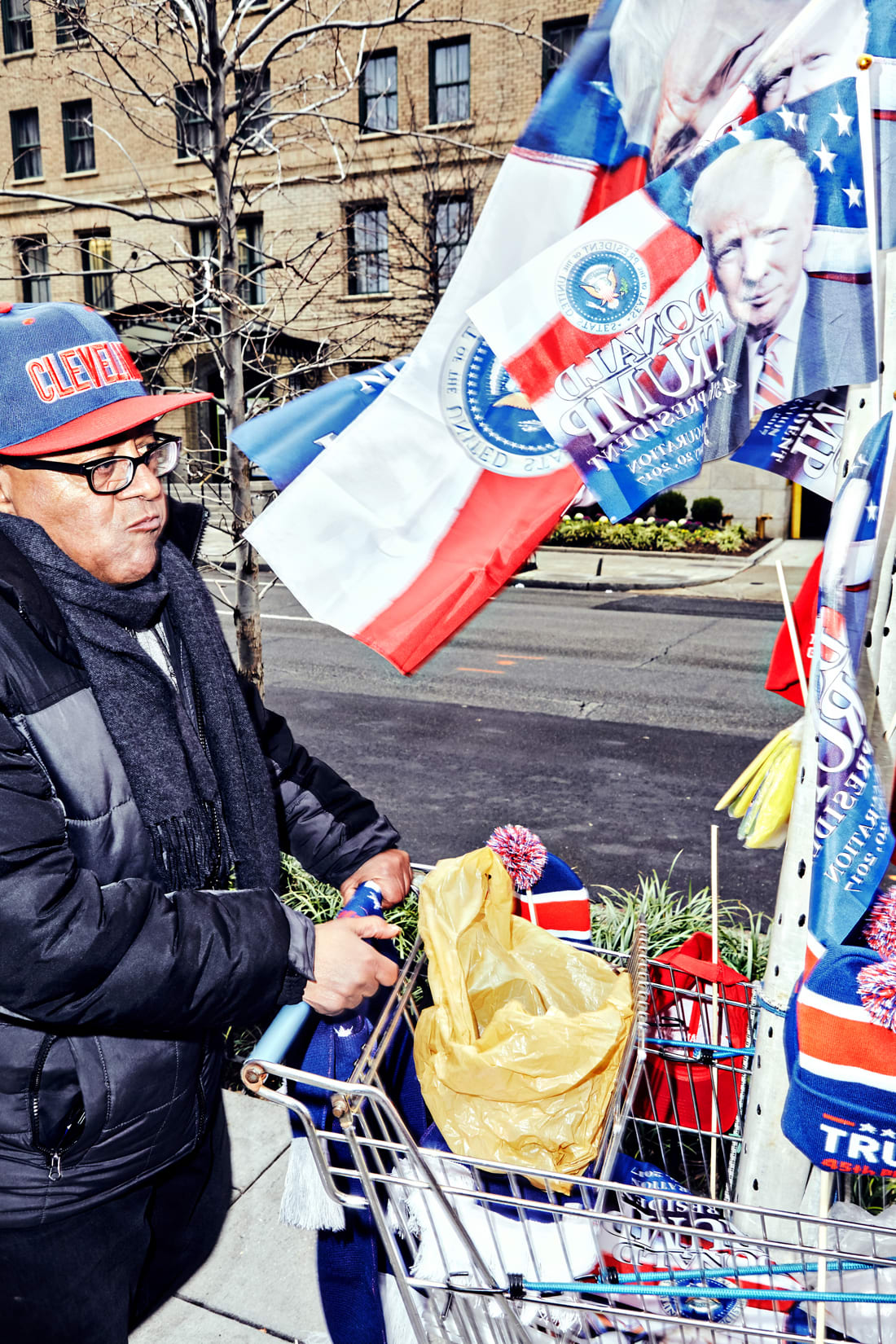 When I walked out of Union Station on Friday, the first thing I noticed was an overwhelming number of merch booths selling tcotchkes of every variety—buttons, t-shirts, scarves, hats, and other baubles were available at every turn. Making my way toward the National Mall, the vendor displays varied from formal booths to shopping carts to trash bags. One man in particular, clad in an American flag-patterned t-shirt, had situated himself across from a group of Standing Rock protesters and was selling pro-Trump scarves that spilled out from an oversized duffle bag onto the street.
But the deeper into Capitol Hill I walked, the more it became clear that a majority of the Trump vendors were people of color. Surprisingly (or unsurprisingly, considering voter demographics), some vendors were also women. Considering Trump's racist, sexist, and xenophobic rhetoric, these would seem the least likely individuals to be peddling "Make America Great Again" merch. But there they were, standing in the cold and intermittent rain showers, yelling various Trump-isms. One individual advertised his competitive merch pricing with a megaphone by calling it a "deportation sale."
I spoke with a number of these individuals, in particular a man and woman who cleverly played to both sides of the political aisle by telling potential buyers they could either "burn it, or support it."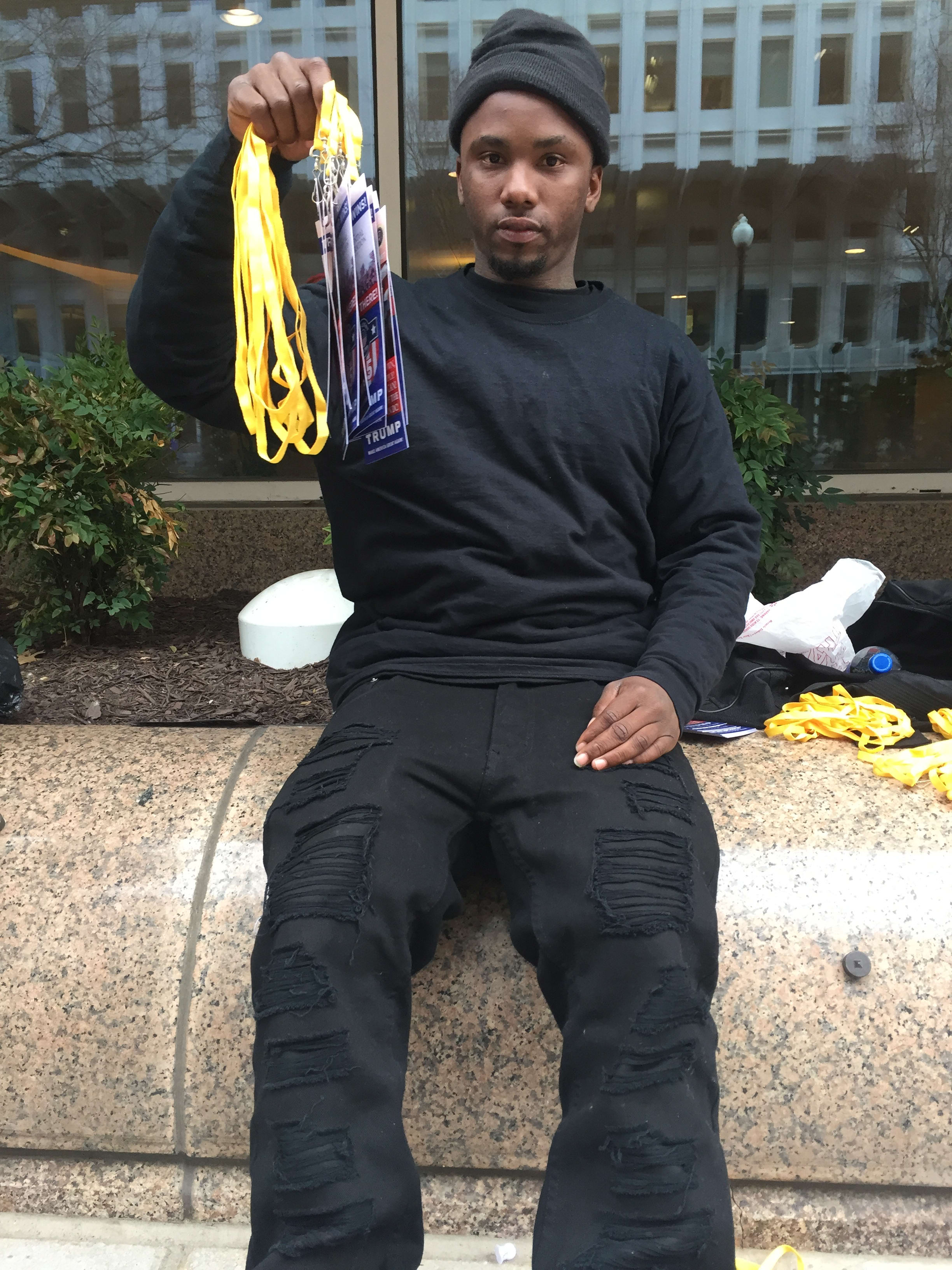 The young man, 26-year-old Robert Payton, said he supported Trump because "he's totally against taking jobs from American people. He's totally against homosexuality. He's totally against a lot of other things that Hillary was trying to put into play, like taking little kids' lives around the ninth month." He added: "I believe in Trump. I believe he can make a little something better. It might not be big, but it might be better than what Obama had."
Shannon Phillips, 36, said she supported Trump "not really to bring the old school ways back, but to bring it back kind of the way it was before." Although she added: "I don't know if I believe him or not." Phillips said she was a "strong in-between" during the election cycle, but  she couldn't vote because she made "mistakes" when she was younger. "If I had to vote," she said, "I'm not gonna lie, I'd vote for Trump because I'm not a Hillary supporter." When I brought up the Women's March and Trump's ongoing assault on women's civil and reproductive rights, Phillips declined to comment further.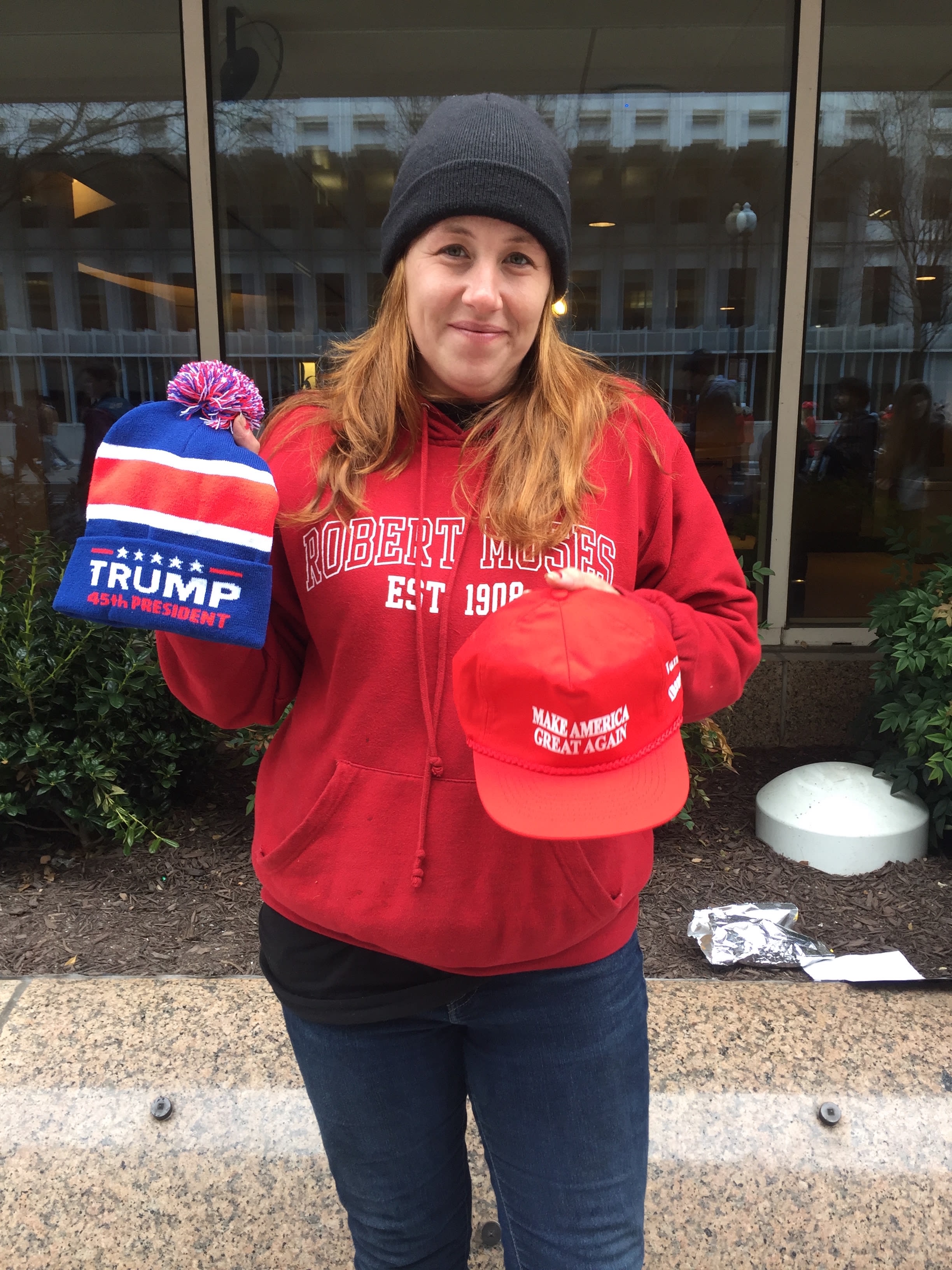 Two other women selling Trump merch on Inauguration Day also declined to comment for Complex. One, an elderly white woman sporting much of the merchandise she and her crew were hawking, said that she "already did that," presumably referring to speaking with the media. The other, a young African-American woman selling Trump t-shirts, did not cite a reason for refusing to comment and politely refused to have her picture taken.
Another man hawking Trump t-shirts commented on the crowd size of Trump's inauguration in comparison to Obama's. "[It was] real crowded—a lot of people walking up and down the block. They said [Trump's inauguration] was supposed to be at 500,000. I don't see 500,000," he told Complex News, staring down a predominantly abandoned side street in Downtown D.C.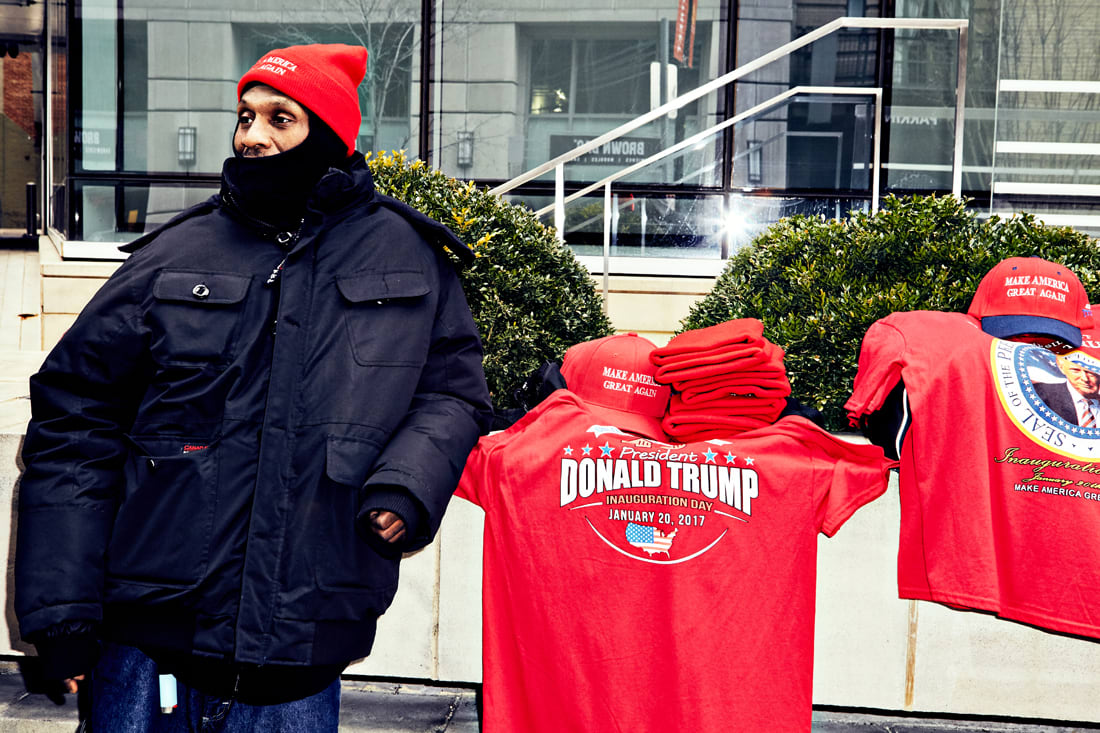 Did any of the vendors have any pause selling merchandise that supported a candidate like Trump, who's widely been accused of bigotry? When I asked Payton, he replied: "One thing about it is, a man can always change. It might not be overnight, but he will change. Just like him and Obama have little talks with each other and stuff like that, maybe certain things that Obama and Trump discuss with each other... maybe Trump can use it in his presence." We can only hope.