An active shooter was reported on the campus of Ohio State University. Police have confirmed with local station NBC 4 that one suspect is dead, and several others have been injured and taken to area hospitals. NBC 4 further reports that the shooting reportedly took place at Watts Hall, the school's material science and engineering building. Campus emergency response, local police officers, and SWAT officers responded to the scene.
NBC 4 reports that nine people were injured and taken to area hospitals, with one person reportedly in critical condition with the eight others in stable condition. 
The University's Emergency Management Twitter account sent out several tweets about the active shooter, the first saying that there was an active shooter on campus at Watts Hall, telling anyone on campus to "run, hide, fight."
NBC 4 reported that one professor told the station that someone he knows in the building was "slashed" with a machete, but this report has not yet been confirmed by police. Responders are searching a garage on Lane Avenue, according to NBC 4, as well as cars and dumpsters on campus.
NBC 4 reports that two people were taken from campus in handcuffs: one white man and an black man.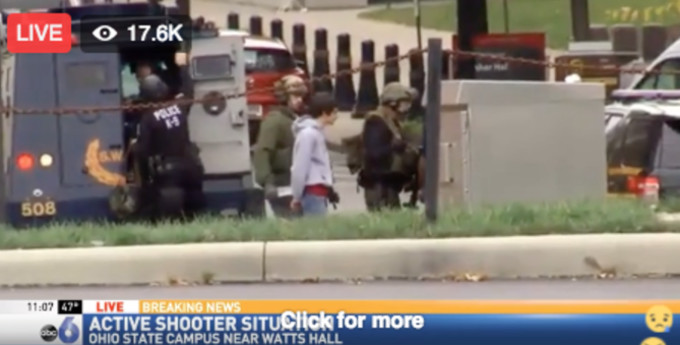 Around two hours after the initial campus emergency alert, OSU Emergency Management tweeted that the scene is secure, and that all classes were canceled for the rest of Monday.
President of the Ohio State University, Michael Drake, confirmed to reporters that the suspect hit several people with his car, and then got out of the vehicle to cut several people who were then taken to the hospital.
Law enforcement has identified the suspected attacker as 18-year-old Abdul Ali Artan, CBS reports. The Associated Press just revealed that he is of Somali descent and that he was living in the United States as a legal permanent resident.