A demonstration against police violence, billed as #ShutDownCityHallNYC, turned into an Occupy-style camp out late Monday night. 
The action, put on by the organization Millions March NYC, was billed as an "occupation" of City Hall. The organizers had three demands, which they laid out in a pamphlet that can be found here, or seen in the graphic below.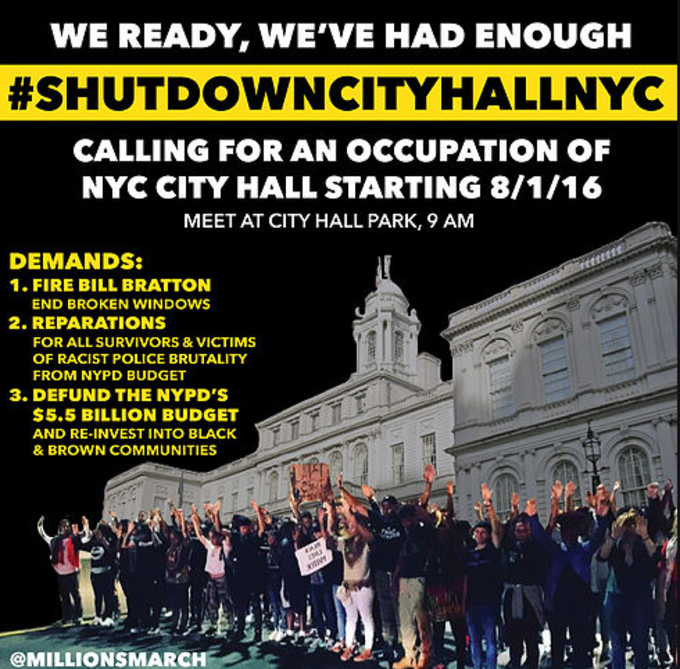 The event started with workshops in City Hall Park during the day, which were met with a heavy police presence, according to the Village Voice. Late Monday evening, the police demanded that protesters leave City Hall Park. So, taking a page from Occupy Wall Street, which used a small park that remained open 24 hours as its base of operations in order to avoid being ejected by the police, the protesters moved to a nearby public plaza that was likewise perpetually open.
Police frantically searched the plaza's rules, trying to find a reason to throw people out.
As of early Tuesday morning, between 50 and 60 people remained in the plaza, intending to stay, according to one observer.
Millions March NYC is "a multiracial grassroots collective of organizers committed to building and strengthening the movement for Black lives," according to their website. The organization was joined in putting on the event by a wide swath of groups, from Asians4BlackLives to Equality for Flatbush to NYC Students for Justice in Palestine. A complete list of organizations aligned with #ShutDownCityHallNYC can be found here.