ComplexCon returns to Long Beach Nov. 6 - 7 with hosts J. Balvin and Kristen Noel Crawley, performances by A$AP Rocky and Turnstile, and more shopping and drops.
Secure your spot while tickets last!
In her first interview as the Democratic presidential nominee, Hillary Clinton looked to allay concerns (particularly among highly conservative voters) that she is untrustworthy and irresponsible, largely by ensuring potential voters that she'll be tough on terrorism and defend the right to bear arms.
The interview aired Sunday and was conducted with Fox News's Chris Wallace.
Wallace first asked Clinton about the controversy surrounding WikiLeaks' dump of about 20,000 emails exchanged between senior officials of the Democratic National Committee. Aside from highlighting what some considered to be a partisan attempt to nominate Clinton over Sen. Bernie Sanders, it was later revealed that the leak was likely perpetrated by pro-Trump Russian hackers who are trying to make Clinton look bad ahead of the election.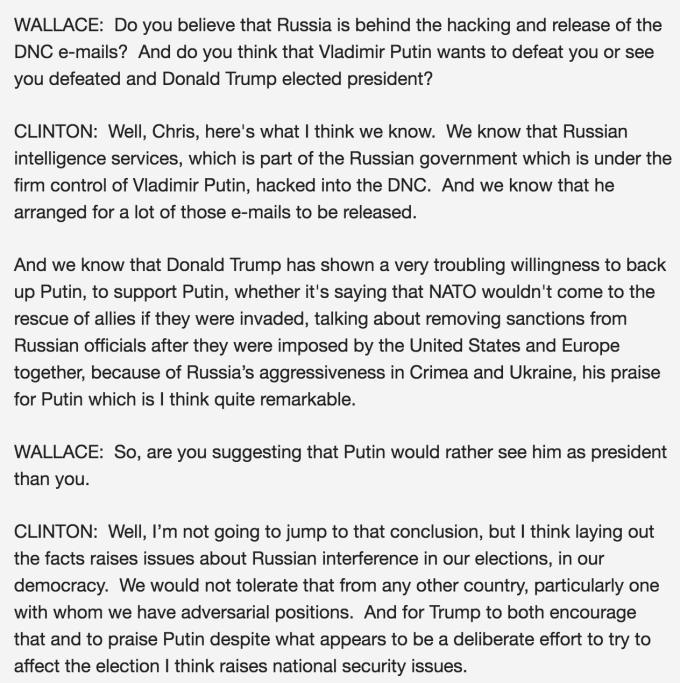 At a speech last week in Florida, Donald Trump spoke directly to Russia, saying that "if you're listening, I hope you're able to find the 30,000 e-mails that are missing.  I think you will probably be mightily rewarded by our press." (Trump later claimed he was being sarcastic.)  
But, as Wallace said, he wants to talk "not about Trump, but about you and drill down into some of the positions that you've taken in this campaign," asking Clinton if she would like to see a 2008 case ruling that citizens have a Constitutional right to bear arms overturned. 
Clinton replies:
"No, I don't, but here's what I do want.  And I want to be very clear about this: I want the Congress to step up and do its job.  [...] We're better than this.  The gun lobby intimidates elected officials.  The vast majority of Americans, including gun owners, support the kind of common-sense reforms that I'm proposing."  
Wallace also addressed the emotional speech given by late Army Sean Smith's mother, Pat Smith, at the Republican National Convention. Smith said she held Clinton "personally responsible" for the death of her son in the 2012 attack on the U.S. diplomatic compound in Benghazi.
Clinton said that she "understand[s] the grief and the incredible sense of loss that can motivate that," and that she doesn't "hold any ill feeling for someone." 
Clinton also had a message for those still concerned about her use of a private email server during her time as Secretary of State: 
I looked at the whole transcript of everything that was said, and what I believe is, number one, I made a mistake not using two different e-mail addresses.  I have said that and I repeat it again today.  It is certainly not anything that I ever would do again.  

I take classification seriously.  I relied on and had every reason to rely on the judgments of the professionals with whom I worked.  And so, in retrospect, maybe some people are saying, well, among those 300 people, they made the wrong call.  

At the time, there was no reason in my view to doubt the professionalism and the determination by the people who work every single day on behalf of our country.  
Finally, here's Clinton on her trustworthiness:
I have work to do to make sure people know what I have done and what I will do.  That's part of what this convention was about.  

I feel very comfortable that the more people learn about what I have actually done -- not the caricature, but the real deal, as my husband said in his remarks, they will understand why I was elected twice to the United States Senate, in the second time with a 67 percent vote, why my former opponent, President-elect Obama, trusted me to be Secretary of State.  Every time I run for an office, though, oh my goodness, all these caricatures come out of the nowhere and people begin to undermine me because when I left office as secretary of state, 66 percent of Americans approved of what I did.