UPDATE 07/15/16 12:15 p.m. ET: Here's the official Trump video announcement of Pence's VP confirmation, in which the two promise to make America "great" again:
UPDATE 07/15/16 10:53 a.m. ET: Trump has confirmed Pence as his VP pick, tweeting that a "news conference" on the decision will take place Saturday morning.
Presumptive Democratic nominee Hillary Clinton didn't waste a single second in tweeting a response, sharing this immediately after Trump's confirmation:
UPDATE 07/14/16 7:13 p.m. ET: Donald Trump, who was originally set to announce his pick for vice president Friday, said he was postponing the announcement after news broke of an attack in France.
In light of the horrible attack in Nice, France, I have postponed tomorrow's news conference concerning my Vice Presidential announcement.

— Donald J. Trump (@realDonaldTrump) July 14, 2016
See original story below.
Donald Trump has reportedly selected Indiana Governor Mike Pence as his vice presidential running mate. Trump is planning to make an announcement alongside Pence Friday morning, sources with "knowledge" of campaign conversations tell the New York Times. Trump has reportedly met with Pence privately on multiple occasions, though the nature of those meetings is unknown.
However, Trump campaign chairman Paul Manafort said a decision is still impending. 
Re: @realDonaldTrump VP selection, a decision will be made in the near future and the announcement will be tomorrow at 11am in New York.

— Paul Manafort (@PaulManafort) July 14, 2016
Pence, according to his official website, is a "lifelong Hoosier" who's a big fan of "smaller government" and, according to his own Twitter, the exact opposite of one of Trump's most prominent talking points:

In fact, Pence previously declared his allegiance to former presidential candidate Ted Cruz with this simple tweet in April: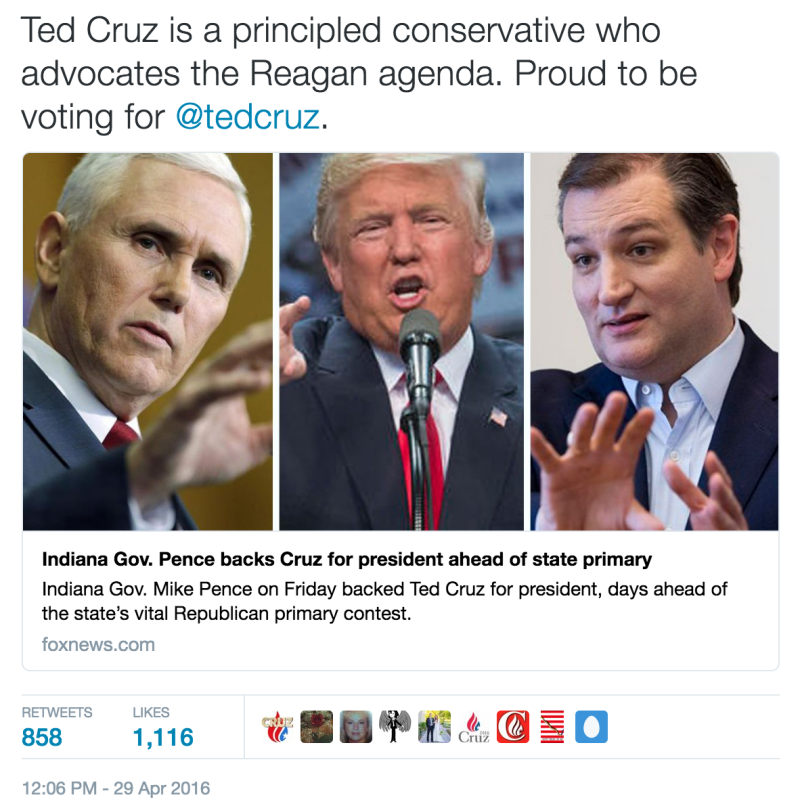 Pence, a devout Christian, made headlines last year with his signing of the controversial Religious Freedom Restoration Act. The law, according to critics, allowed for open discrimination against LGBT citizens in the state. The divisive legislation was eventually revised to specifically mention that such discrimination is not protected, the Huffington Post reports.
The move comes just days ahead of the start of the Republican National Convention in Cleveland, which will see Trump officially deemed the GOP nominee. Trump's presumed opponent on the Democratic side, Hillary Clinton, has yet to announce a VP pick. However, Clinton did secure a crucial endorsement from former rival Bernie Sanders earlier this week:
Representatives for the Donald Trump campaign did not immediately respond to Complex's request for comment.