UPDATE 5:26 p.m. E.T.: The tweet, many hours after it was first posted, has now been removed.
See original story below.
Following an apparent sniper attack on police officers and protesters in Dallas Thursday night, local police shared a photo of a man they deemed a suspect on Twitter and asked their followers to help them "find" him. The only problem? The man was innocent. The man, later identified as Mark Hughes, was seen in footage circulating on social media showing him among protesters as the attack unfolded:
A separate video, presumably taken after the Dallas Police Department tweeted his photo and called him a "suspect," shows Hughes handing over his legally owned rifle to nearby officers:
Speaking with KTVT after being falsely accused by Dallas police as a suspect, Hughes expressed disbelief at how the entire situation was handled. "I don't know what to say," Hughes said. "I can't believe it."
Hughes said he wasn't aware of his photo being circulated until he received a phone call informing he had been identified as a suspect, at which point he "immediately" flagged down a police officer. "In hindsight, 20/20," Hughes said, "I could have easily been shot."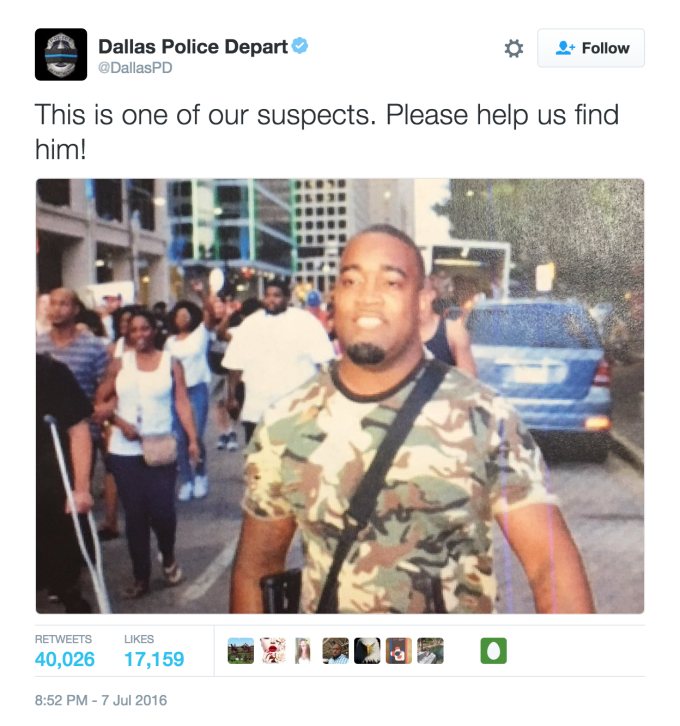 Police officers, Hughes said, lied to him after he turned himself in an attempt to clear his name. "I just got out of an interrogation room for about 30 minutes, where police officers were lying, saying they had video of me shooting a gun, which is a lie, saying that they had witnesses saying I had shot a gun, which is a lie," Hughes said. "At the end of the day, it's the system. The system was trying to get me."
Hughes added that he asked the officers if they were going to officially issue a retraction after the mistake. However, at the time of publication, the original tweet inaccurately identifying him as a "suspect" remains live on the department's Twitter feed.
The Dallas Police Department did not immediately respond to Complex's request for comment. However, a Dallas police spokesperson told Mashable Friday afternoon that the tweet was remaining online "because we're keeping it on there."