Porn stars are professionals who in some cases shoot hundreds of movies per year, so of course they're full of useful knowledge about how to have sex. In the past, WoodRocket's "Ask a Porn Star" series has revealed the weirdest objects adult film stars have had sex with (which was enlightening, to say the least), explained how to give the best handjob, and put a lid on that age old question of what makes the perfect penis. In the latest installment of the video series, porn stars get down to the dirty details of anal, answering the question, "What can you eat before anal sex?"
We've already recently learned about the surprising connection between anal sex and the female orgasm, as well as some tips on how to have anal sex properly—including bringing weed-based anal suppositories into the mix where such things are legal. But for anyone who has or is considering trying anal, the question of what you can safely eat beforehand may have crossed your mind. Adult film actresses are here to answer it.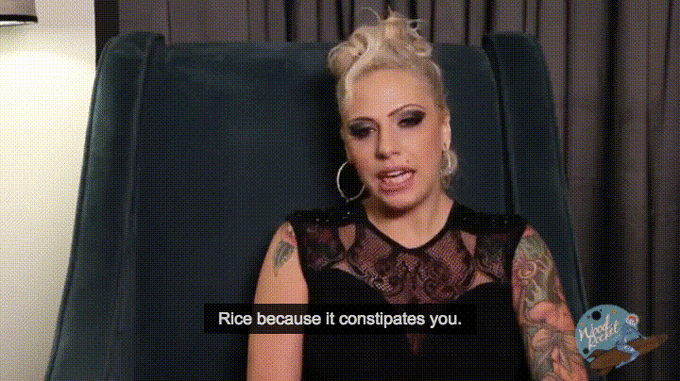 Among the porn stars' answers: broth, coffee, protein shakes, bananas, and air (which sounds about right). As Vyxen Steel points out, rice is also an option "because it constipates you." The best advice comes from Allie Haze, who points out, "Everybody's different. Everybody's body is different."
So there you have it, your answer of what you can eat before trying butt stuff. Just be careful—there's a really, really small chance that somebody might get pregnant.