College is often thought of as a bastion for progressive thought, a place where young people become more aware of issues pertaining to social justice. But like any other communities, higher learning institutions can sometimes be cesspools of bigotry and hatred. To this point, the CollegeStats.org has compiled a list of the most hate-filled campuses in the U.S. based on tweets.
The report looked at schools that use "derogatory" keywords regarding race, women, and LGBTQ people. CollegeStats.org used a sample of 11 million tweets, choosing 2.4 million tweets from 1,537 schools for the study. The researches looked for keywords that were derogatory towards both marginalized groups and dominant groups (the breakdown of terms found in the study includes words that could be critically corrected at straight men and white people as well).
Worst of all of the schools was Southeast Missouri University, where nearly three words of everyone 1,000 words tweeted were derogatory. This is contrasted with the second worst school, SUNY Cortland, where less than 1.5 words per every 1,000 tweeted were derogatory, according to the report.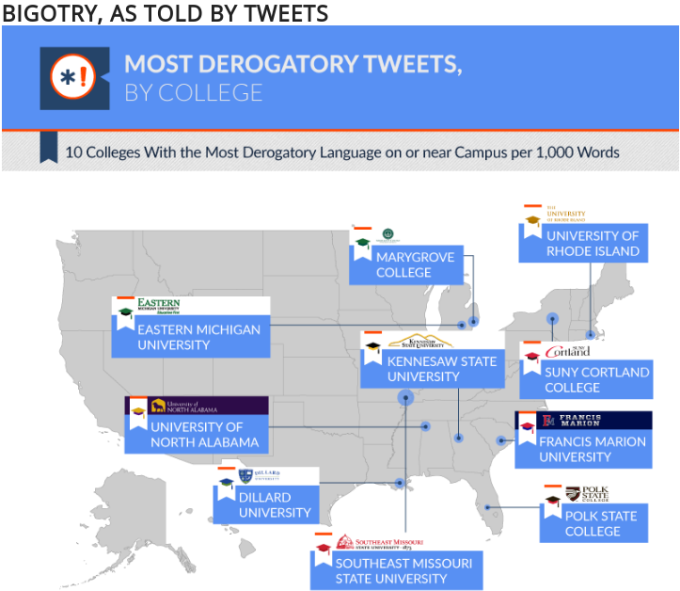 The school that had far and away the most tweets deemed racist by CollegeStats.org was University of Arkansas for Medical Sciences, where the student body's tweets had 22.68 racially derogatory terms for every 1,000 words tweeted.
As for colleges where students tend not to tweet respectfully about women, Southeast Missouri took the cake yet again, tweeting 2.36 words deemed misogynist for every 1,000. Homophobia is still a major issue on some campuses as well. Husson University tweeted a whopping 20.88 derogatory words about gay people for every 1,000 words tweeted.
Some schools demonstrated good Twitter behavior and largely used "politically correct" terminology when referencing race, gender, and sexuality. Hampshire College tweeters used 10.7 "PC" words for every 1,000 tweeted, and Regent University came in second place with 7.33.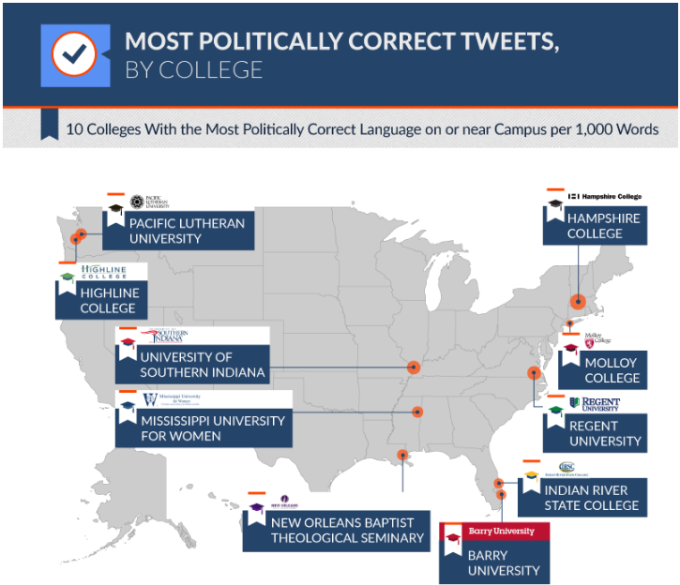 The report concluded with a suggestion from CollegeStats.org that education is vital for correcting bigoted thinking and that more colleges should make an effort to "crack down and speak up" about intolerant tweets from their students.
Representatives from the student governments of Southeastern Missouri University, University of Arkansas for Medical Sciences, Albertus Magnus College, and Husson University did not immediately respond to Complex's requests for comment.