Economist Suspected of Terrorism Simply for Doing Math on a Plane
The economist's nosy seatmate apparently didn't pay much attention in math class.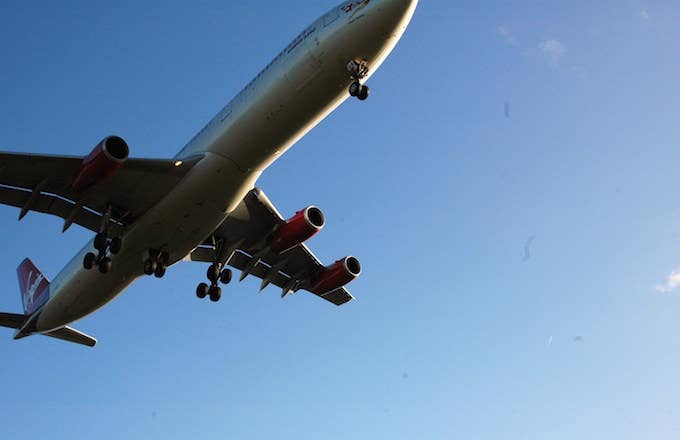 Recent terrorist activity has contributed to a period of particularly high global tensions. Following devastating ISIS-orchestrated attacks in Paris and Brussels, for example, the Islamist military group has effectively instilled fear in people around the world. ISIS even engaged in some psychological warfare when the group released a hit list of random New Yorkers. Especially after 9/11, people are particularly wary on planes, but there are drawbacks to this paranoia. An Ivy League economist was ethnically profiled and interrogated because a woman seated next to him on a flight feared he was writing terrorist code. However, he was just solving a math problem. 
On Thursday evening 40-year-old Guido Menzio boarded American Airlines Flight 3950 and took his seat next to a white 30-something woman. Menzio, preparing for a talk at Queens University in Ontario, whipped out his notepad and proceeded to scribble earnestly. His seatmate tried to initiate some small talk, but Menzio repeatedly rejected her efforts to engage by offering short answers.
After about a half hour of waiting for the flight to take off on the tarmac, a flight attendant came by and asked the woman if she still felt "too sick" to fly. Apparently the woman had handed a note to one of the flight attendants after the intial interactions with her curly-haired seatmate caused her to feel uneasy. The woman deplaned, and soon after offcials approached Menzio and escorted him off the plane as well. An agent then informed him that he was suspected of terrorist activity. 
Menzio's seatmate had alerted officials of the suspicious activity when she mistook Menzio's fervent scribbling for writing terrorist code. His foreign appearance and reticence didn't help quell the woman's nerves, either. Menzio informed officials that he was in the middle of solving a rigorous differential equation and that he was not in fact scheming a terrorist plot. Officials then learned that Menzio is an Italian economist who has taught at Princeton and the University of Pennsylvania and is the recipient of the Carlo Alberto Medal, which goes to the best Italian economist under 40. 
The flight finally took off more than two hours after its scheduled departure once Menzio presented officials with his notebook and was allowed to return to his seat. According to an article on the Washignton Post, Menzio's seatmate had initially faked feeling sick to deboard the plane. Then she informed officials that the reason was she felt afraid being on the same flight as Menzio.
Ameican Airlines and Menzio haven't responded to our requests for comment about the encounter on Flight 3950.