Few things are as reliable in the United States of America as the persistent presence of Budweiser. Watching the Super Bowl? You're definitely going to see a Budweiser commercial. Wasted at a '90s nostalgia tour stop while impressively reciting every word of Smash Mouth's "All Star?" There's a good chance Budweiser actually sponsored the tour. To continue their history of American infiltration, Budweiser is about to be very out here with a brand new name: America.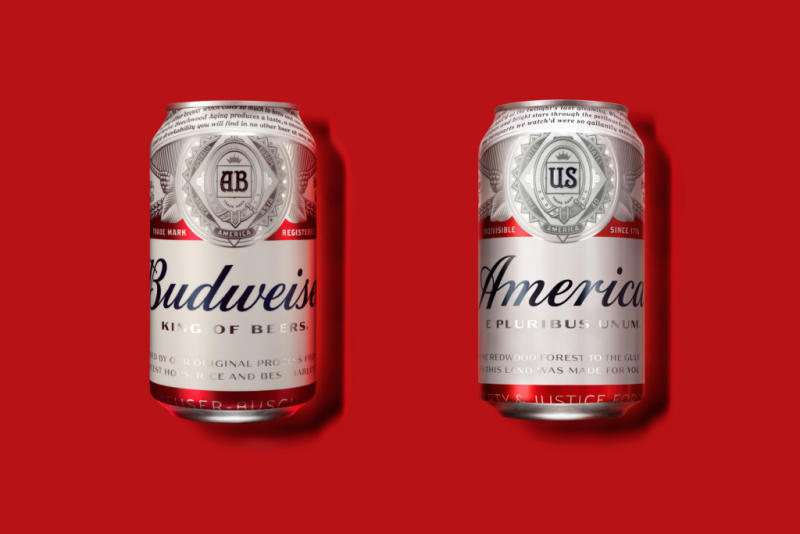 "We are embarking on what should be the most patriotic summer that this generation has ever seen, with Copa America Centenario being held on U.S. soil for the first time, Team USA competing at the Rio 2016 Olympic and Paralympic Games," Ricardo Marques, Budweiser's VP, said when announcing the very 'Merica makeover. "Budweiser has always strived to embody America in a bottle, and we're honored to salute this great nation where our beer has been passionately brewed for the past 140 years."
The timely facelift, a collab with John Knowles Ritchie New York, is part of the classic beer brand's new "America Is in Your Hands" campaign. The fresh 12-oz. cans and bottles will be available nationwide from May 23 through the election in November, each one emblazoned with excerpts from both the Pledge of Allegiance and "The Star Spangled Banner." If the idea of sipping a beer called America while the most contentious presidential election in decades stumbles toward a conclusion sounds like a good time, then this Bud America is for you.
"This packaging is about celebrating our shared heritage and love for freedom, liberty, and the pursuit of happiness," Marques added in a statement to Complex. "America's greatness has always been achieved by people who give a damn, and we're proud to release these patriotic cans and bottles that embody that same spirit."
Speaking of America, surely the Budweiser of countries, presumed alcohol consumers have wasted little time weighing in with some surprisingly varied thoughts on this decidedly patriotic makeover:
While Budweiser isn't planning to unveil its full America-themed commercials until next month, some have already recommended that the following folk classic be immediately deemed the official theme song: