ComplexCon returns to Long Beach Nov. 6 - 7 with hosts J. Balvin and Kristen Noel Crawley, performances by A$AP Rocky and Turnstile, and more shopping and drops.
Secure your spot while tickets last!
Inside the Grand Hyatt New York in Manhattan on Thursday evening, businessman and presidential candidate Donald Trump spoke to the New York State Republican Gala ahead of his home state's primary next week, defending the "New York values" his opponent Ted Cruz has railed against.
Out of sight from Trump, who remained inside all night, hundreds of New Yorkers and activist groups from across the political spectrum came together to defend a very different set of New York values. In blocked off sections of the sidewalk and sides of the street, a diverse crowd marched with "Dump Trump" and anti-racism signs bearing messages likes "We should never forget that everything Adolf Hitler did in Germany was legal." Other signs read, "Muslims against Trump" and "NY Loves Immigrants."
On loudspeakers set up at the front of the crowd, more than a dozen activists yelled out rallying cries against the candidate over the course of two hours, calling him a fascist and denouncing his "dangerous" rhetoric against people of color. The protest was organized by more than a dozen local organizations, including Iraq Veterans Against the War, Make the Road Action, MPower Change, and Bend the Arc Jewish Action. Although all groups were united in their protest of Trump, they were adamant that they did not support any political candidate, though some Bernie Sanders and Hillary Clinton supporters attended the event.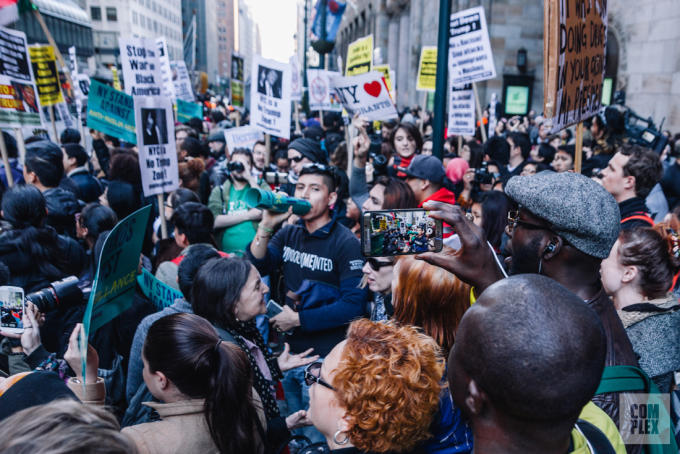 Many of the same activists who attended Wednesday's Sanders rally at Washington Square Park were present, though the crowd skewed older and was more diverse in terms of race. Speakers included a Muslim woman from MPower Change, who denounced the "racist rhetoric" of Trump's speeches, and relatives members of Akai Gurley, an unarmed black man shot and killed by NYPD police officer Peter Liang. Gurley's family members were resolute: "Racism is not welcome in New York."
Rafaela de la Huerta, a New York native who came to the rally after hearing about it on Facebook, said she wanted to show that Trump "is not welcome here and he doesn't represent New York."
"He stands against everything he care about," she said. "He is anti-woman. He is racist, he is anti-immigrant. Everything he does is against what I believe in and against what people want for America."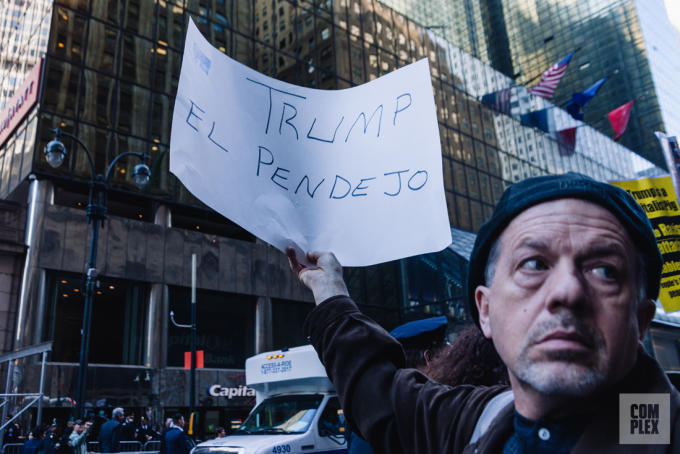 De la Huerta was one of many individuals who came to the event after seeing it on Facebook, but noted that the diversity of the crowd showed just how many people are threatened by the rise of Trump, whose lead over Cruz is widening as the primary approaches.
"He has really offended the very core of what people care about the most in this country," she said.
Marian Ogbuli, who is from New York City and lives in Queens, said she came to protest Trump because she "couldn't not attend" after hearing about the event on the radio. Ogbuli said she is tired of people taking his "dangerous" campaign as a joke.
"I am here today to say to Trump that we don't want you in New York, we don't want you as the president of the United States," she said. "New York is a city of bridges, we welcome everybody. We cannot tolerate someone who is anti-immigrant and anti-woman."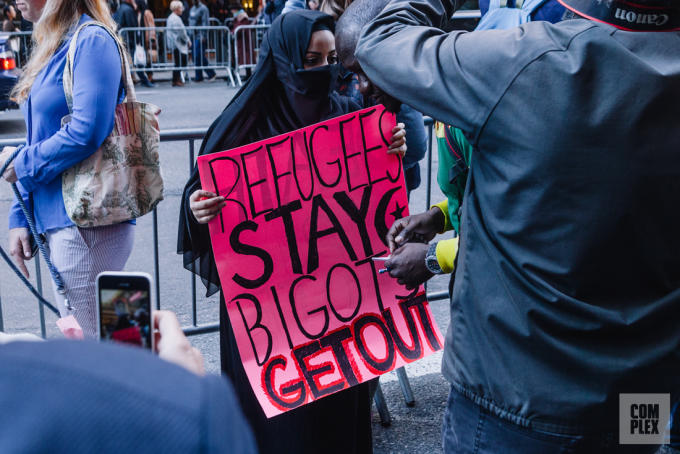 Ruben Lucio came as part of CPD Action, an activist group that came to the rally in part to promote its campaign to raise the minimum wage to $15 an hour. He said there was a large sense of solidarity between immigrant communities, people of color, and anti-police violence communities when speaking out against Trump.
"There are many different communities here, because there isn't that much of a difference between us all," he said. "We are technically supporting different issues, but all of these issues come from a response to a system that perpetuates hate."
Unlike protests against Trump in the past, there were not many counter-protesters from Trump's camp and very little violence (one protester claims he was punched by a Trump supporter). Other than a few bewildered white business types stumbling through the camp and shaking their heads, the rally remained mostly unbothered and peaceful.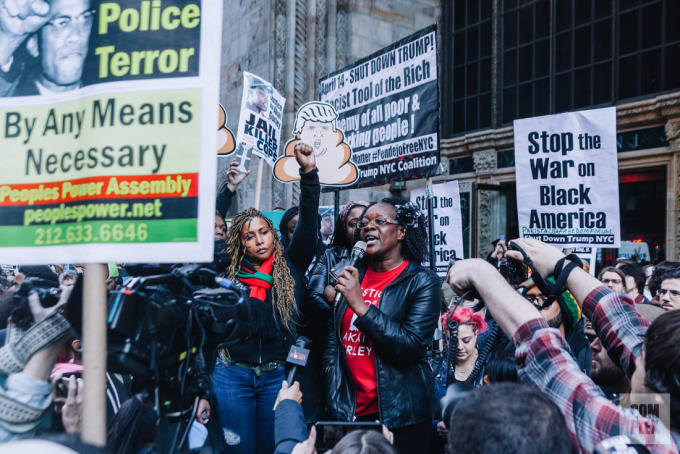 In the past, Trump has shut down his rallies in response to protests, which many called a threat to freedom of speech. But Lucio said he isn't trying to stop anyone from talking, but show that New York and the US is overwhelmingly against this kind of rhetoric.
"If you say racist bullshit, people are going to shut you down," he said.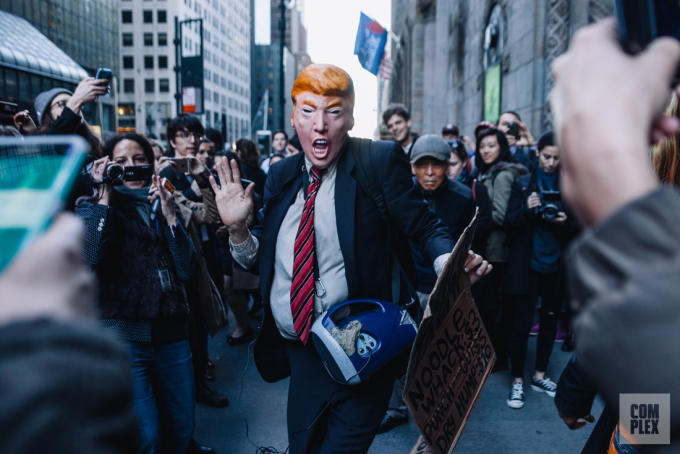 All photos by Tyler Strachan​.