The tech industry may be booming, but certain groups are often left out of it—especially racial minorities. 
Based on a survey of 300 black, Latino/Hispanic, and Native American engineers by diversity-recruitment platform Jopwell, 36 percent said they'd experienced workplace bias, including 39 percent of women and 34 percent of men. 
Among those who had experienced discrimination, race was the biggest contributor: 69 percent chalked the bias up to their race, 16 percent to their gender, and 11 percent to their sexuality.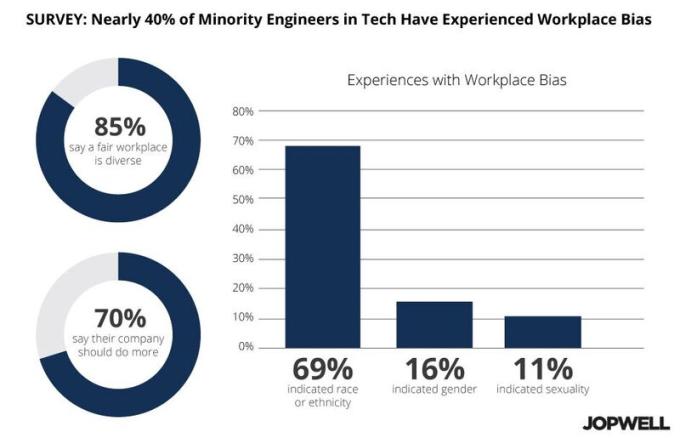 What's more, 70 percent of respondents believed their companies should be doing more to encourage multicultural understanding. 
"We know that when a company isn't truly diverse in many ways, that subconscious bias can become pervasive—it becomes baked into the organization's culture and practices," Jopwell's cofounder and president Ryan Williams told NTRSCTN in a statement.
"We talk a lot about the meaning of 'cultural fit.' An underrepresented minority candidate might have the talent and experience necessary for a job, but still not be deemed as the 'right fit' for reasons that relate to people's unconscious discrimination."
A 2004 study found that when different names were used on identical resumes, "black-sounding" applications had to be sent 15 times before the job-seekers got called in for an interview, whereas "white-sounding" names only needed to be sent 10 times. Meanwhile, another recent study suggested people of color were more likely to get interviews when their resumes didn't reveal their races—even at companies that claimed to prioritize diversity when hiring.
When it comes to the racial makeup of major tech companies, Google, Microsoft, Facebook, and Twitter employees in technical roles are, on average, only 1 percent black and 3 percent Hispanic. 
Diversifying the workforce "starts with the employer," businessman and former pro basketball player Magic Johnson, one of Jopwell's investors, told NTRSCTN in a statement.
"Companies need to be persistent in their efforts to ensure their employee base is diverse," he said. "But it's more than just a CEO statement on a website. They have to work at it. It doesn't just happen overnight. 
These efforts include hiring chief diversity officers, publicly revealing diversity goals, and using diversity-recruitment tools, Johnson added. For its part, Jopwell hosts a platform that connects black, Latino/Hispanic, and Native American job-seekers with companies looking to hire them. Similarly, a new app called Blendoor enables recruiters and candidates of color to find each another on a race-blind platform. 
In addition, hiring minorities to fill top positions could benefit a company's bottom line. A 2015 McKinsey study found that companies with diverse leadership were 35 percent more likely to have above-average financial returns. 
"For businesses who commit to [diversity], it will reap tangible business rewards in breadth of talent, culture, and business outcomes," Jopwell's Williams said. "Diversity is not an accomplishment, but a commitment."