Dating is hard enough already, but for millennials of color just looking for a swipe, it can get downright depressing. When OkCupid revisited its "Race and Attraction" study in 2014, the site found that not much had changed when it came to users' racial biases. As in 2009, black people and Asian men consistently received the lowest response rates on OkCupid, confirming similar results from a 2013 Facebook study.
Last year, writer Ravi Mangla recounted his discouraging experience with dating apps. "People of color open to dating outside their own race must resign themselves to the fact that large portions of the dating pool, white or otherwise, exist outside the sphere of possibility," he said.
That same year, women of color began to write candidly about their negative Tinder encounters, noting suitors' fetishization of their race. For her part, writer Eternity Martis said, "Not much has changed the minds of men who think that black women have no talents except those in the bedroom."
Sexpert Hope said such fetishization is common in spaces where people have limited exposure to other races.
"Often, white men want to date [women of color]; they just don't know how to approach them," she explained. "They've been told that women of color are X, Y, Z, or they've bought into the misrepresentation of them in media."
white men want to date [women of color]; they just don't know how to approach them.
Dating apps connect users to people they're less likely to encounter organically. While some seize the opportunity to learn about those from different backgrounds, others bombard users of colors with racist messages. Although there's no guarantee that race-specific dating apps will help minorities avoid this fate, many such apps do try to confront the problem.
Unlike their mainstream counterparts, apps like SoulSwipe, Bae, and Black People Meet positively highlight race as part of their marketing strategies. For example, SoulSwipe's tagline is "Black Dating, Done Right," while Bae promises to "connect you with more people of color." This approach, then, tries to ease any racial anxieties users of color sometimes experience while dating online.  
"We've also seen data from our app [showing] that African-American females are more active, and feel more comfortable, when dating within the community," SoulSwipe cofounder Gianni Coleman told NTRSCTN via email. "We see that individuals of the same background are more responsive to one another than anybody else."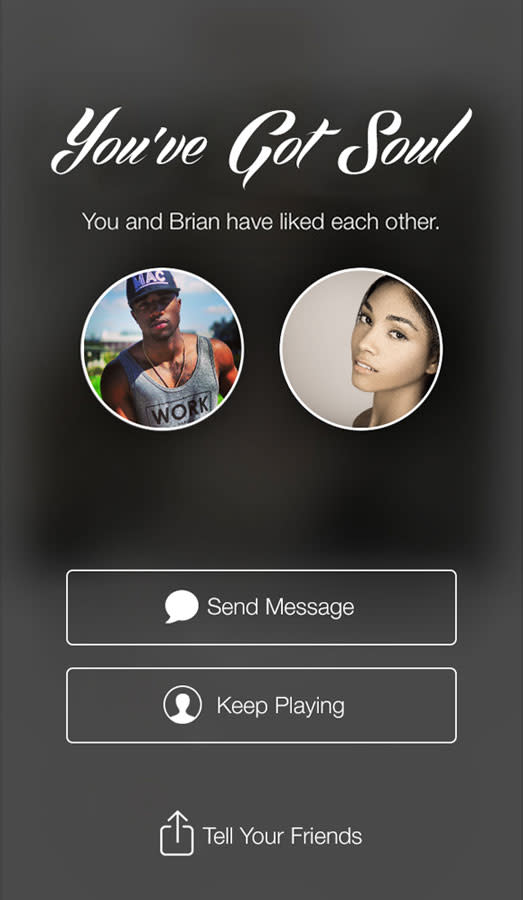 For his part, Bae founder Brian Gerrard positions his app as a safe place for black daters to connect.
"As a black man with black male and female friends, [I] know that mass-market dating apps were simply not made for us," he told NTRSCTN via email. "I have asked our users what their experience was like on Tinder, and they all have similar responses: 'There is no one there who looks like me, or is looking for someone who looks like me.'"
Every founder we interviewed, however, emphasized that their race-specific dating app isn't exclusive, with SoulSwipe, Bae, Meld, and Black People Meet open to interested users of other races. The difference is in the heart of their business plans: to improve the online-dating experience for people of color.