Austin, Texas, famously boasts an array of food trucks serving up delicious fare. But when is "fusion" a matter of cultural appropriation?  
A food truck called White Girl Asian Food, a.k.a. Com Bun Yeu—which means "Rice Noodle Love" in Vietnamese—has been serving Asian food cooked by a white girl in the Austin area since 2012. Menu items include fusion-style cuisine, like Lasagna Spring Rolls and Sloppy Joe Banh Mi.
The truck's Facebook page has numerous reviews—some accusing the food truck of racism, while others defended its food and intention.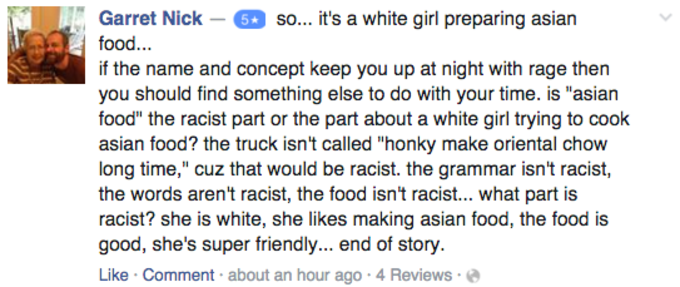 The backlash started on Thursday, when race blog Angry Asian Man published a short post blasting the food truck.
"People. Is this a real thing? This can't be real," the blog's author wrote. "The oblivious tone-deaf white privilege here is astounding."  
Once the post hit Twitter, responses poured in. Tweets ranged from dumbfounded to teasing:
I sure hope White Girl Asian Food sells Pumpkin Spice Fried Rice! #foodtruck https://t.co/uAH9eAxK7w pic.twitter.com/90TRu0hNTH

— Stephanie Chan (@StephanieChan) January 15, 2016
BREAKING NEWS: WHITE GIRL ASIAN FOOD TRUCK NOW OFFICIAL PRIVATE CATERER OF THE OSCARS https://t.co/PowvsaLocw

— Janelle Quibuyen (@PHATLIP) January 15, 2016
"White Girl Asian Food" truck? Seriously? I know you don't hear this enough, but being white doesn't mean you take whatever you want.

— Melody Rood (@MelodyRood) January 14, 2016
WTH is #whitegirlasianfood ? Is their slogan you haven't had Asian food until you've had white girl Asian food? https://t.co/mypzXPmgtx

— Carolyn Wysinger (@knockturnalpro) January 14, 2016
Owner and operator Bobbi Jo Rice told NTRSCTN in a statement on Saturday that she'd grown up with a mother who was an "adventurous eater," and encouraged her to expand her culinary palette by trying different kinds of food. 
"When I finally had the opportunity to open a food truck in 2012, I was madly in love with the combination of fresh, rich, deep flavors and textures I found in Vietnamese cuisine," she said. "So I started a food trailer and named it Com Bun Yeu (rice noodle love in Vietnamese). The problem was that the food was far from authentic and my business was not meeting people's expectations for traditional Vietnamese fare."
In addition to complaints about the food's authenticity, Rice found that the food trailer was draining her resources. In December 2014, she decided to rebrand and invest in a food truck that approached Vietnamese cooking differently. " I wanted to do this in a way that allowed me to celebrate my passion for many food cultures but also express my views in terms of fusion," she stated.
As for the response White Girl Asian Food has received, Rice explained, "I am a hard-working young woman just trying to make my dreams of feeding people delicious food at a reasonable price come true.  If anyone was offended by my choice of name, I apologize. this was never my intention. If anything, my hope is to celebrate those cultures through food."
The way white people approach Asian and Asian-American cuisine has long been a contested topic. 
Writer Ruth Tam examined cultural appropriation of food in a Washington Post op-ed. For Tam, her friends' disgust with her father's Chinese cooking mirrors a larger trend. "Immigrant food" seems inferior until it's appropriated by white people and turned into a cultural trend, Tam said.
"This cultural appropriation stings because the same dishes hyped as 'authentic' on trendy menus were scorned when cooked in the homes of the immigrants who brought them here," she explained.
In November, students at Oberlin College decried the college's dining services for the "Asian" menu items offered, which had little to do with the original dishes on which they were based.
College paper Oberlin Review reported, "Instead of a crispy baguette with grilled pork, pate, pickled vegetables and fresh herbs, the sandwich used ciabatta bread, pulled pork and coleslaw." 
White girl Asian food?? #sxsw2015 #atx #austin http://t.co/rT84Ly0vYD pic.twitter.com/ho3yZJMU2i

— Brett Yanoski (@byanoski) March 22, 2015
Tomoyo Joshi, a Japanese junior at Oberlin, told the publication, "When you're cooking a country's dish for other people, including ones who have never tried the original dish before, you're also representing the meaning of the dish as well as its culture. So if people not from that heritage take food, modify it and serve it as 'authentic,' it is appropriative."
Speaking with Bon Appetit, Korean-American chef Edward Kim said issues of authenticity arise in Asian cuisine more than other types of cuisine.
"I just want to make sure what my customers receive tastes good," he said. "If authentic means that we're trying to instill those flavors and that experience, I think that's more authentic than a dish that pretends to be something else."
#KeepAustinWeird and this is far from half the weird things I saw this past couple of days lol #whitegirlasianfood 😂😂 pic.twitter.com/dZMvzt0y47

— CHE'NELLE (@chenelleworld) March 23, 2015
If authenticity poses a problem for Asian and Asian-American chefs cooking such cuisine, where does White Girl Asian Food fall in the matter?
In the world of white people getting credit for other cultural traditions, should we at least be happy this white girl is being upfront?
UPDATED Jan. 17, 2016: 11:26am EST. This post has been updated with comments from Rice.