Latino voters will make up a record 27.3 million eligible voters in the United States, according to the Pew Research Center. That's a lot of power during an election year, and political candidates know the importance of securing the Latino vote. But according to Pew's new study, a large percentage of Latino voters will not cast their ballots in November.
In past elections, voter turnout among Latinos had been low. In 2012, for instance, only 48 percent of eligible voters cast a ballot—compared to 64.1 percent of whites and 66.6 percent of blacks. Although the number of Latino votes increased between 2008 and 2012 (from 9.7 million to 11.2 million) and may continue its upward trajectory in 2016, Latino voter turnout may remain low due to demographics.

"We're seeing the number of people who could vote growing at a faster pace than those who do vote," director of Hispanic research at Pew, Mark Hugo Lopez, told the New York Times. "There were more nonvoters than voters in the last election, and those nonvoter numbers are rising."
Lopez did not immediately respond to NTRSCTN's request for comment.
The growing number of Latino voters in the U.S. is due in part to the number of millennials finally old enough to vote, as well as recently naturalized immigrants.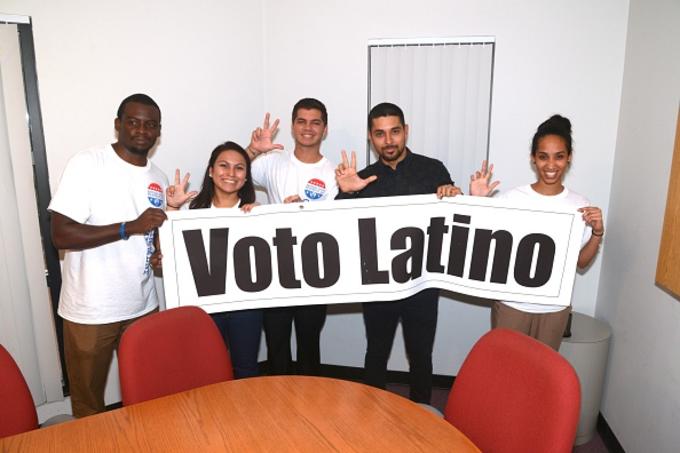 Millennials make up a significant portion of Latino voters—44 percent—according to Pew. Younger voters are least likely to vote regardless of background, according to the Times. Still, 37.8 percent of Latino millennials voted in 2012—almost 10 percent less than the 47.5 percent of white millennials who voted that year. Pew added that only 50 percent of eligible Latino millennials registered to vote in 2012, compared to more than 60 percent of both black and white millennials. 
Additionally, few Latinos live in battleground states, and are instead in states like California, Texas, and New York, where election results are usually a foregone conclusion.
Pew explained that Latinos "punch below their weight" in national elections because 52 percent of their population is still ineligible to vote due to age or citizenship status. Only 20 percent of white voters are ineligible.
The study showed that Asian voter turnout is almost even with Latinos, however.
Julián Castro,​ U.S. secretary of housing and urban development and former mayor of San Antonio, Texas, told the Times that politicians still need to put in more effort and add nuance when it comes to courting Latino voters.

"The approach has not evolved that much," Castro said. "It's generally just been, 'Say a few words in Spanish, with a message about family.'"