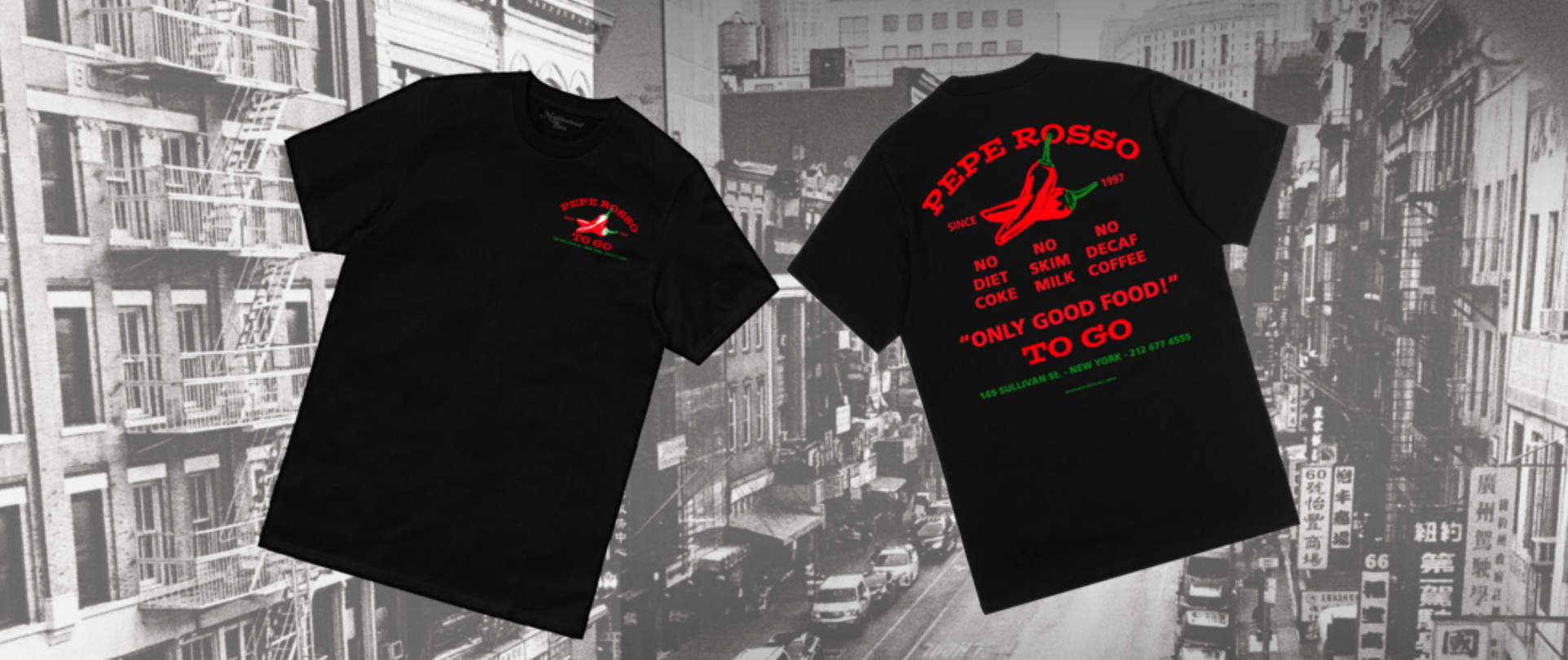 Tucked in a charming nook on Sullivan Street in SoHo, Pepe Rosso To Go is one of those remarkable NYC gems that just oozes character and tradition. Founded in 1997 by Mauro Servisi and Michele Costa, the authentic, brick-lined Italian restaurant is an integral part of its neighborhood—not only because of the delicious dishes served in extra-generous portions, but also for the unmatched community spirit it upholds and exudes. Ask its loyal patrons about their favorite dish, and results will vary. You might hear praise for their sumptuous penne alla vodka with Italian pancetta, or the chicken milanese, or maybe even their homemade pappardelle. Whatever you order, just know it's going to be mouthwatering and quite unforgettable.
As part of Complex SHOP X Neighborhood Spot's ongoing partnership to aid beleaguered local businesses and charities, we hooked up with Pepe Rosso for an exclusive t-shirt release. All proceeds from the Tee will be used to help the restaurant survive this tough pandemic period.
We caught up with Lorenzo Lamarucciola of Pepe Rosso to talk about the new T-shirt, deep New York roots, and more. Can you tell us more about the design of this new T-shirt?
The verbiage on it reads "No Diet Coke, No Skim Milk, No Decaf Coffee, Only Good Food." That has been a Pepe Rosso motto since the first day, claimed by Mauro Servisi, one of the owners. It's not just a motto, it's actually true.
2020 has been quite difficult for restaurants in NYC. How have you been coping through this difficult COVID period? 
New York always has its ups and downs, but yes 2020 has been very difficult for restaurants. We have always had a strong local following, which has helped us through this time. The neighborhood around Pepe has people from all classes in all walks of life and we are very thankful for our loyal customers.
Speaking about neighborhood bonds, any stories about notable neighborhood customers you'd care to share? 
Because of where we are located, we have a broad range of customers, from celebrities who live in the neighborhood to skateboarders who come for good food at a nice price. It's important that I respect the privacy of our regulars, but I can tell you that David Bowie stopped by a few times and quietly ate in the corner.
What keeps you hopeful for the future of NYC and your restaurant bouncing back?
New York always comes back. Everyone outside the city always wants to say "it's over, take it down," and that they missed the old version. But every time a new version of NYC appears, for the people who stick around, they are always glad they did. We will be here!
Pepe Rosso To Go is located at: 140 Sullivan St., #1
Follow the restaurant on IG here: @peperossotogo