On Saturday, a photo circulating online revealed news that A Bathing Ape is re-opening a Los Angeles location in the near future.
👀👀👀 pic.twitter.com/gKbaa81jKB

— Complex Style (@ComplexStyle) July 15, 2017
How soon? Well, a source from the company tells Complex that the store will open on Melrose Avenue, across the street from Maxfield. According to the source from Bape, the store will hopefully be open by end of the year. 
Twitter was excited to hear Bape L.A. was returning.
Hell yeah Bape store opening back up in LA!! #BapeLA

— Ronan Nievera (@yoMANitsRONAN) July 15, 2017
#BAPELA gonna be nuts

— dom 🗿 (@WAVE7ENGTH) July 15, 2017
A BATHING APE LOS ANGELES STORE COMING SOON #BAPELA

— Chris Victoria (@CHRXS_) July 15, 2017
What's more, Aape By A Bathing Ape is also opening a store on Fairfax, a Bape source confirmed to Complex.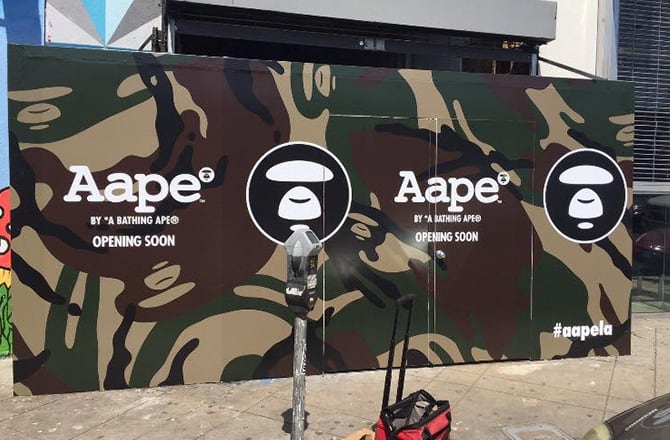 In 2008, Bape Los Angeles opened in April at 8001 Melrose Avenue, making it America's second official retailer of the streetwear brand. On opening day, founder Tomoaki "Nigo" Nagao, director Joel Silver, Pharrell Williams, Kanye West, and artist Takashi Murakami visited the store. Other celebrity sightings included actor Jonah Hill, Jermaine Dupri, Rick Ross, Mike Tyson, and Good Charlotte's Joel Madden.
In the summer of 2010, the Bape store in L.A. closed. After more than a decade in the game, Bape's London location also shuttered its doors in 2014.
But Californians will have a chance to go Ape again. Typically, when a new location opens, Bape will release special edition t-shirts to commemorate the occasion. For the original L.A. location, they released t-shirts featuring a sunglass-wearing ape near palm trees. That design is below.