If he was tipped off, he didn't say. But if Lonzo Ball truly didn't have assurance from the Lakers that he was going to be the second pick in Thursday's NBA Draft, he felt it in his bones. Or more accurately his feet.
Because sitting in the green room, off to the right of the podium where commissioner Adam Silver announced all 30 first round selections, Ball decided to switch shoes once the Lakers were on the clock.  
Gone where the black hard bottoms he was sporting earlier. Out came a pair of the infamous Big Baller Brand ZO2s that retail for $495. Only these weren't all black, like the ones that infamously debuted back in May. This pair was gold and purple—Lakers colors. And before Silver could say Ball's name, he casually slipped on the sneakers because he just knew suiting up for his hometown team was his destiny.
"Just had a good feeling, and changed them five minutes before when they was on the clock, and I'm glad they called my name," said Ball, in typically understated fashion.
The NBA's signature fashion event, where 19-and-20-year-old kids get decked out in suits that would put every prom outside of Beverly Hills to shame, usually does not feature any wardrobe changes, other than the addition of a team hat once Silver calls your name. But Ball just might have authored an NBA first when he switched shoes in the middle of the draft.
Magic Johnson and the Lakers got their point guard of the present and future, one ESPN's Jay Williams told us Wednesday could be "transcendent."
Ball told Complex he changed "when [the Lakers] had the pick, right after Markelle" Fultz was chosen first by the Sixers. The Ball family had them hidden "right under the table" and Lonzo "had a feeling" he was about to be next selection. And that's when he slipped into something way more comfortable and way more marketable than a pair of black dress shoes.
And really, Lonzo rocking a brand new colorway of the ZO2s was arguably one of the more interesting subplots to come out of the NBA Draft that didn't revolve around the Jimmy Butler trade to the Timberwolves or the prospect of Phil Jackson asininely shipping Kristaps Porzingis somewhere. Because the top part of the draft didn't veer far from most projections. It was short on suspense and very predictable. 
Fultz went to the Sixers. Lonzo to the Lakers. Jayson Tatum to the Celtics at No. 3. Josh Jackson to the Suns at No. 4 and De'Aaron Fox, the guy who was rumored to be ahead of Ball on the Lakers' draft board about a month ago, went to the Kings at No. 5.
In the end, LaVar Ball, with his swagger on a hundred, thousand, trillion at Barclays Center, could do his damn thing, talk his talk, and most especially walk his signature walk. His son was drafted to the only team he ever wanted him to play for, the team he predicted months ago would wind up with his son. LaVar proved to be a prophet.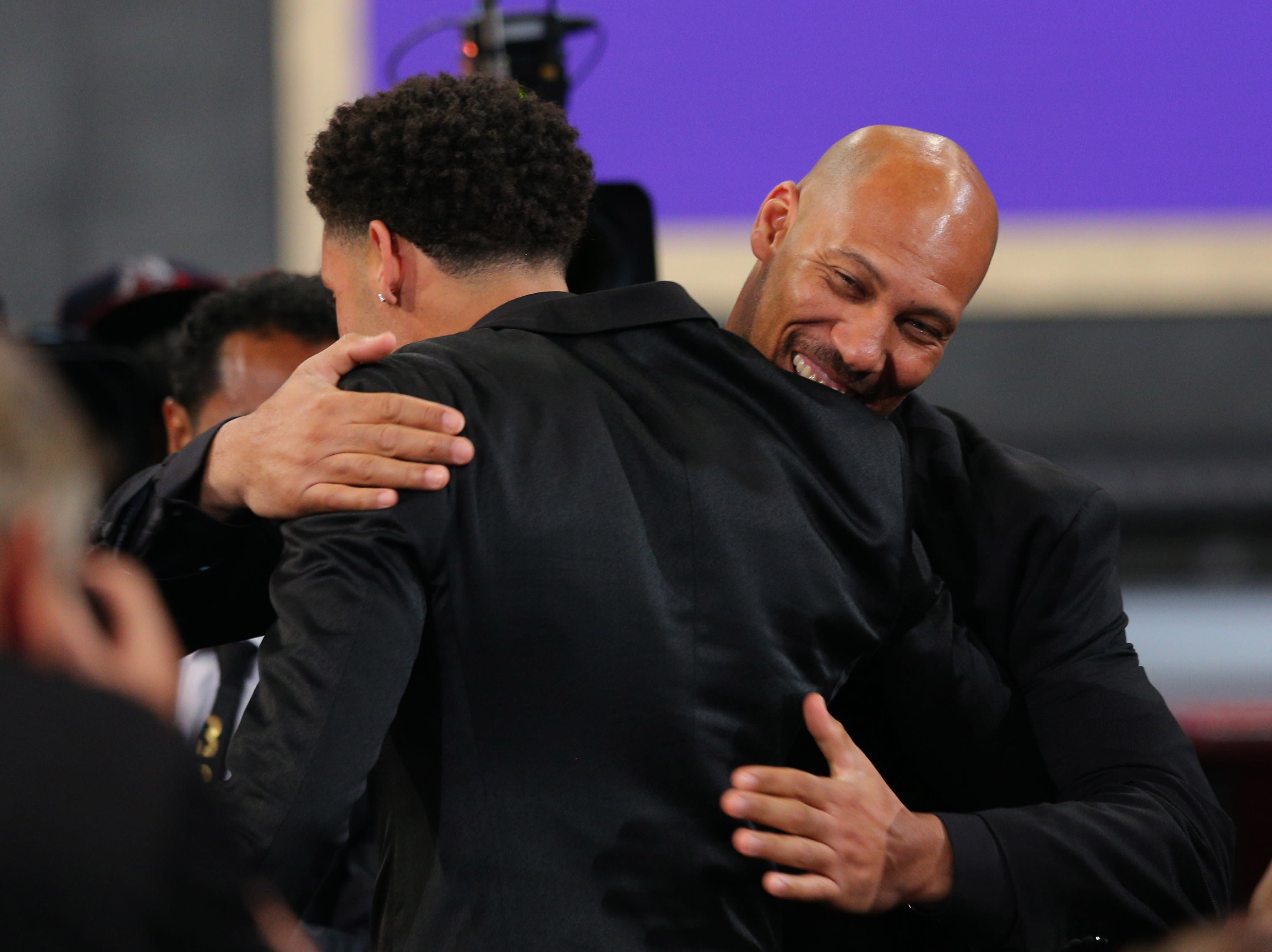 The man behind Big Baller Brand was surprisingly absent as Lonzo made his way through the arena's bowels, talking to reporters, taking part in NBA sanctioned obligations, and getting hounded by little kids for autographs. Usually, new draftees are paraded all over the arena with their handlers and based on how hands-on LaVar has been, it wasn't out of the question to expect him to tail his son. But maybe it was by design that he didn't, or maybe it was just happenstance that papa Ball had to stick around with the rest of his brood and babysit the younger LiAngelo and LaMelo while Lonzo basked in his crowning achievement of his 19 years of existence.
We didn't really get to witness the bragging and boasting of LaVar afterward, which would have been gold. But he got what he wanted, what he predicted. And we, as NBA fans, got what was basically expected from the darft.
With the rest of the top 10 relatively bereft of drama, Lonzo winding up with the Lakers was arguably the biggest draft-specific story of the night. Lakers exec Magic Johnson got his point guard of the present and future, one ESPN's Jay Williams told us Wednesday could be "transcendent." Predictably, Lonzo was about as emotive as a robot, barely smiling or acting like a giddy teenager you'd expect most kids in his position to be.
But at least he was rocking the freshest kicks in the house, the ones nobody else was wearing or could get their hands at the time, the ones that he can most definitely afford now that's he's a Laker.