Here is how commonplace LeBron James's heroism has become. After leading his Cavaliers back from a 25-point halftime deficit, after posting his 17th playoff triple-double—a 41-point, 13-rebound, 12-assist masterpiece—someone in the postgame presser asked him about...Kendrick Lamar's new record. Of course James had an answer for that too, just as he did for the Pacers: "I haven't stopped listening to it since he sent it to me," James said. "I don't know if that was last week or not, before it came out." This, for the record, should stand as one of the greatest humblebrags of all time. Damn.
LeBron James is 32 years old. He's already played more career minutes—regular season and playoffs—than Michael Jordan, and has made six straight trips to the NBA Finals. Over the past six seasons he's averaged 94.5 games a year, even with all those games he takes off. In the regular season, he averaged a league-leading 37.8 minutes per game, his most since 2013. Through three games of this first-round series, he's averaging over 40. It is reasonable to start wondering whether Father Time will always remain undefeated.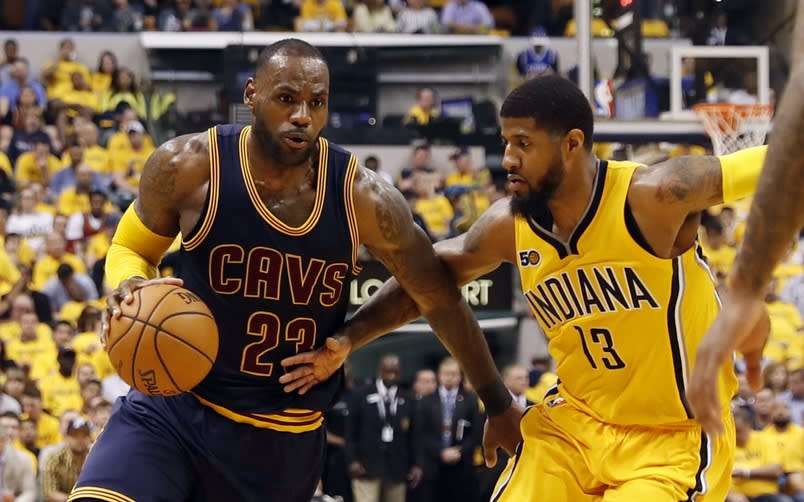 Even as James and the Cavaliers crush the Pacers' dreams, their presumed challengers in the East have begun to fall of their own accord. The top-seeded Celtics are down 2-0 to the eighth-seeded Bulls after dropping the first two games at home, while the third-seeded Raptors have dropped a pair to the upstart Bucks. The Bulls themselves lost point guard Rajon Rondo indefinitely to a fractured thumb suffered in Game 2. A seventh-straight Finals trip for James appears more likely by the day.
what james has done is make the impossible not only possible, but downright matter of fact.
What James has done, what James has consistently been doing for over a decade now, is make the impossible not only possible, but downright matter of fact. It was 10 years ago, in the 2007 playoffs, when he scored 48 points against the Pistons—including 25 straight to close it out—to propel the Cavaliers to the Finals. It was just last year (you may have heard about this) when he and the Cavaliers became the first team in NBA history to overcome a 3-1 deficit in the Finals, taking down the 73-9 Warriors and their unanimous MVP. It was just last night that he put up 28 second-half points to wipe out the Pacers in their own gym. Kevin Garnett famously screamed "ANYTHING IS POSSIBLE!" after his Celtics won the 2008 title. James proves it, again and again.
Much has been made of the Cavaliers' poor defense heading into these playoffs, how no team has been able to win a title while posting the kinds of defensive numbers they have up to this point. But as James and his Cavs continue to break records and destroy precedent, history seems to matter less and less. Just because something hasn't been done before doesn't mean it can't be done. More and more it just means that LeBron James hasn't had a chance to do it yet.