As we told you earlier this week, Chris Paul, Carmelo Anthony, and Dwyane Wade hosted a dinner to honor Kobe Bryant during NBA All-Star Weekend in Toronto. During it, they each gave him a gift—D-Wade went with a one-year subscription to Netflix, while Carmelo opted for a bottle of wine—and talked about his impact on the NBA for a few minutes. Now, there's video of them speaking about Kobe.
In our minds, we imagined each of the players delivering long-winded speeches about how great Kobe is. And there's a little bit of that, especially when Carmelo speaks. But for the most part, this turned into more of a roast with each player taking subtle jabs at Kobe and, in way or another, calling him old. They even went as far as to give Kobe a cane at one point: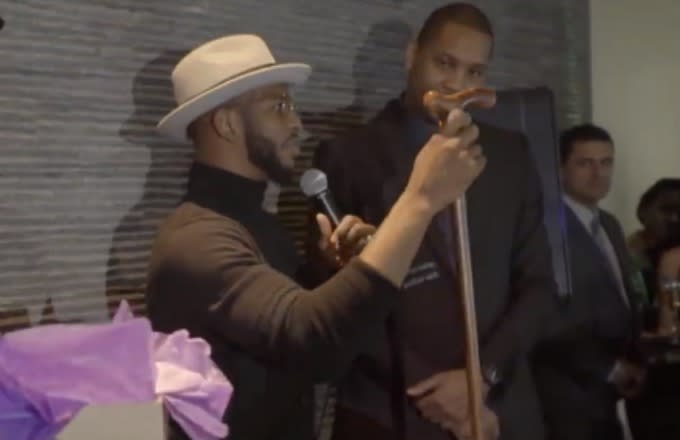 Check out the clip above to see what the players had to say about Kobe. Kobe got up at the end and said a few words, too.
Send all complaints, compliments, and tips to sportstips@complex.com.
[via TMZ Sports]
x1cnMyMTE67ST9nCxhcbz9RkvWcOYOrE