Very few players suffer a potentially career-ending injury and come out on the other side of it a better athlete.
The likes of Michael Owen, Kieron Dyer and Owen Hargreaves – England internationals with Premier League pedigree – all had careers cut short and thrust into decline as a result of injuries beyond their control but for Aaron Ramsey, a broken leg while playing for Arsenal at Stoke City in 2010 hasn't held him back.
On returning to full fitness with the Gunners over a year later, the Welsh midfielder solidified his place in the starting XI and picked up the club's award for Player of the Year in 2013/14, scoring 16 goals in all competitions (including a winner in the FA Cup final that ended the club's infamous trophy drought).
Ramsey's warrior-like ability to overcome adversity and still get results has fully earned him his nickname of  'Rambo' on the terraces. Arsenal's #16 talks to Complex on club ambitions, international dreams and what the dressing room really thought about those photos of Arsene Wenger.
Interview: Corey Pellatt
It's a huge season for New Balance, their first in football, how have you found your first few months wearing the Visaro boot?
I'm really happy with the boot and I'm pleased with the way things have gone. They feel really good on, really comfortable and I feel good in myself when I'm wearing them – it's definitely helped.
It's hard to miss the latest Lava/Fireball colourway – and it's got a lot of praise – but what's your dream boot colourway?
I like white boots so maybe a white one with a bit of red on it, then it'll match my Arsenal kit.
On to Arsenal, is this the best Gunners squad you've been a part of so far?
Yeah, I think so. I think we're all on board together and everybody enjoys each other's company and works hard for each other. We're right amongst it [the title race] at the moment but there's still a long way to go – we'll have to step up and grab as many points as we can.
What sort of impact did Petr Cech have on the dressing room when he arrived?
It's all about his experience and he still has a lot of quality. He's made some crucial saves at crucial times in some crucial games. He's been there and done it, won most things in football – it's good to have him between the sticks.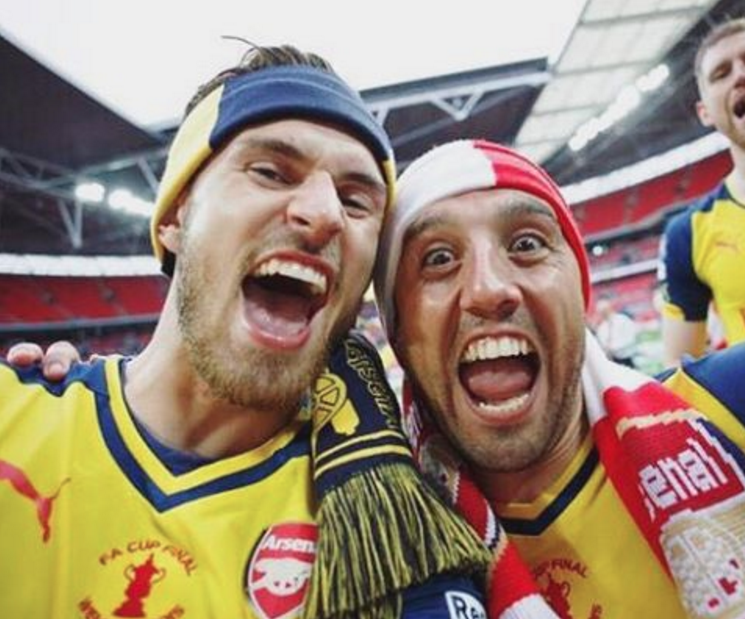 It's also been a very successful time for your other team, Wales. What's the secret to that success been?
I think everybody is working their socks off for each other and we've been very hard to break down, we haven't conceded many goals. We've got some players in the team that can create something from nothing and that's very important in international football.
And what are your ambitions for Euro 2016 next summer?
We are hard to break down so the top countries are going to want to try and attack us but we're very dangerous on the counter attack. All the teams are top quality so we're going to be up against it but this where we always wanted to be, in a major tournament and we're going to enjoy every minute of it. We'll make a good account of ourselves and not just be there to make up the numbers.
Who's been the toughest player to play against in the Premier League so far this season?
I'd say Vardy. He's been unbelievable so far and what he's done – scoring in 11 straight games – is absolutely remarkable. Full credit to him. When you look at where he started off to where he is now, it's been a great story.
The biggest challenge you've faced in your career has probably been that horrific leg break from 2010 – what was going through your mind in the minutes and seconds after that challenge?
The first thing I thought is my leg's not right and what does that mean? From there you're on the gas and air and you're going into the back of an ambulance, it doesn't really hit you until the next day when you're awake and wondering when you're going to be back. A lot of people reassured me. I was young and I was always confident that I could come back and be better than before.
Has that experience helped you support other players who have had similar setbacks?
Yeah, of course. There's been a few players – Luke Shaw is a recent one – and I sent him a little message to offer my support. If I can help someone in that sort of situation, why not?
What other sports do you like and what other teams or athletes do you root for?
Wales in rugby, obviously. We did well in the World Cup, considering the amount of injuries we had. I watch a lot of golf but I'm only a fair-weather player.
What do you do to keep entertained when you're on the road for away games?
On away trips I'll listen to my iPod sometimes or watch some TV, see what's on of a Friday or Saturday night – I'll usually save the TV box sets until I'm at home with the wife.
Did the dressing room see the viral photos of Arsene Wenger modelling for L'Equipe?
(Laughs) Yeah a couple of them were floating around. It was a bit of a shock but he actually looked pretty good in those clothes.
Finally, what are your ambitions for the rest of the season?
Hopefully we'll win a bit of silverware at the end. I also want a very successful tournament with Wales. I've got so much to look forward to in 2016.
Aaron Ramsey wears the new Lava/Fireball New Balance Football Visaro boots, designed for players who 'Make Chances'. To find out more about New Balance Football go to newbalance.com/football or follow @NBFootball on Twitter and Instagram.