Ready to read the wildest story you'll read all day? OK, let's go.
Very early this morning, the MMA site Bloody Elbow uncovered a temporary restraining order that was filed against Ronda Rousey in the state of Florida recently. And while our first thought was "Oh no, is she in trouble?" it only took us about two seconds to realize that Rousey probably doesn't have anything to worry about.
The restraining order, which is only two pages long and was handwritten, was filed by a man named G.B. White who included a Pennsylvania address on the restraining order. That address is tied to…a White Castle. And things only get weirder from there.
In the restraining order, the man makes a series of bizarre claims about Rousey. Here are just a few of them:
"Ronda Rousey is really a man and pretending to be a female in the UFC to boost ratings. I have evidence to submit to the court of Ronda Rousey in Speedos showing her penis at a nudist colony."

"Ronda Rousey also has been taking steroids before fights to get the competitive edge."

"Ronda Rousey had secret relations with Alex Rodriguez."

"Ronda Rousey made a sex tape with Jon Bones Jones, which I am the only one with a copy…Ronda Rousey threatened to knock my lights out and break my legs into a pretzel if I don't return the sex tape to her."

"Ronda Rousey's real father is Ron Jeremy and Ronda Rousey's real name is Ron Rousey or Ronald Rousey."
As a quick sidebar here, I should tell you that, once upon a time, I was an intern at a magazine and was in charge of opening the mail that was sent in by readers. About 95 percent of it was from prison inmates who made all sorts of wild claims about celebrities (amazingly, SO many people knew who killed both Biggie and 2Pac!). So if I had to guess, this is probably just a case of that.
But regardless of where this restraining order originated from or why it was sent to the state of Florida, it appears as though it was filed officially judging by the stamp that was put on it. So for the time being, Rousey is going to have to stay away from the guy who filed it. As if she would want to be around him anyway.
Check out the entire restraining order below: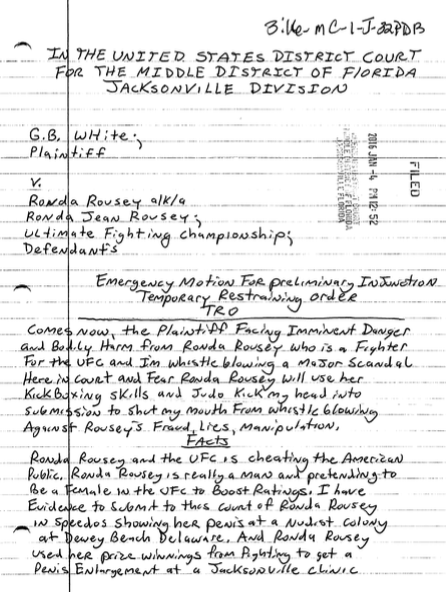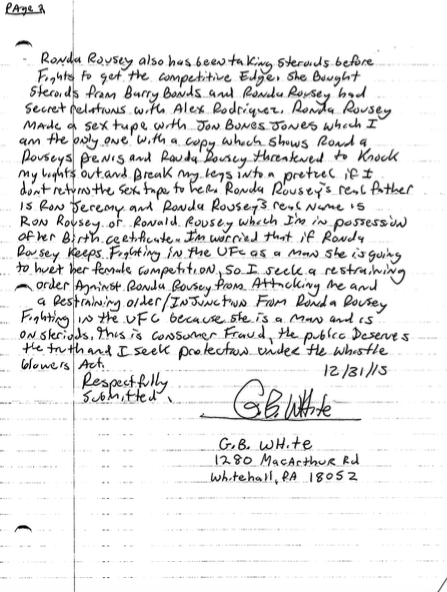 Send all complaints, compliments, and tips to sportstips@complex.com.
[via Bloody Elbow]