Some might argue whether or not LeBron James is the best player in the NBA right now, but you can't argue about his earning power. 
The Cavaliers forward was crowned the NBA's highest paid player for a second straight year by Forbes Wednesday. The media company pegged James' to rake in roughly $73 million in 2016, $23 million of which will come from the Cavs. 
James makes the bulk of his money through his various endorsements and no one in the game comes even close to touching him. 
James makes more than twice as much off the court as on with an estimated $48 million. Nike has been King James' chief backer since he entered the NBA out of high school in 2003 with a seven-year, $90 million contract from the Swoosh. The $31-billion-in-revenue sportswear giant doubled down on James this season with the first lifetime contract in the company's 44-year history. James' final tally from the Nike deal will ultimately be determined by shoe sales going forward, but it is expected to soar past $500 million. James was the NBA's top shoe salesman in 2014 with Nike selling $340 million of James' signature kicks.
Kevin Durant, Kobe Bryant, and Derrick Rose all trailed James in total compensation by at least $15 million. Pro Basketball Talk took the time to put a chart together to show the disparity.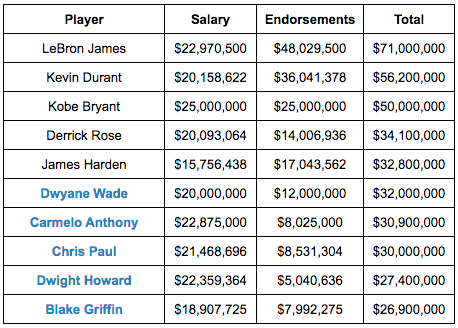 Noticeably absent from this list is Stephen Curry. The only man who can tug at James' cape for best player in the game honors will make $11.3 million in base salary this season and reportedly earns around $10 million a year in endorsements. 
Send all complaints, compliments, and tips to sportstips@complex.com