Within minutes, what started as a breezy office conversation about the Golden State Warriors quickly escalated into the barbershop-est of arguments. Michael Jordan's 1995-96 Chicago Bulls were brought up, basketball-reference.com statistics were being shouted aloud as if quotes from scripture, and at the end of the entire ordeal a line was drawn in the sand between two camps. On one side were the "Of Course Steph Curry is a Hall of Famer" folks, and on the other (and less popular) side, the "Not Yet" folks.
To the skeptics' credit, Steph Curry—the NBA's reigning MVP, leader of the league's championship team, and first person to truly challenge LeBron James' status as "World's Greatest Basketball Player" in some time—is only playing his seventh year of professional basketball. And while it may feel as if young Wardell has been dominating these Association streets for a long while now, technically he has only been an All-Star twice (three times counting this year). Is this very small sample size of excellence really enough to put him in Springfield, Mass. alongside the likes of Kareem, Magic, Bird, Wilt, Russell, and Michael?
You decide. But first, let Complex Sports editors Russ Bengtson and Adam Caparell each argue their case. 
Of Course He's A Hall of Famer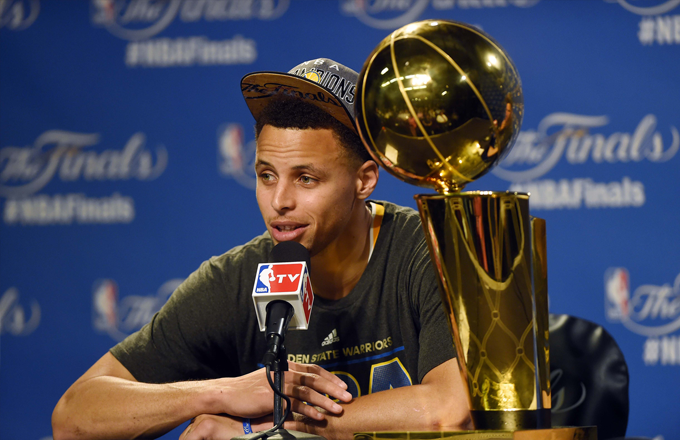 Before we even get into Steph Curry, let's talk about Mitch Richmond for a moment. Richmond was a premier NBA guard for a long time, despite spending much of his career in the then-hinterlands of Sacramento. Over the course of his 14-year NBA career, he averaged 20-plus points in each of his first 10 seasons, made five All-NBA teams and won a ring with the Lakers in his final season. A 39 percent three-point shooter, he made 1,326 threes over the course of his career. Why am I bringing this up? Curry, in just six and a half seasons, has hit 1,380 threes. Richmond is a Hall of Famer. If Curry retired today, he would be too.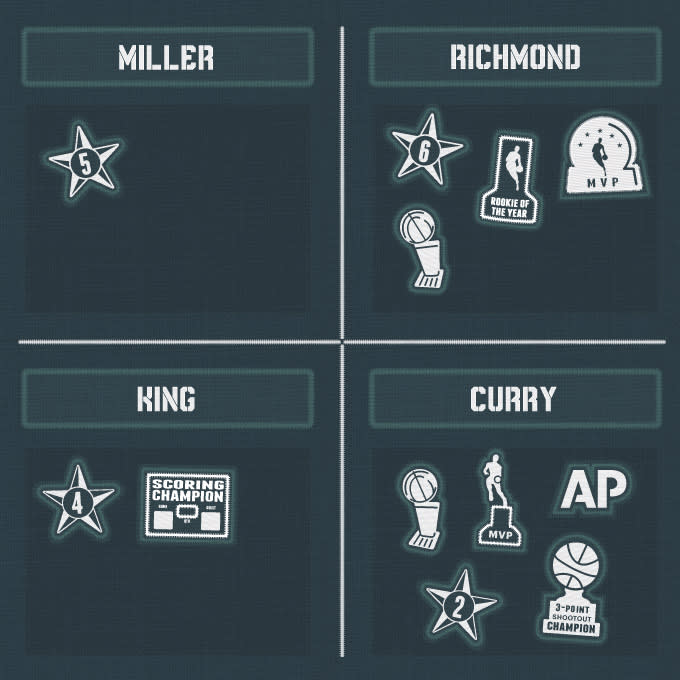 The Hall of Fame isn't just about longevity. If it were, Bill Walton, who played just 468 games—12 more than Curry—would not be a Hall of Famer. It's not just the MVP he won last year either, although every eligible MVP has been selected.
Curry's Hall of Fame candidacy is about literal game-changing, turning the three-pointer from a specialized weapon into an NBA staple. This season alone, over half of Curry's field goal attempts—437 of 800—have been threes. For the fourth straight season he is leading the league in three-pointers attempted and three-pointers made, and is on pace to shatter the record for the latter that he set just last year.
In his own way, Curry is every bit as dominant in his prime as Shaquille O'Neal was in his, doing what Shaq did on the inside from the outside. With his quick release, unbelievable handle—honed by countless hours of drills—and nearly unlimited range, he's raised scoring itself from a science to a near mystical level.
Of course something cannot be considered "game-changing" if it's only being done by one person, and while Curry has no real competition when it comes to threes, others are following his lead. And it's not just smaller guards, either. Dame Lillard is attempting eight three-pointers a game, yes, but so are Paul George and James Harden. Ray Allen, the all-time leader in three-pointers made, only attempted as many as eight a game in two seasons. Reggie Miller's single-season high was 6.6.
Mark Jackson, Curry's former coach, said earlier this season that Curry is "hurting the game" with his style, inspiring kids to start hucking threes when they should be focusing on fundamentals. But is that any different than what Michael Jordan did? He had a SONG about it, for God's sake. Kids want to emulate the greats. The game has changed, that hasn't. Curry just happens to have a skillset that kids CAN imitate.
Stephen Curry isn't retiring today. He still has work to do, starting with a second straight MVP and a title defense. But if he did, he'd have a place waiting for him in Springfield. No doubt. —Russ Bengtson (@RussBengtson)
Not In The Hall Yet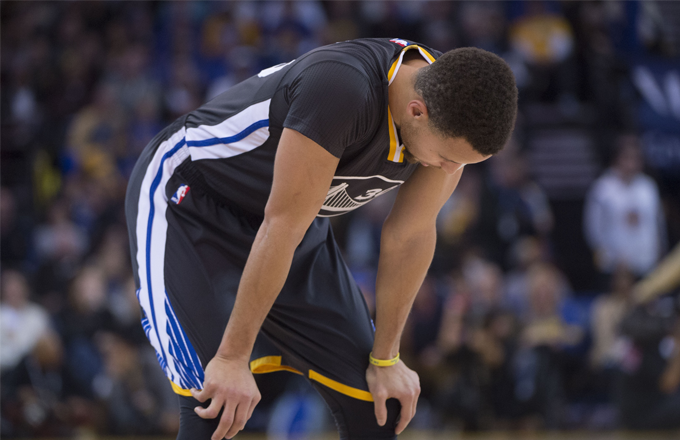 Writing negatively about Stephen Curry these days is basically an exercise in futility. You know you're going to catch the L, just like 39 of the Warriors' 43 opponents this year. But hear me out for a minute.
 
What's the definition of a Hall of Famer? The Naismith Memorial Basketball Hall of Fame doesn't really say. They just leave it up to their voters to figure who belongs and who doesn't. But if I had a vote, I'd subscribe to the Mike Francesa Hall of Fame school of thought: If I have to spend more than two seconds thinking about it then you don't belong.
And for the sake of this completely arbitrary argument, where Curry—God forbid—hangs 'em up tomorrow because he rather golf with Obama or suffered some horrendous injury, guess what, he's not a Hall of Famer.
Seriously. What are you putting him in there for right now?
One MVP award? One All-NBA First Team selection? Two All-Star appearances? Leading the league in 3-pointers made for three straight seasons? Over six and a half seasons in the league? That's Hall of Fame worthy?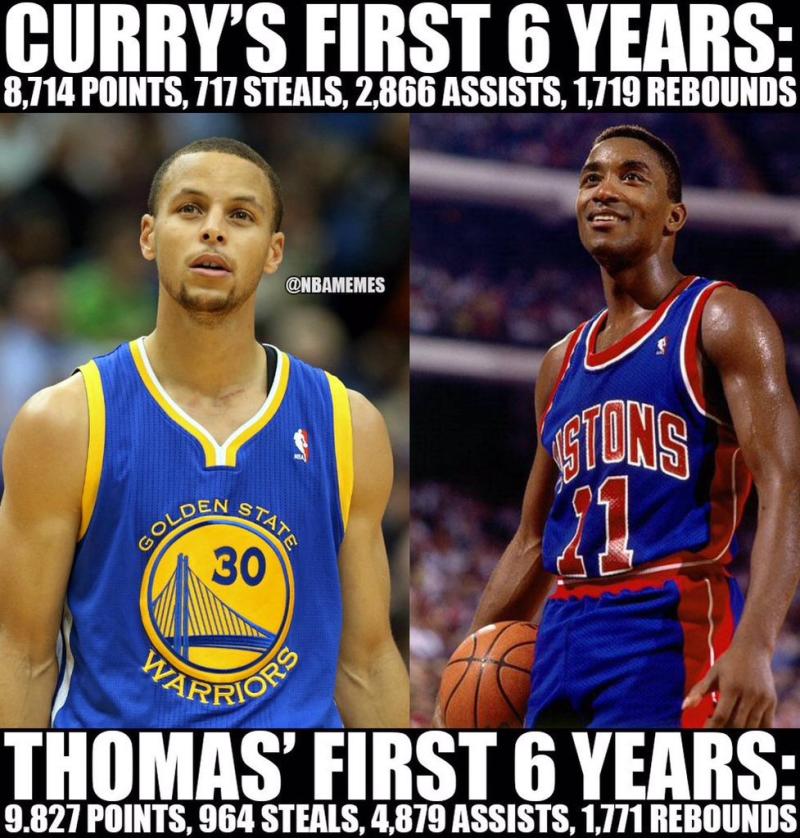 Are you putting Derrick Rose in for his 2011 MVP award, 2009 Rookie of the Year award, his three All-Star appearances and one All-NBA selection?
Ignore what we're expecting from Curry, who at 27 years old probably has at least five-to-six years of prime basketball ahead of him. If he keeps this up, forget the Hall of Fame. He's a GOAT candidate.
Today, I want you to judge right here, right now.  
Curry's résumé falls short.
People are blinded by the greatness right now. And I get it. He's incredibly fun to watch and absurdly skilled. Curry is without a doubt the best point guard in the league and changing the position. A guy with handles like Hot Sauce shouldn't be able to shoot it like Larry Bird playing on 2K's Rookie setting. You legitimately feel bad for defenses trying to stop him.
But claiming his six and a half seasons have been good enough to crown him the fourth greatest point guard in NBA history? Really, ESPN?? I know you've got a lot of talented people covering the game who have forgotten more basketball than I'll ever know, but to put six and a half years of Curry ahead of Isiah Lord Thomas' 13 seasons, two titles, 1990 Finals MVP, 11 All-Star appearances, and five All-NBA selections? Or Steve Nash's two-straight MVP awards and claim to being the only man to put up three seasons of 50-40-90 while also dishing out 10 assists per for good measure? I'm calling for a recount.   
A first ballot, no-doubt about it, signed, sealed, and delivered Hall of Famer tomorrow if he never plays another game? Come on, son.
—Adam Caparell (@AdamCaparell)