In recent days, NBA stars across the league have expressed solidarity with police protestors in New York by wearing shirts bearing the phrase, "I Can't Breathe", the now-famous last words of police brutality victim Eric Garner. The most notable example occurred on Monday night, when LeBron James and other members of the Cleveland Cavaliers, as well as players for the Brooklyn Nets, wore the shirts in the lead-up to their game, which was attended by Jay Z, Beyoncé, Prince William, and Kate Middleton. 
However, it wasn't so simple as merely putting on an article of clothing. In order for the players to actually receive the shirts, it took a small-scale operation involving cooperation between the Brooklyn Nets and the Cleveland Cavaliers, a rogue security guard, and Jay Z. 
The New York Times explained the full story in an article published yesterday. In the story, reporter Scott Cacciola details the effort spearheaded by Justice League NYC, the social justice task force responsible for printing the "I Can't Breathe" t-shirts. After getting in touch with Russell Simmons' political director Michael Skolnik, the group pushed to make contact with LeBron James via Jay Z: 
Skolnik...knew he needed to get Jay-Z on board, largely because Jay-Z and James are friends who travel in similar social circles. And because Jay-Z was expected to attend Monday's game with his wife, Beyoncé, Skolnik wanted to apprise Jay-Z of the T-shirt plan. So one of Skolnik's first phone calls was to Dream Hampton, a cultural critic and writer who had collaborated with Jay-Z on his autobiography, "Decoded."

On Monday afternoon, Hampton reached out to Jay-Z and asked if he would get in touch with James. Jay-Z and James soon spoke by phone, Skolnik said.
Knowing of the literal and figurative royalty that would be in attendance for the Cavaliers-Nets game on Monday, Justice League NYC filled a 90-minute, rush order of 82 shirts on Monday afternoon, then quickly took off for Barclays Center, hoping to deliver the shirts to the players. The next step proved to be even more intricate: 
"The final hurdle was navigating the T-shirts past arena security. The N.B.A.'s stance was clear: The league did not want its players wearing the T-shirts during warm-ups. So Williams recruited a security guard to take the large box from Aminzadeh, Perez and Brown on the Dean Street entrance of the arena, Skolnik said.

"It felt risky, Aminzadeh said, because the street was already flooded with police officers and other security personnel. So he tried to be discreet.

"'We didn't want the whole operation to get shut down before it happened,' said Aminzadeh, who piled 38 of the T-shirts in a box, more than enough for players and both teams' support staffs, and kept the remainder for protesters who were beginning to gather outside. He made the handoff to the security guard at 6:30 p.m."
Little did Justice League NYC know, they'd been working in parallel with the players the entire time: 
"Unknown to Aminzadeh or any of his associates at Justice League NYC, an alternative T-shirt plan had been in the works for two days. The Nets' Jarrett Jack, moved by Rose's protest, had reached out to his representatives at Excel Sports Management on Sunday to see if they could produce a few of the T-shirts. On Monday, Jack contacted Kyrie Irving, a former teammate with the Cavaliers, and asked if he wanted to be involved.

"About an hour before the tip, Jack received three of the T-shirts from one of his agents and delivered them to the Cavaliers' locker room, he said. Minutes later, before taking the court for warm-ups, James and Irving put them on.

"'The fact that Jarrett Jack made his own is so beautiful," Skolnik said.'"
As for why Jay Z wasn't seen wearing the t-shirt, well, apparently Justice League NYC didn't have anything in his size. Every single shirt was an extra-extra-large.
"He's not going to put on a 2XL that goes down to his knees," explained Skolnik.
Not everyone is convinced by the excuse. 
Regardless, it was well-executed effort by some of hip-hop and basketball's biggest names, all for the sake of an even bigger cause.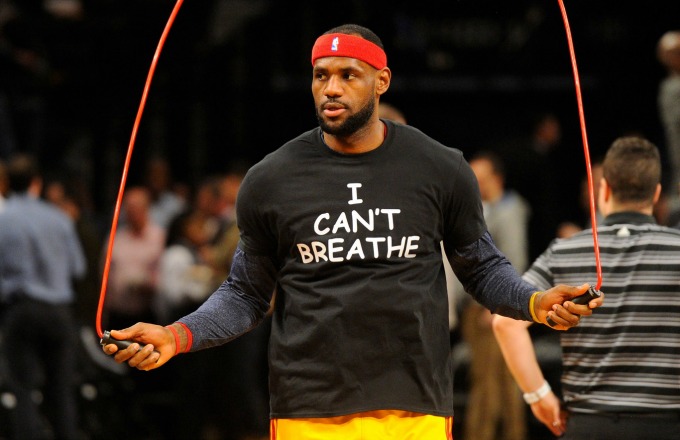 Send all complaints, compliments, and tips to sportstips@complex.com
[via Uproxx]
9tb3E2cjrvp4ZtoXzp0wrK3wAX5kWyix