It takes a lot to get Gregg Popovich to really expand on a topic. However, when the subject is LeBron James, Popovich usually has plenty to say. With the San Antonio Spurs set to take on the Cleveland Cavaliers tonight, LeBron's name was mentioned to Pop once again and without fail, the Spurs head coach raved about James' ability while also weighing in on the media's treatment of his move back home after four years with the Miami Heat.   
I always thought that you guys always had something to say. If LeBron went right, you said he should have gone left. Or if he shot it, he should have passed it. If he passed it, he should have shot it. I always thought that was all baloney. He's a great player. He's not just athletic. He's incisive. He understands the game the way Magic (Johnson), the way Larry (Bird) did, the way (Tim) Duncan does. That kind of thing. So, he knows a whole lot more about what he's doing and what he has been doing than you all. He's a character guy, he's good people, he's got a great heart. So, I'm happy for him whether he went to Timbuktu. He should do what's best for him, for his family and everybody else can go swim in the lake, so to speak. You all do what you want to do, LeBron should be able to do what he wants to do.
Then, Popovich followed that up by saying, "But remember, guys..."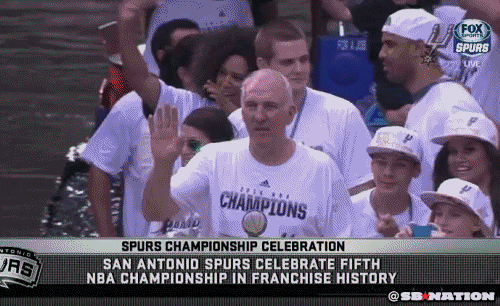 Obviously, that's not true, but would you be all that surprised? Pop's got a badass image to uphold.    
[via @mcten]