Officially, the NBA season started two days ago. Fifteen games have already been played, stars like Russ Westbrook and Chris Bosh have already put the league on notice, and some kids' seasons are sadly already over. So why does it still feel like this evening is the real kickoff of the 2014-15 campaign? Because Kevin Love, LeBron James, Kyrie Irving, and the rest of the Cleveland Cavaliers assemble to play real, meaningful minutes for the first time against Carmelo Anthony and the New York Knicks. Even Kendrick Lamar is performing before the game. 
Now entering his seventh year, Love was recently in L.A. for a Starter shoot and was kind enough to speak with us on the upcoming season, FIBA, photography, and the weirdest thing ever shouted at him during a game. 
Interview by Tony Markovich (@T_Marko)
How did you originally get involved with Starter?
It kind of had a grassroots feel for me. I looked back and found some photos of myself in Starter jackets. I had a few, the Niners, Knicks, Lakers, because my dad had played with them. It was unique how it came to be. Now I'm here sitting in my UCLA Starter jacket. It's funny how things come full circle.
You had an Instagram post introducing your jersey with the big Starter billboard in the back. How'd that idea come about?
A good friend of mine Ezra Patchett, who is actually now my photographer, does a lot of fashion photography. I happened to meet him through mutual friends. He's been shooting me for different things. I got the idea through different Taschen books, 'cause I'm really into those. This summer I bought a Beatles one and a really nice Muhammad Ali one. [Ali] always had a personal photographer following him around, so I thought it was a good way to document everything I do. This being a big intersection and a big moment in my career, I wanted him to come to Cleveland and shoot me while we were going through the press conference and looking at different places and seeing the facilities.
Starter had actually surprised me, because I had no idea that the "Welcome to Cleveland" billboard was going up. It was cool, because it had a very nostalgic feel with that old-school logo. I thought that was really cool, the orange with the net in the "V" and everything. So, for me, I saw that and I said, "you know what I want to do for Instagram and Twitter? Have me either up on that building right in front of the billboard or on the street so we can get a feel for it." LeBron had hashtagged #TheLand, which I thought was really cool. That's what I wanted to go for. So he scouted it out while I was doing the press conference, and right at sunset with the good lighting, we just shot it with the beloved zero jersey and a big billboard in the back. It was just good timing.
How did you get into those Taschen books?
I've always been into photography. My dad had actually been to a Muhammad Ali fight and shot him. My uncle, having been in rock and roll, was always around the Beach Boys and different artists, and he was always into photography growing up. That's his way of looking back and reliving those moments, so that's how I got into it. In this day and age, so much is filmed and photographed that I wanted somebody to do it for me so I could be in the experience and live it. I feel like so many people would rather film it or take a picture of it than sit back and feel the emotion and the beauty of the moment, which I feel is sorely lacking these days with the younger generation.
Do you ever get behind the camera and shoot?
I'm getting there. It's not my genius [laughs]. It's something I'll try to get better at. I brought a camera with me to Dallas when I went to the 49ers opener against the Cowboys. I didn't have time and didn't know what I was doing, so I didn't get too many great shots. It's a process. I'm gonna have to put my hours in.
What kind of camera do you use?
At the Olympics I used a Canon G12. I'm looking into getting some longer lens stuff. You know, stuff that can really get the depth of field. Just learning, not only the lingo and being able to speak it, but being able to really use it in any situation is really useful. I'll ask different photographers all sorts of questions just because I know that'd make my dad happy. I've gotten him different cameras and kits throughout the years, and the same can be said for families and friends.
If I'm getting a great shot of a moment that somebody has helped me to get, I'm writing them a letter or sending them a photo saying, "hey, thank you" or "hey, here's this photo from this time." It creates a memory. I keep saying nostalgic, but it's a way to look back and say "oh, that was cool" at that certain time. You write the date on it, where you were, and what you were thinking at that time. It's just a way to document everything, which I think is pretty unique and cool that maybe some people don't do as much these days.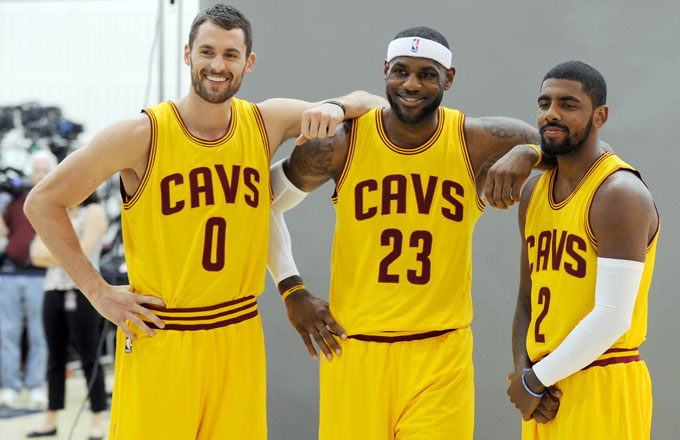 Going back to basketball, how do you think Kyrie's style of play compares to Ricky's and how do you think that will change how you play?
Well, I think Ricky is an unbelievable distributor. I think that Kyrie is, as well. They both have great handles. I just think Kyrie is more of a scorer and has more of a scorer's mentality. But the beauty of Kyrie is that, and I think that the World Championship and not having to be the man every single game but still coming out on top and being the MVP of the entire tournament helped, is that he's gonna say, "ok, what do I have to do to make my team better?"
I think this is going to be a big growing year for him. I think that was a big step in the right direction and, you know, whether he needs to pass it, shoot it, get other guys involved, or get a rhythm in the game going, he can do whatever he wants out there on the floor because he's so supremely talented and is still so young and learning the game. That's what I'm looking forward to with him is getting out there with him on the floor, because it is going to take some time and this will be a process. I know that a lot of people want to put us up at the top, but I think it's going to take a little bit of time of just feeling each other out. The good thing about it is, at the end of the day, like in my first conversations with LeBron, we're killers in nature but we're unselfish as well. I think Kyrie is gonna show that.
Kyrie exploded in the last game of the FIBA championships.
Six for six from three. So he played well, but the whole team did too. All respect to the teams that played and Serbia, but that game was over from the start.
[laughs] It was good to see some of the other guys like Kenneth Faried play with some of the huge names.
He played great. The same kind of thing happened to me back in 2010, where, and I didn't play a lot of minutes like Kenneth did, but that was such a great experience for me being around that coaching staff and being around USA basketball, Jerry Colangelo, Coach Krzyzewski, and just the players I got to play with at practice everyday. That's time you just can't duplicate. Going to the men's gym at UCLA or playing at the Clipper facility, no matter what it is, you can't replicate all of the players that were there that you're working with day in and day out. The same can be said for the Olympics. So, USA basketball has done right by me, and I think it's done right by a lot of players, including Kenneth.
Last season Lance Stephenson became notorious for blowing in LeBron's ear. What's the weirdest thing that anybody has said or done to you on court?
I was up in Pullman, where Washington State is. We got heckled everywhere we went. We were UCLA, we were ranked in the Top 5 throughout the entire year, and we got the grunt of the fans. Especially myself, as an individual, at Oregon. My dad went there, and I decided not to go there, which they hated me for. But Pullman, Washington was probably the worst, because I'm a sweater.
Like today, how it's 102 degrees outside. The thermostat was probably pretty high that day, and we were all sweating like crazy. I was sweating down my blue jersey and they started yelling, "butt sweat! Butt sweat!" So that was a very funny moment. We all walked out of there with the win, had the double-double, moved on, played Washington the next game, which we eventually lost, but that was a good, unique trip. That was probably the weirdest, yet funniest, most self-deprecating thing I've ever heard on the court.
Butt sweat.
Yup, butt sweat. Of all things. It was pretty ... yeah.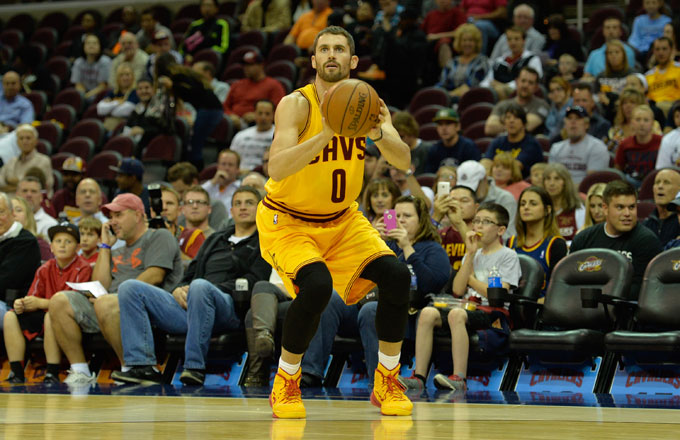 What would you say are the high points of your career and the low points of your career?
Naturally, when I think of low points, I think of being injured. Any time that you're sitting behind the bench and having to watch the team that you want to be out there fighting with and the coaching staff that you want to be out there fighting with is tough. While I did grow up a fan and have been in that seat many times, when that game that you love is taken away from you, that's always the toughest moment. For high points, I would say the Olympics. All the way up and through my career, any time that we've won was fantastic, but having a gold medal and representing your county ... I cross my fingers hoping to be healthy and playing in 2016, but that can be a once-in-a-lifetime experience.
Last year there was a lot of talk about Joakim Noah and his assists. You quietly put up 4.4 assists per game and consistently talk about your outlet passes. Was distribution something you were specifically working on?
That was something that Flip Saunders, who I have a great relationship with still to this day, had come to me with before the season. He showed me a list of players who had averaged 20-10-5 in the league. I think it was less than 20 players, which is astounding. Then it struck me: I can still score the basketball and rebound the basketball, which I know I can do in any system, while getting my teammates involved too, which is a truly gratifying feeling.
Being able to outlet it, pump fake, and put one through on the floor, kicking it to the corners, or dumping it in to Pek, which was so easy to do down there, was something that was within reach. So I told him I'd try it out, that I'd sacrifice for the better of the team, and I felt like I came pretty close. But at certain points in the season, when Peck went down and other guys were injured, I tried to step up more from a scoring standpoint, but it wasn't for a lack of trying. So that was the way I wanted to help the team. But I have to pay my respects to Flip, because he was the guy that motivated me to do that, which will further me in my career.
Personally, what's your big focus of improvement this season?
I think there's always a way to refine your game, but I don't think it'll only be about spacing the floor and running more, getting up and down. I think the focus of our team, depending on how far we want to go, will be on the defensive end. I wouldn't say it was a burden, but I did carry such a big weight on the offensive end for the last several seasons. I'm going to try my best to focus as much as I can on that end. Flip taught me that the game's going to come to you, and you have to sacrifice for the team and do whatever is right for the best of the team. So that's what I'll try to focus on, as well as just keep being me. Knowing what I'm capable of, knowing myself and my worth, and just going out there and playing.