Tough week to be a part of the USC football program, eh?
Earlier this week, USC cornerback Josh Shaw showed up on the USC campus with two badly-sprained ankles and told his coaches that he had injured them jumping off a balcony to save his drowning nephew's life. That turned out to be a lie, though, and Shaw—one of the team's captains—has since been suspended indefinitely. But the craziness hasn't ended there.
A short time ago, Anthony Brown—a former cornerback who was expected to play running back for USC this season—abruptly quit the team. And a short time after he did, he took to social media to let the world know that he believes USC head coach Steve Sarkisian is a racist. Brown posted this to Facebook:

And this photo was also posted to a page believed to be his Instagram: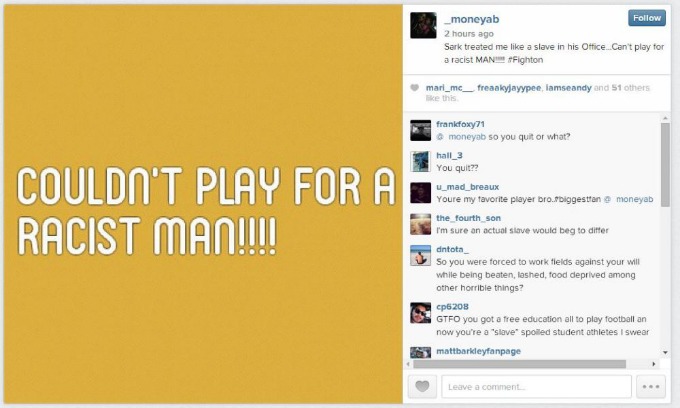 If you can't read it, the caption for the IG photo is "Sark treated me like a slave in his Office…Can't play for a racist MAN!!!!!"
Sarkisian was asked about Brown's accusations a short time ago and downplayed them. He reportedly said that he was "shocked" by what Brown had to say and called the allegations "ridiculous." But he did acknowledge that Brown had quit the team.
We don't know what's going on out at USC. But the season can't start soon enough for them. We'll continue to keep you updated on all the madness surrounding the Trojans in the coming days.
[via Scout]